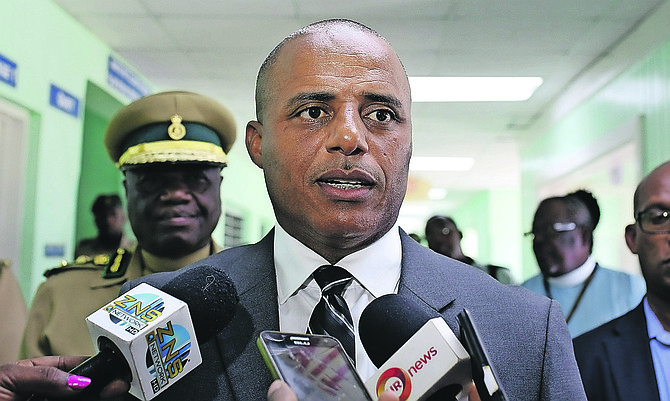 By KHRISNA RUSSELL
Deputy Chief Reporter
krussell@tribunemedia.net
THE US State Department's most recent advisory to its citizens warning them to avoid visiting the Fish Fry at Arawak Cay at night came as a "surprise" to National Security Minister Marvin Dames, who told The Tribune yesterday Royal Bahamas Police Force (RBPF) officials were unaware of any serious issues of concern at the popular tourist attraction.
The advisory, issued on Wednesday, ranks The Bahamas at 'Level 2: Exercise increase caution,' stating that violent crime, such as burglaries, armed robberies and sexual assault are common, even during daylight hours and in tourist areas.
The State Department also maintained its stance banning embassy personnel from visiting the Sand Trap in Nassau or using Jet Ski rentals on New Providence and Paradise Island; however, its latest warning struck a major blow to one of the city's most popular cultural offerings, the Fish Fry.
In an interview with The Tribune yesterday - the day after the cultural hub was singled out as dangerous - Mr Dames was adamant there certainly hasn't been anything that would have caused any serious level of concern, especially at Arawak Cay where there is a police station on site headed by a superintendent and supported by the RBPF's Central Division.
This is one of the largest divisions in New Providence and has the backing of mobile patrols, the minister said.
While maintaining that he couldn't say, based on his daily conversations with Police Commissioner Anthony Ferguson what constituted the warning, the minister said the Minnis administration is in the business of fixing problems. He said if the United States is aware of certain issues, the doors are always open to discuss how they can be resolved.
"Am I surprised? Yeah. Of course I am," said Mr Dames. "There is some level of surprise. Surprise from the standpoint that as far as I am aware, our level of communication with the US, I would say, is a very good one.
"If there were concerns, then one would have expected they would have been communicated to the commissioner. I speak to the commissioner on a daily basis and this is one of those things that came up this morning and he was not aware of any issues having to do with Arawak Cay
"And secondly when we look at our reporting matters, there certainly hasn't been anything based on my conversation with the commissioner that would have brought about any serious level of concerns. As you are fully aware there is a police station on Arawak Cay and it's headed by a police superintendent.
"That station is supported by the station just east of Nassau Street, which is supported by the Central Division, which is one of the largest divisions in New Providence and that too is overlaid by the presence of mobile patrol vehicles.
"Now I couldn't say what constituted this, but we would, as we have always been, and certainly this government is in the business of fixing problems.
"So, if there are issues that the US may be aware of that we are not, our doors are always open to discuss how we can work together to resolve these issues because people are often affected by decisions that are made such as this and the key is what are the issues so that we can bring to bear whatever we need to ensure that all parties concerned are happy and that we can move beyond this."
Mr Dames said while the government has made marked progress in the fight against crime, it realises a lot more must be done.
"This is a dynamic business and we will continue to work with residents, our partners and everyone else to continue to stop the flow of illegal firearms entering this country to mitigate the amount of firearms and drugs flowing through – we are responsible for neither manufacturing or producing - and to stop the trafficking in persons throughout this country and to reduce violent crimes to make communities safe and by extension the nation safe. That's our objective as a government.
"While we know that we have a significant amount of work to do we are confident that as we roll out our policies and get the support of the Bahamian people that we'll be ok."
On the same day the warning was issued, Tourism Minister Dionisio D'Aguilar said the advisory was "odd and troubling," adding he was "at a loss" over why the State Department would opt to target the area given there is an on-site police station.
Vendors on the strip underscored the critical importance of both local and tourist traffic, expressing major concerns over the advisory's impact on eateries struggling to survive in the current economic climate.
Jason Burrows, proprietor of Deep Creek, called on the government to make an immediate intervention. The restaurant has been at Arawak Cay for 15 years.
Mr Burrows acknowledged the area was not immune to crime or conflict, but said it was important to contextualise incidents as it was not representative of the business community.
In line with previous travel warnings, the State Department also advises its citizens to avoid the Over-the-Hill area.