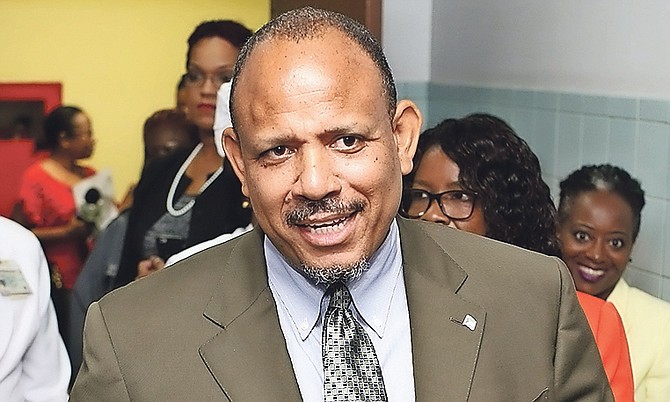 By SANCHESKA DORSETT
Tribune Staff Reporter
Sdorsett@tribunemedia.net
A RECENT spike in flu cases around the world has led to a shortage in the country of Tamiflu - an antiviral medicine used for the treatment of the potentially deadly virus, Heath Minister Dr Duane Sand confirmed yesterday.
In an interview with the Tribune, Dr Sands said the Princess Margaret Hospital is having "great difficulty" getting the drug Oseltamivir, which is sold under the brand name Tamiflu.
Dr Sands said Tamiflu not only treats flu symptoms but it can also shorten how long you're sick. He said he is "unsure" how many doses are in the country.
In order to work, he said, the prescription drug must be taken within 48 hours of the onset of flu symptoms, which could include fever, cough, sore throat, runny or stuffy nose, muscle or body aches and headaches.
"It is one of those drugs that most hospitals don't have and we have had great difficulty getting. Tamiflu is used for the treatment of influenza-related complications and there is a short supply around the world," Dr Sands said.
"We need it and we could say we need it but that doesn't mean we will get it, we have had great difficulty getting it in the past five to 10 years. The only thing we can do is support patients when they are sick as best we can. Sometimes we are able to beg a couple doses and I am currently in the process of trying to find out how many doses we have in the country. We can worry about it all we want but the truth of the matter is we cannot get it. The manufacturer doesn't make enough and the countries with the biggest buying power suck up all the supplies."
Dr Sands said a similar problem is occurring with IV fluids around the world, however, he said, luckily we haven't experienced a shortage of the "life fluid" yet.
"The devastation in Puerto Rico has caused a IV shortage problem. Now there is a problem with this life saving water," he said.
"We don't have a problem yet but if they can't gear up and replenish the ordinary supply line, the United States will take theirs first and then we will have to get whatever is left. But as far as Tamiflu goes, it has been a problem for the last couple years that is why prevention is what we have been preaching."
On Tuesday, Dr Sands urged Bahamians to take warnings related to the H3N2 flu strain seriously.
He implored all at-risk Bahamians to get vaccinated to avoid catastrophic health risks from the new strain, dubbed Aussie Flu.
He also dismissed cultural superstitions that surround seasonal flu vaccinations, calling these beliefs "nonsense".
Dr Sands warned anyone abstaining from vaccines in this instance, were unnecessarily "rolling the dice" with their overall health.
According to CNN, Medical experts in the United States are worried that this year's flu season could be a nasty one that may be lethal.
That's because this year's main flu strain, the influenza A virus, known as H3N2 or the Aussie Flu, is worse than the swine flu in 2009. This year's H3N2 has affected over 215,000 worldwide.
Symptoms of the Australian or Aussie flu are identical to symptoms of less severe strains of the flu virus, but are more severe and longer-lasting.
According to Australian health officials, the H3N2 strain mainly affects older people, those with long-term health conditions, pregnant women and children.
The strain was recently blamed for more than 300 deaths in Australia, with nearly 170,000 cases recorded.
According to the UK Telegraph, 24 people in the UK have died as a result of the strain.
Additionally, the number of those being treated for flu-like symptoms increased by 2,370 people in one week.
More like this story