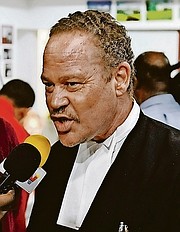 By AVA TURNQUEST
Tribune Chief Reporter
aturnquest@tribunemedia.net
ATTORNEY General Carl Bethel yesterday denied criticisms of his presentation at the United Nations last week, characterizing backlash as "knee-jerk commentary" to erroneous news reporting and commentary.
Mr Bethel challenged accusations that he did not inform the Bahamian people before unveiling government policy to the international caucus in Geneva last Wednesday.
"Nothing could be further from the truth," he said in a press statement on Friday.
He continued: "It is therefore deeply distressing to see my words apparently deliberately distorted, contorted and twisted out of all recognition.
"I therefore urge all Bahamians to actually read the words in the Report that I gave to the UN, rather than to be driven by the excesses and errors depicted in Social Media and, most of all, to avoid knee-jerk commentary."
Reader poll
112 total votes.
In Geneva, Mr Bethel committed the country to major legislative benchmarks on the issue of marital rape and migrant rights as he defended the country's performance on human rights obligations before the United Nations.
He said a bill had been drafted that would effectively criminalize marital rape as "aggravated spousal sexual abuse," adding regulations have also been drafted for the welfare of detainees at the Carmichael Road Detention Centre (CRDC).
He also spoke of amendments to the Bahamas Nationality Act, and foreshadowed amendments to the Immigration Act, which appear to legislate the government's new policy targeting persons who harbour or employ undocumented workers, revealing that changes will limit detention times for persons pending deportation and station a courtroom at the CRDC.
Earlier this month, Mr Bethel told The Tribune an amendment to the Sexual Offences and Domestic Violence Act had been drafted in response to widespread calls from the public for the Minnis administration to criminalise marital rape.
Prime Minister Dr Hubert Minnis also announced his administration's plans to amend the Bahamas Nationality Act last November, in addition to plans to create an independent commission to approve applications for citizenship.
However, while matters have been foreshadowed previously, Mr Bethel's report to the UN provided far greater detail and strongly affirmed the government's position.
In Friday's statement, Mr Bethel continued: "In each case mentioned in my remarks at the UN UPR in Geneva I was careful to state that these initiatives were "draft" Bills, "proposed" laws or "being finalized".
"Where I spoke about the Independent Committee on Citizenship applications, I mentioned the fact that the government "plans to introduce" a Review Committee chaired by a retired Chief Justice."
Mr Bethel said: "All of these statements are facts; facts that I have spoken to the Bahamian people about, through the news media, on a number of occasions, and before going to defend my country's Human Rights record in Geneva.
"Each of these items were mentioned specifically to show the ongoing seriousness with which the government was either addressing previous commitments made to improve Human Rights, or grappling with the means to effect social progress, protect the vulnerable and take The Bahamas to a better place for the benefit of all Bahamians.
Mr Bethel said news accounts and commentary following his report has made it clear that there is a significant misunderstanding concerning the Universal Periodic Review (UPR) process on Human Rights.
He continued: "The Bahamas has been a member of the United Nations since Independence, and every five years is called upon, along with every other member State, to report on what it has done to live up to the commitments that it made five years previously to address international concerns about Human Rights, which it has previously committed to undertake at the previous UPR held five years before.
Mr Bethel said: "Each country is obliged to show the extent to which it has lived up to its commitments or what they are in the process of doing to live up to commitments made, and also whether or not it will seek to address other concerns of the international community, which it has not yet committed to address."