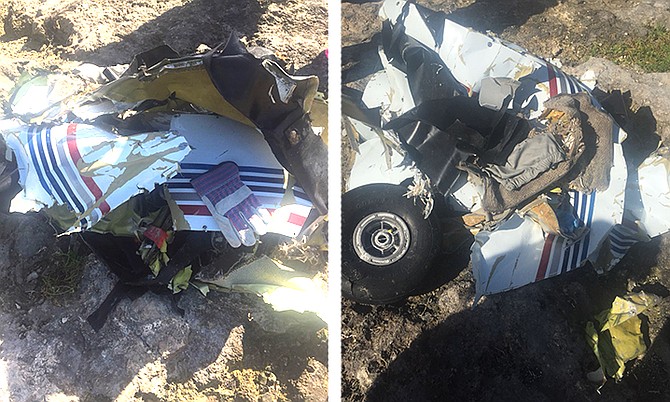 By RASHAD ROLLE 
Tribune Staff Reporter
rrolle@tribunemedia.net
THE pilot of the Piper Aztec plane that crashed, killing himself and five other people off Andros last week, did not have a commercial pilot's licence and was hoping to get one after returning to flight school in a matter of weeks, according to his sister, Shantell Miller.
Darren Clarke, 45, hoped to work someday for Western Air on his return from flight school, having spent at least "five years" flying in the Bahamas on his private licence, Ms Miller, a nurse, said. His piloting activity was his only source of income. A former boat captain, he left Stuart's Cove several years ago to be a full-time pilot.
Delvin Major, head of the Air Accident Investigation Department of the Department of Civil Aviation, yesterday confirmed Clarke's lack of a commercial pilot's licence. He said such licences are necessary to charge people for a flight. The Civil Aviation Authority regulates such matters. 
Mr Major also revealed that Clarke was certified to operate only a single engine aircraft, not a multi-engine one. A multi-engine instrument rating is required for flight charter work around the world.
For her part, Ms Miller, 35, said her brother leased his Piper Aztec plane from a businessman, a man who she said called the family after last week's crash and assured them the plane was properly maintained and insured. Mr Major confirmed the plane was insured yesterday, adding he expects to receive maintenance records for the aircraft today. 
Ms Miller described her brother in glowing terms, calling him protective, responsible and a stickler for rules. However, his lack of a commercial licence is likely to be seen as critical amid discourse about enforcing civil aviation regulations and laws.
"The licence that he has is for private," Ms Miller said yesterday. "You know he flew a private airline, he wasn't flying commercial, so he wanted to fly commercial also so I think it's something else he needed in order to get certification for that because he couldn't jump into that."
The licence that he has I don't think would've been sufficient for commercial so he was going back to school to get whatever he needed to do that."
Nonetheless, Mr Clarke flew people throughout the Bahamas, typically from Andros to Nassau, Freeport or Exuma, Ms Miller said. Across the world, private licences are allowed for noncommercial purposes only, while commercial licences are needed for pilots to reap financial rewards.
According to the country's Civil Aviation (Safety) Regulations, a Bahamian operator of an aircraft cannot fly for commercial purposes without having an Air Operator's Certificate (AOC). The process of obtaining such a certificate is rigorous and is not given if the head pilot does not meet certain requirements, including having a commercial licence certificate.
Sky Bahamas CEO and President Randy Butler has said at least 28 planes operate unlawful charters each day in the Bahamas, a longtime problem, he said, that has plagued the industry. 
Passengers aboard the ill-fated plane included 10-year-old Destinique Wilson, her mother Desiree Russell, Margaret Adderley, Valentino Cardinal Knowles and Carter Campbell.
"He just was going back to school because he wanted to fly with Western Air," Ms Miller said. "Sometime maybe next month or so he was getting ready to go back to school, so he was getting prepared because he just bought some pilot shirts and stuff, he said he wanted to change up the uniform for when he came back, hoping he'll be going into that uniform for the commercial flights. He never got to wear them, but I think in about five weeks he was coming back to go back to flight school."
Fears
Ms Miller and her family are no strangers to tragedy. In September, they buried another brother, Rian "Manny" Emmanuel Miller, 36, who was left paralysed after a motorbike accident in 2014 and succumbed to complications from the paralysis last year.
Ms Miller said she was particularly wary of her older brother's fondness for flying, frequently expressing her fears to him and her desire that he find another career. Her brother grew up in Andros and obtained pilot certifications from various schools, she said, including Southeastern School of Aeronautics in Georgia, US and Pelican Flight Training school in Florida––all within the last decade and a half. Even before he started flight school he bought flying books and studied its material, she said.  
"Every day he would walk in the house after he reach home from the airport and I would be like 'I don't like you flying,'" she said. "Just the fact that they up there, anything can happen. 'I'd feel better to know you are at Stuart's Cove, even though you on the sea, better to know you there than in the air because I don't want to get a call tomorrow to know you in a crash or something' and he was like 'Shannie, my passion is flying, that is something I want to do for life.' He never, ever had a real fear of flying. Every day I would be in a conversation with him about it. He said 'if I have to die today or tomorrow in a plane, that's how God would have me go, but I won't stop flying just because you fear I will die in a plane crash, because if I die that way that's how God would want it to be.'"
Ms Miller said she is not necessarily interested in the conclusion of the work investigators are doing on the crash, especially if it means finding out about her brother's remains.
"Based on the islanders on the scene, a lot of people saw when they brought parts and stuff up from water, and it wasn't the whole bodies," she said. "A lot of people saw when they were putting whatever they found in the body bags. They weren't whole bodies. Everything was basically cut up. What we were told is they found legs, hands, torsos, heads. Up to this day, they can't tell us if any parts were of my brother."
"Everyone deals with this stuff differently," she said. "Me personally, I wouldn't care if they say they couldn't find anything from him. It'll have me move on a little easy and better because at least I wouldn't have to see a leg or torso or head of him because whatever remains, we still would have to deal with it in terms of cremation. That they don't find them, I'd feel good in a way."
Weeks before he died, Clarke attended a family reunion, an experience Ms Miller cited as her happiest memory of him. In a rare move, Clarke, who didn't drink alcohol, consumed a Kalik radler, but only after putting the drink in a tea cup to disguise it. Despite his efforts, his eyes turned red, amusing his family who had come together to emphasise their unity outside the confines of a funeral. Clarke was a symbol of sobriety, Ms Miller said, and he had spent most of his life abstaining from partying, drinking, drugs and other excesses. 
Even before his brother Rian died, Clarke played a key role taking care of his four children, Ms Miller said. He never had children himself, Ms Miller said. "My brother that passed previously, his kids, the day before the flight coming back from Andros, I spoke to him, he would make sure buy school stuff and stuff for lunch. He called and told me he'd bring some supplies on his way up."
Ms Miller said Clarke was the key caretaker for the children.