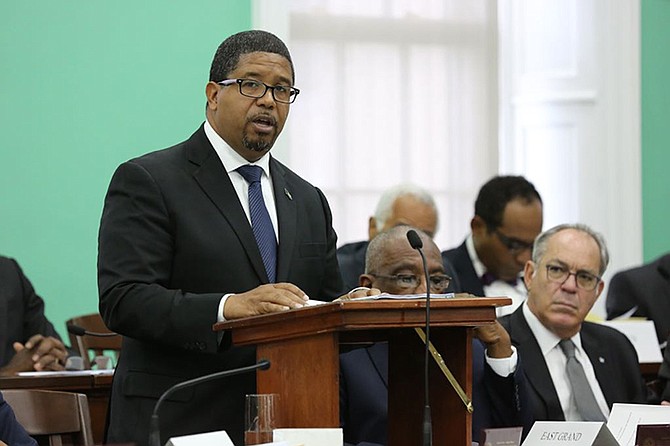 By KHRISNA RUSSELL
Deputy Chief Reporter
krussell@tribunemedia.net
WHILE the government is "concerned" by the latest consolidation announcement from the Royal Bank of Canada, Deputy Prime Minister Peter Turnquest suggested these situations are inevitable with the constant evolution of technology, which requires less "brick and mortar locations and bodies".
Mr Turnquest suggested the country has been hit hard by bank closures because Bahamians were not prepared to take advantage of or adapt to new technology.
However, RBC's announcement has pained those in Long Island, with area MP Adrian Gibson telling The Tribune pensioners and business people on the island are most concerned as the bank is the only fully functioning one in the constituency.
He made a plea for Bahamian-owned banks to consider opening operations in Long Island.
It was reported that effective March 16, RBC's Robinson Road branch will be consolidated with its Carmichael Road branch and its John F Kennedy Drive location with its Carmichael Road branch, effective March 23.
Additionally, its location in Andros Town will be consolidated with RBC's main Bay Street branch – effective March 30 – and its Grey's location on Long Island with RBC's main Bay Street branch in Nassau – effective April 13.
The issue was raised during debate on the Travelling Currency Declaration Bill 2018. The bill calls for declarations of precious stones, precious metals in the form of coins, ingots and bars or money over $10,000 to be declared to Bahamas customs during travel outside of the country.
"Unfortunately, it is in fact a global trend as more and more banks because of the availability of technology are taking advantage of that technology to reduce their cost," Mr Turnquest said in the House of Assembly yesterday. "Reducing their costs unfortunately means that some of them are moving to an electronic banking platform requiring less brick and mortar locations and as a result, less bodies. It is the curse of this generation as technology drives efficiency and the lesson for us is we are behind the eight ball in this.
"We have not prepared our people to take advantage or to adapt to this new technology and this new reality and that's what this government has been trying to do by the way with respect with trying to drive this whole idea of the Commercial Enterprises Bill undertaking in Grand Bahama and trying to create a tech hub, the promotion tour that the prime minister is on in Austin, Texas, at the moment trying to make The Bahamas a tech hub, trying to take advantage, although we are late and trying to help our people adapt to this new reality."
He continued: "Technology, it ain't going backwards. You can't put it in your pocket and hope for the old days because it's global and because it's free. It moves without borders so there is no way you can stop it.
"And so, when the member (PLP Leader Philip 'Brave' Davis) speaks about he wants to know what it is that we are doing as a result of Royal Bank, in this particular instance talking about closing four more branches and consolidating two, which undeniably will likely result in joblessness. But I remind the member that he was in office when Royal Bank gave notice."
Mr Turnquest was responding to questions levelled by Mr Davis who suggested the private sector was following the lead of the government by laying off staff. The Minnis administration has opted not to renew contracts of many workers who were hired before the 2017 general election. In other instances, the government has said people with contracts valued at $100,000 or more will not be rehired.
Mr Davis said: "This morning you wake up to the news for example the Royal Bank of Canada is consolidating banks and moving some of its operations to another jurisdiction. That has to cause some concern and I have to ask the government, what have you been doing to address these situations?
"Now we understand that those are private banks, but government has the responsibility to ensure that whatever either industry does, it is not done in a way that causes the kind of pain that I expect to be coming by what was done with the Royal Bank of Canada.
"Is the private sector following the lead of the government?" Mr Davis also asked.
"Is the private sector following the government and if it was the government's hope for the private sector to take up the slack to the impact of the (job) statistics, the question is what then has the government done over the last several months or what do they plan to do to spur the opportunities in the private sector?
"So I just wondered whether the government made an alternative suggestion to minimise the impact of the loss of jobs or minimise the pain these persons will feel."
For his part, Mr Gibson further urged the government to regulate the proliferation of web shops in Long Island, adding that he believed the use of these businesses to carry out certain banking type procedures contributed to legitimate banks leaving Long Island.