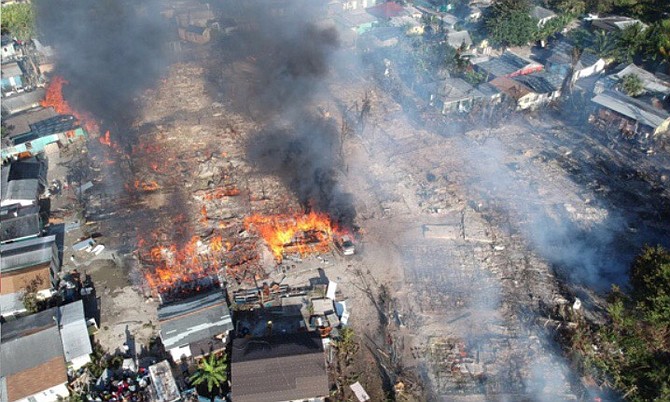 http://youtu.be/qef7RuMc0KM
http://youtu.be/iBt4arm5Uos
http://youtu.be/AaOIRwjHg_Y
SCORES of homes were destroyed in the shanty town community The Mud in Abaco on Sunday, displacing more than 150 people, police and government officials said.
Authorities believe the fire sprung from arson and a Bahamian man has been taken into custody, assisting police with their investigation.
Central and South Abaco MP James Albury told reporters it is estimated 55 houses were destroyed and 170 people have been affected.
Deputy Commissioner of Police Emrick Seymour said police received reports of the fire around 6am yesterday. When they responded to the scene, they found two houses ablaze. The fire rapidly spread amid high winds, he said.
Volunteer firefighters were summoned to help extinguish the blaze, which took several hours to put out.
There were no major injuries reported from the incident.
However, shelters were opened yesterday to accommodate the many displaced people, which DCP Seymour said included "quite a number of children."
Mr Albury told The Tribune the main shelter for displaced people last night was the Church of God. Additional shelters will likely be set up beginning today, he said.
He added that the number of displaced people is based on those who checked "in with Social Services and the command centre."
"The Department of Social Services has been fully mobilised since the morning and throughout the evening, checking in with persons, getting information, covering details of items lost," he said. "The Red Cross has also been very helpful and vital, providing food, water and other basic supplies."
Mr Albury said there is sufficient food and drinking water for the displaced people, as well as access to toilet and cleaning facilities.
Such fires are not unusual for The Mud. In 2014, a similar incident prompted a government pledge to relocate more than 150 people who were displaced after a fire.
A 23-old-man, Joel Josue, pleaded guilty at the time after he was charged with damaging and endangering property by the wilful and negligent use of fire.
Abaco is the home of the country's biggest shanty town population. Combined, its three shanty town communities, Sand Banks, The Mud and Pigeon Peas, have as many as 1,000 homes, according to statistics.