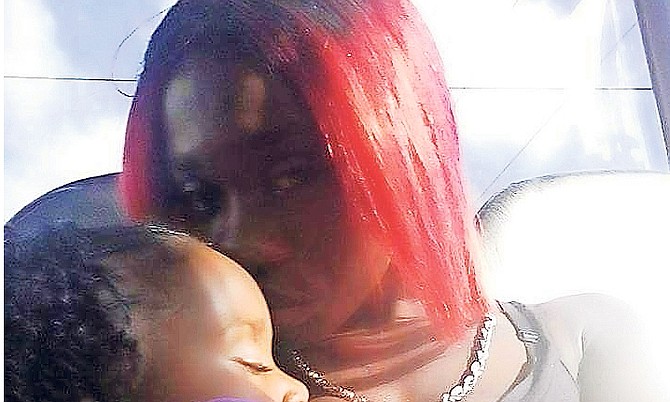 THE family of a 19-year-old girl stabbed to death in the street by a gang of women last night branded her killers as "savages" who deserved to hang.
Breanna Mackey, pictured, was walking on Key West Street on Thursday evening, shortly before 6pm, when she was brutally attacked by three women who emerged from a silver coloured Honda.
According to police, Mackey was stabbed multiple times before her attackers jumped back into the car and sped off.
She was rushed to hospital, but died of her injuries. She had just celebrated her birthday the previous day.
Last night her sister Tonia Sturrup told The Tribune the family had been left devastated by her brutal killing. Mackey's three-year-old daughter Bre-Ne still cannot understand what has happened.
"She keeps asking, 'When is my mummy going to get up?'" her sister said.
According to Ms Sturrup, the killing involved a row between Mackey and some girls over a broken cell phone.
"These young ladies were supposed to be her friends," Ms Sturrup said.
"It seems one of them had handed Breanna her phone and it had slipped and the screen got broken. The girl kept demanding Breanna buy her a new one.
"This had been going on for a few weeks, the girls kept coming 'round threatening her, demanding a phone. We told them if they kept coming 'round there'd be a problem for harassing her. We could see it had to be something more than a silly row over a phone.
"Breanna was outgoing, spirited, fun-loving girl. Everyone she came into contact with fell in love with her. If you asked her for anything if she had it she would give it to you. She loved to party and lived life to the fullest.
"These girls had to be jealous."
The family's distress over Mackey's murder has convinced Ms Sturrup something has to be done to try to prevent the seemingly endless killings taking place around us.
"I try not to hold animosity in my heart, but what they did to my sister was so uncalled for," said Ms Sturrup.
"They took her away from her daughter.
"Now I just want the court system to deal with this to the utmost extent. I believe we should start hanging. Those who commit murder should be hanged.
"We cannot feel Breanna ever again, we can never touch her, but at the end of the day the people who did this can go to jail and have their families visit them, touch them. They still have that, they still have life – for us it has been taken away.
"If you take a life, your life should be taken also.
"These people didn't have to stab Breanna, but it's clear their intentions were to hurt or kill her.
"I do think they are savages: they are heartless," Mackey's grieving sister said.
"These murders have to stop. My sister's life was taken senselessly."
Mackey's family has met their MP Glenys Hanna Martin, who offered her condolences, but has heard nothing from any other politician, FNM or PLP.
Since the murder, police have taken five women and two men into custody for questioning.
Investigations are continuing.