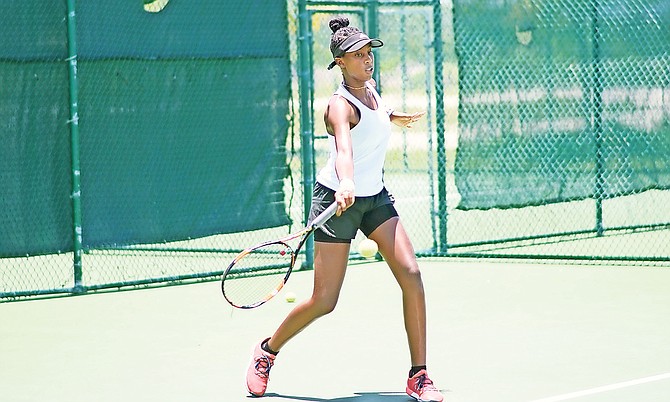 By BRENT STUBBS
Senior Sports Reporter
bstubbs@tribunemedia.net
Two players, including one of the two Simms sisters from Grand Bahama and No.8 seed Donte Armbrister, advanced out of the first round of the Junkanoo Bowl junior tennis tournament yesterday.
In the week-long International Tennis Federation touring event for players in the 18-and-under and 14-and-under divisions at the National Tennis Centre, Abigail Simms won 6-4, 6-2 over American Victoria Lushnikov.
But her little sister, 15-year-old Gabrielle Simms, was unsuccessful in her match right behind her on the same court, losing 6-2, 6-1 to American Kayla Dean.
"It was hot, but I had to do it. I'm glad that I got the win," said Simms, 17. "It was tough at the start, but I got my composure and pulled it off."
In the first set, Simms got a break to go up 5-4 and held on serve for the win. She came back in the second set and got another break for a 5-2 lead and held serve again for the game, set and match.
"It's a great feeling to win. It shows that hard work actually pays off," Simms said. "I want to win. But I know it's going to be tough. There are a lot of great players here. I just need to play like I did today."
In his match as the No.8 seed, 16-year-old Armbrister took care of Australia's Charles Dossetter in identical scores of 6-2, 6-2.
"The match was great. It's always great to play against the home crowd," said Armbrister, who came away with his first international victory in the tournament. "So it was great to get the match under my belt."
After getting off to a shaky start, Armbrister got into his groove and controlled the tempo of the match.
At 2-1, Armbrister got his first break for a 3-1 lead and he extended it to 5-1 with another break before holding for the win.
It was pretty much the same in the second set as he opened with a 2-1 lead and pushed it to 4-2 and held and broke for the game, set and match. "I'm just looking to do my best, hopefully to win the tournament," he said. "It's always good to try to get a Bahamian to win one in their own backyard, so I will see what I can do. I don't think too much about the seed or ranking. I just go out there and try and concentrate on my game and do my best and hopefully I can come out with the win."
Another Grand Bahamian, Donesha Gibson, lost 6-0, 6-0 to Canada's Dharani Niroshan.
"My match was okay, but I felt I could have put more balls in play," Gibson said. "I just have to learn how to move the ball better because they move a lot."
Not only did she move a lot, but Niroshan said her objective was to get off the court as quickly as she could, considering how hot the temperature was. "It's really nice. I like the weather. It's hotter than at home," stressed the 14-year-old. "I just went out and stuck to my plans. I want to make sure that I put into effect the things that I learned in practice."
In other matches featuring Bahamians, Kofi Bowe lost to American Harrison Gold 6-1, 6-1, Perjae Major lost 6-1, 6-1 to Croatia's Ericka' Emma Weech lost 6-3, 6-2 to Barbados' Gabrielle Leslie, Kinza Johnson lost to American Kathryn Sturgis 6-1, 6-3 and Sydni Kerr lost to Aleksa Marquez 6-1, 6-0.
There was one upset so far with American Roddick eliminating boys' No.2 seed Max Hartenstein in a marathon 6-7 (4), 7-5, 6-0 decision.
However, No.3 seed Tom LeBlanc Claverie of France stayed alive with a 5-7, 6-1, 6-2 win, No.4 seed Russell Berdusco won 6-2, 6-4 over Aruba's Alexson Naydjee Hessels, No.5 seed Quinn McLeod won 6-2, 6-1 over Jamaica's John Chin and No.6 seed Leighton Allen won 6-0, 6-1 over China's Fnu Nidunianzan.
Other boys' matches saw American Michael Nicholls win 6-0, 6-2 over Japan's Hideki Matsuoka; American Benjamin Kittay won 6-1, 6-3 over Argentina's Francisco Tomas Geschwind 6-1, 6-3; American Jack Anthrop won 6-0, 6-1 over Mexico's Santiago Diaz Tolivia 6-0, 6-1; American Boris Palmade won 6-4, 7-6 (6) overt Gabriel Hurtado of Colombia and Gianluca Beaujon won 6-0, 6-0 over Alejandro Jose Gandini.
On the girls' side, No.8 seed American Rachel Gailis won 6-1, 6-2 over Gabriela Singer and Aruba's Kayla Solagnier won 6-1, 6-0 over American Peyton Lynn Anderson.
Today, unseeded Bahamian Jacobi Bain will take on Canada's top seed Alexandre LeBlanc and Bahamian female No.2 seed Sydney Clarke will face Solagnier in two marquee matches. The action starts at 9am.