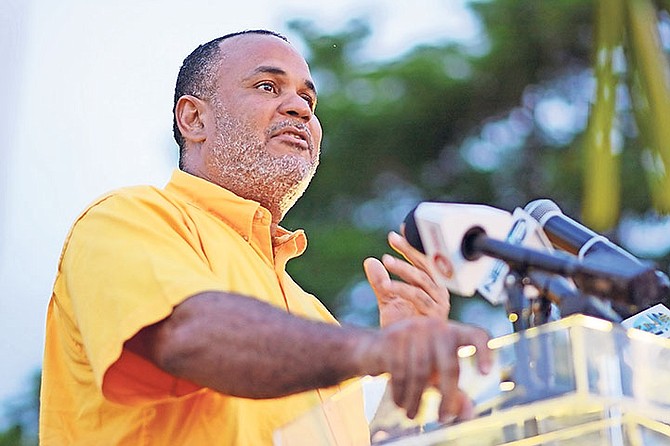 By KHRISNA RUSSELL
Deputy Chief Reporter
krussell@tribunemedia.net
FORMER State Finance Minister Michael Halkitis accused the Minnis administration of firing Progressive Liberal Party supporters, telling those gathered at a PLP rally it appeared to him the government allocated more than $26 million for new hires in the 2018-2019 budget.
Mr Halkitis further accused the government of not fully disclosing the country's financial picture.
"The FNM. . .said that the PLP bloated the public service by hiring too many Bahamians and that they, the FNM had to send people home because there was no money to pay them," the former Golden Isles MP said at a party event on Thursday night.
"I can say this: under our watch the people were being paid. But what makes this (accusation) even more egregious and terrible is that the FNM, from what I have seen, they have put at least $26.5m in this budget to hire people. So they fire people saying there is no money to pay them, but yet they have money in this budget to hire people to the tune of at least $26.5m.
"So what they have done is fire people who they think support the PLP and have our money, our tax payers money in this budget to hire who they gonna hire."
He continued: "The FNM . . . said that the PLP mismanaged the finances of the country and that the county was broke and on the verge of a cliff.
"Yet they were immediately able to borrow $722m locally and then shortly thereafter were able to raise $750m in the international market.
"The minister of finance came home and said that the bond issue was over subscribed so much it was received so well, so many people wanted to buy the bonds that he thought that could lead to an upgraded credit rating.
"Who lends money to a broke country that is on the verge of falling over a cliff?"
He further questioned the government's repayment schedule of $360m, what the government has said was unbudgeted commitments left behind by the former government.
"Today in this budget we have to pay $108m more just in interest, $381m in interest whereas last year the amount was $273m. So because of their borrowing what they have done in the last year we are stuck with $108m more in interest.
"The FNM said there would be no more carrying over of bills into future years. They say that they will pay off all the bills in the current year, but not even a year later after saying that they would no longer carry over bills in future years the minister of finance said he has found mysteriously another $360m in bills but unlike that $400m in supposedly PLP bills what he plans to do is pay off this $360m in three years.
"So after that long speech in last year's budget about how they are paying off old bills and stopping this practise of carrying over bills here he is spreading $360m over three years."
Mr Turnquest, at the start of the 2018/2019 budget debate, touted the Minnis administration's lowering of the wage bill and the purchase of goods and services by a projected $120m - along with a $351m deficit reduction, but he sought to justify raising VAT to 12 per cent by saying there was an urgent need to pay off a "mountain" of arrears and unbudgeted commitments totalling some $360m left behind by the former administration.
Mr Turnquest said this fiscal irresponsibility of the Christie administration inflicted damage on the state of the economy, making the Minnis administration's task all the more difficult.
More like this story