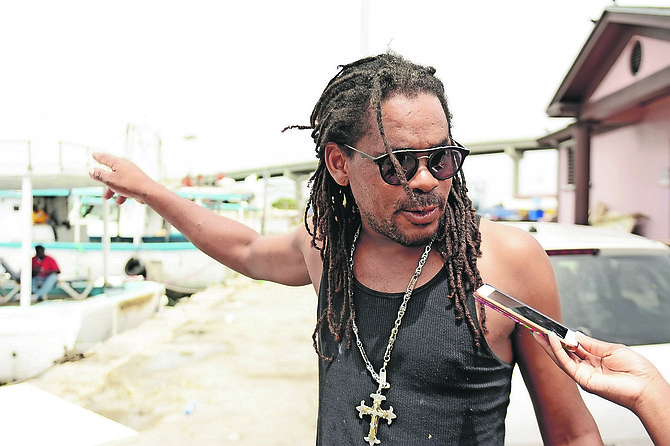 By Morgan Adderley
Tribune Staff Reporter
madderley@tribunemedia.net
POTTER'S Cay Dock vendors are concerned about the potential impact cases of conch poisoning could have on their businesses.
On Wednesday, Health Minister Dr Duane Sands announced there have been four confirmed cases of conch poisoning and possibly six unconfirmed cases in recent days.
Dr Sands said a "number of patients" would have eaten at Potter's Cay. However, he added no advisories had been given out for the area and noted Department of Environmental Health teams would be deployed "throughout New Providence" to speak with vendors about the issue.
Bahamas Docks and Allied Venues Association (BDAVA) President Dwain Bastian was among the many who expressed concern yesterday about the impact of the reported illnesses on business.
"Yes, I'm concerned about it because…it could cost you, because people would not come to your business until they get the truth about the situation with the conch," Mr Bastian said.
Many vendors also called for the specific stalls the afflicted persons ate from to be revealed, so business at the other stalls would not be impacted.
When asked if the conchs at Potter's Cay would have to be tested, Dr Sands explained the issue is not with the meat itself.
"(Vibrio parahaemolyticus) is not an issue of the meat itself," Dr Sands said on Wednesday.
"Vibrio is bacteria that ordinarily lives in seawater and is a part of the surface of the conch. The conch meat itself is not infected with vibrio parahaemolyticus…. We have learned historically that you can eliminate this problem by washing conch in fresh water.
"If you're washing the conch with vibrio containing water, you're not going to solve the problem. Even though the conch itself may appear clean on the surface. The way to get rid of the vibrio is to use fresh water."
While a majority of vendors advocated for washing conch meat with fresh water, a minority of vendors said salt water is the only efficient away to clean them.
Aretha Bastian, BDAVA trustee, told The Tribune: "Anybody who is serving conch should always properly wash their hands and wash their conch in the fresh water."
Arthur Johnson, a visiting vendor from Adelaide, explained: "You should wash them in fresh water. You supposed to keep them in salt water, and then when you serving it, wash it fresh water."
However, one vendor, who wished to remain anonymous, adamantly stated that salt water is the only type of water that can properly clean conchs.
"Yes, it is. You can't use fresh water, because fresh water can't take slime off conch. It can't. That's why they need salt water. The best way to clean conch is with salt water."
There also appeared to be a lack of awareness among the vendors about the exact cause of the recent illness.
Another vendor who wished to remain anonymous said: "Conch don't poison people… You should have ask them what they eat earlier before they come here."
Meanwhile, Mr Bastian criticised the effects of dredging works near Montagu beach on the quality of conchs at nearby Potter's Cay Dock.
"What is happening right now, here in Nassau… the government allowing people to do some dredging," he said.
"And what is happening, about three, four days ago, we had a lot mud (come) down through Potter's Cay Dock, coming from the eastern side of Nassau, from round Montagu side. I know they're doing some dredging down there."
Mr Bastian said this has caused many conchs to be filled with "muck and mud".
While he was clear he cleans his conch with fresh water, salt and lime, he pointed out that other people solely use salt water.

"And people who making conch salad or who doing conch handling (and) don't have proper running water to wash the conch (are) using sea water, cleaning the conchs with (dirty) sea water.
"When the people cook the conch or eat the conch, they will be…consuming some of that same liquid from the conch juice."
On May 2, a Montagu Beach fish ramp vendor, Donna Rolle, expressed a similar concern.
"We can't put our conch in the water, because automatically it will be conch poisoning to people…because of the situation in the water," she said.