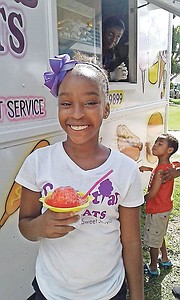 By ALESHA CADET
Tribune Features Reporter
acadet@tribunemedia.net
Fulfilling her dream of becoming an entrepreneur required a lot of hard work and sacrifice on the part of Shakira Davis, owner of Celestial Treats, but in the end the journey to success has been a rewarding one.
Over the last five years, her sweet treats company has increased its clientele considerably and is well on its way to becoming Nassau's leading mobile concession service.
Celestial Treats offers everything from hot dogs and corn dogs, to hamburgers, pizza, nachos and popcorn, cotton candy, snow cones and ice cream. Additionally, they offer pre-packaged popcorn and cotton candy bags, personalised birthday party boxes for class parties, table setup and service, and a food trailer.
"The best part is getting to meet new people and sharing in their special day. Our clients become family to us. We love to see them enjoy our products and services while receiving their positive feedback. I also like the fun aspect of the business and the thrill people get out of having the treats that they don't always get to have," said Shakira.
"Clients often comment on how good the 100 per cent beef hot dogs and homemade breads are; how hot and flavourful the nacho cheese is and how awesome the pizza tastes. This, coupled with our excellent customer service. Hence our motto, 'Sweet Treats, Sweet Service.' We have enjoyed partnering with Atlantis Harbourside, Adventure Learning Centre, New Providence Community Church and the Bahamas National Trust," said Shakira.
In addition to running her own business, she said being a mother is one of her greatest delights. And she is raising her daughter Celeste within her business. She said her little girl has already been able to assist in late night preparations and in the breaking down process after an event.
"Also, having a husband who provides both the verbal and physical support to push through on the most stressful days is a blessing. I am a full-time accountant by profession, and balancing work, business and home life has not been easy, but I wouldn't be able to do it without the support of my in-laws, family, friends and the greater community," she said.
Shakira said it was her parents, former MP and Cabinet Minister Darrel E Rolle and her late mother Beryl Rolle, who provided her with the tools necessary to cope and succeed in life.
"Every day that I get up and think about my business I am reminded of why I keep pressing towards the mark. It's to build and leave a business legacy for my daughter, who the business is named after," she said.
"Initially, Celestial Treats was supposed to be a boutique bakery, as I love to bake. However, the love for parties took over in short order. My overall goal is to make Celestial Treats a household name and become the leader in mobile concession services in the Bahamas. As people are always celebrating birthdays, it is my hope and desire that my children's children would carry on the business," said Shakira.