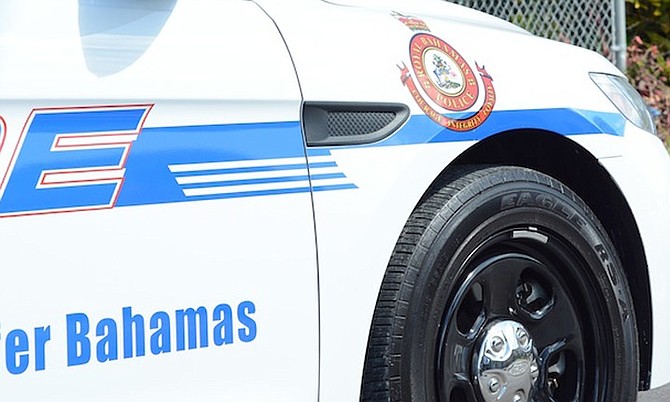 By AVA TURNQUEST
Tribune Chief Reporter
aturnquest@tribunemedia.net
POLICE are investigating a fatal hit-and-run in the capital after a pedestrian was struck while attempting to cross the road on Friday evening.
The man was attempting to cross Robinson Road in the vicinity of Washington Street shortly after 10pm, according to police.
The vehicle, a red truck, continued driving in an eastly direction after he hit the victim.
The pedestrian was taken to hospital by paramedics and pronounced dead a short time later.
The Tribune understands the victim is Andre Sands.
Police have asked the public to come forward with any information about the incident as they continue to hunt for the motorist. The accident was caught on nearby CCTV and posted to social media over the weekend.
Footage
The distressing footage shows the man carefully watching the road as a number of vehicles drive by. He begins crossing road and then looks to his left for oncoming traffic.
Halfway across, he suddenly becomes aware of the truck speeding towards him to his right and before he can jump out of the way, the vehicle slams into him.
Several pedestrians have been victims of hit-and-runs recently.
A week ago, Trey Garvey, 21, son of Grand Bahama activist Tray Garvey, was killed by a motorist.
According to initial reports from police, officers discovered the body of a man on West Sunrise Highway, west of Yorkshire Drive, in Freeport shortly before 5am on Sunday, July 15. The victim was unresponsive. Reports are the man had been struck by a vehicle that left the scene.
Garvey was a member of the Grand Bahama Youth Choir and had also enrolled in the National Training Agency programme.
That hit-and-run follows a traffic fatality last month that saw a pedestrian hit by a car on Foster Street, off Boyd Road.
According to Chief Superintendent Craig Stubbs, officer-in-charge of the Traffic Division, the June 23 incident marked the the 40th traffic fatality for the year.
In March, two men were arrested in Bimini less than 24 hours after an early morning jogger was killed during a hit-and-run on West Bay Street. In February, a woman was fined more than $12,000 for hitting, rolling over and consequently killing a 52-year-old man with an unlicensed and uninsured vehicle before leaving the scene.
Earlier this year, police said there had been an "uptick" in pedestrian-related traffic accidents and hit-and-runs.