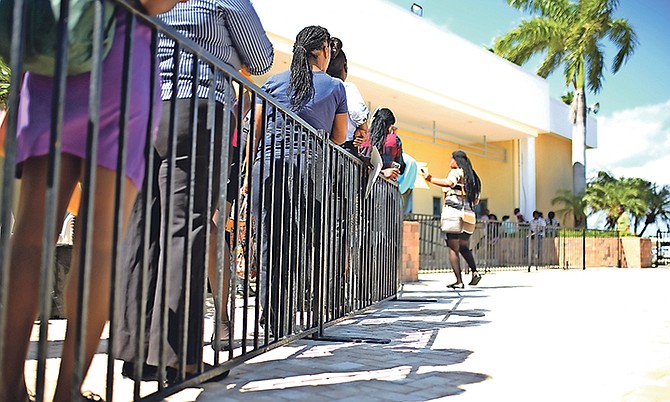 By MALCOLM STRACHAN
ON the ground, the cries of the Bahamian people are clear. They want an expanded economy and more jobs. Aside from Baha Mar, there have been few gains on the employment side. The government's right-sizing exercises have led to mass layoffs in the public service. Granted, many of the layoffs were due to the previous government inflating the public service in the lead-up to election, poor employee performance and what was reported to be a general lack of interest in showing up to work.
There is no doubt the health of our economy goes hand-in-hand with the productivity of those employed. One may argue that a lot of the failures within our public service fall on the shortcomings of some members of the labour force.
It has become a damning self-fulfilling prophecy, whereby adequate training and compensation aren't being given to our people, yet we expect a gold standard on the productivity side. If we were to approach the issues of our labour output sensibly, we can reasonably surmise there is a correlation with our national grade point average. Moreover, the repeated training exercises carried out by successive administrations do not seem to yield any material benefit.
The government has announced an expansion and improvements to the National Training Agency, which was implemented by the previous government. However, as that hardly moved the needle, we are very interested in understanding how the Minnis administration can get better results.
No one can knock the government for trying to train its citizens, but when we've seen this before, in some form or another, from former governments and the country still not getting over the economic hump, we must question where the benefits lie.
If we were to play devil's advocate, many questions should surround the government's publicising of its job training programme on the same day the labour numbers came out. It all seems a bit like smoke and mirrors too often, not just with this government, but with all. Meanwhile, they all continue to skirt around the real issues.
To be fair, Education Minister Jeff Lloyd seems to be one who realises the dire need for a radical shift in the way we mould the minds of our people. His ideas have been so drastic that many have shown resistance. While they may be feasible or not, it is this kind of thinking that is required, where rather than tertiary training we are focusing on our greatest resource from their early childhood years.
Our focus should be on encouraging curiosity in our children, as knowledge blooms from critical thinking and asking questions. Instead, we promote a culture of order taking and demean out-of the-box thinking. This is nowhere more evident than our national GPA.
As graduates enter the workforce every year, they are generally assumed to be ill-prepared based on the nation's D average. While the Minister of Education has expressed his desire to overhaul the entire system, beginning from developmental years, we are still faced with a generation that lack skills, but need employment.
We also need them to thrive. This does not dismiss the fact there is great talent and intelligence flourishing within our communities. However, with the opportunities that those who go to school abroad are afforded, coming home to work shoulder-to-shoulder in institutions with lopsided human capital for pennies on the dollar is a hard sell.
As the world's leading economies continue to expand at a clip that dwarfs what we are experiencing in The Bahamas, it will be increasingly hard to hold on to talent. As other issues of crime, corruption, poor leadership and a high cost of living become repellents, there is a dwindling interest among young Bahamians to make a life at home.
Why would they want to when they see countless politicians that refuse to sink their teeth into the real issues? While our neighbours to the North are not without imperfections, the prospect of living a good life there is far higher than it is in The Bahamas currently.
That being said, the prime minister's most recent mantra is that he intends to "save The Bahamas". We asked the question, to whom or what is he saving it from? As of this time, we're unclear on who or what is the villain from his perspective. Perhaps it's the PLP? It is no secret they were on a crusade of self-enrichment. And while the Minnis administration thus far seems to run a tighter ship, he is only half-right in blaming the PLP for all of our nation's woes.
He must also understand that all politicians have failed the Bahamian people by not cultivating our greatest resource – by largely promoting service industry professions. How is it that they want to create a Sillicon Valley in Grand Bahama, but we have not groomed the local talent to buoy that industry? Conversely, what are they going to do – in a real sense - to lure Bahamian professionals who would've acquired the requisite skills elsewhere back to The Bahamas?
Talking about it on podiums and pulpits is one thing, but real action is completely another. And thus far, the action portion has been far less evident than the talking with this government. The negligible decrease in unemployment speaks to just that.
In all fairness, there are a number of opportunities that are still in a holding pattern that should create jobs for Bahamians. Bahamian people at work is always going to be something to celebrate. However, if the government's intention is to do something transformational, which it has indicated on many occasions, a much deeper focus has to be applied to our greatest resource.
That is how we ensure we go on.
Certainly, before we shun the government's new jobs programme, they deserve a chance to show us what is going to make this different. What is their plan for how this will allow young Bahamians to make lives for themselves? How is it all connected to the prime minister's overarching vision? Furthermore, what is his vision?
We have to begin to try to make sense of what the government's plan is for the next four years. Unfortunately, we don't have the luxury of not taking an active role in the governance of our country.
The government needs to tear down the veil and let us know how they intend to make life better for us. Most importantly, they have to realise that we, the Bahamian people, are the key to our future.
If the prime minister wants to save the country, he should start there.