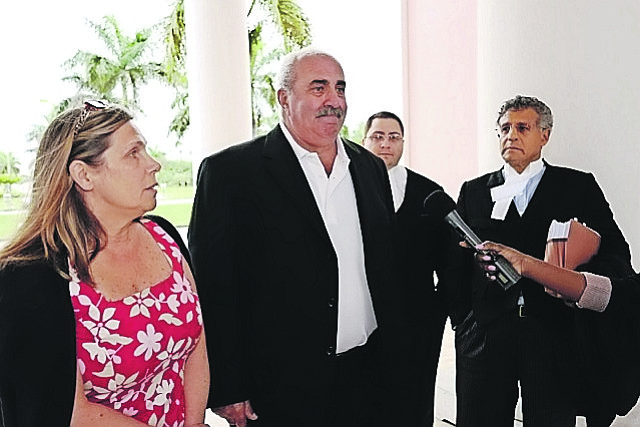 By AVA TURNQUEST
Tribune Chief Reporter
aturnquest@tribunemedia.net
AN idyllic retirement dream snowballed into a decade-long nightmare in paradise that saw Canadian second homeowner Bruno Rufa take his case to the country's top courts to stave off an unrelenting scheme to run him out of the country.
And although he's been vindicated by the appellate court, Mr Rufa's bizarre fight with the government to reside in Grand Bahama is far from over.
He and his partner Sandra Georgiou broke their silence over years-long allegations of intimidation, harassment and degradation at the hands of the Bahamas Immigration Department in an interview with the Tribune.
The pair cycled through a range of emotions from incredulity to heartbreak as they struggled to reconcile with how vulnerable non-Bahamians are to the whims of a governmental department that appeared to operate outside the remit of the law.
"We heard stories about it," said Ms Georgiou, "stories of it's not what you know, it's who you know. But we said it's impossible, there is no way one person can pick up the phone and call a minister and get all this rolling, but that's what it seems like. That would never happen in any other country in the world, I don't understand it.
"I never would have thought in a million years that a government would take a position like that," she continued, "never. How can the Immigration Department think it runs a country without following any rules or regulations? The courts have shown what's legal and what's not."
The pair purchased a Coral Beach condo Freeport, Grand Bahama, in 2000.
They flew under the radar until Mr Rufa took up the mantle as president of the Coral Beach Management Company in 2005 after the property was damaged by hurricanes Frances and Jean.
That's when the headache started, Mr Rufa said.
"For five years, we were not on the board," Mr Rufa said, "just a regular Joe-blow going down, doing our holiday stuff. The place was just a wild, wild west, the bylaws weren't adhered to, some people were paying and some weren't paying. The books were a mess, and as we started correcting that at the board, people who had friends and relatives at the Immigration department started complaining to Immigration.
Mr Rufa continued: "That's how it started, they went to Immigration and it was strange. They started attacking the board trying to overturn us - it was only two or three people who lived there. There was legal action taken against some of these owners because they weren't paying maintenance fees, and the board took action to correct it and they started getting upset."
Mr Rufa said initially several board members were routinely harassed by Immigration officials; however, he said over the course of a decade the department's focus narrowed down to him exclusively.
He was arrested on January 3, 2015, by Immigration officers and charged on February 2 with allegedly engaging in gainful occupation. He was accused of working at the pool bar without a work permit.
Mr Rufa was granted bail at a follow-up hearing in the Magistrate's Court on February 18, 2015, where a senior immigration officer informed the court that Mr Rufa was deemed an "undesirable" and was to be deported out of the country.
He was immediately held in custody, taken to his residence to pack a bag and told to book a ticket on the next flight. He was escorted to the airport by Immigration officials to purchase a ticket, and then to the US pre-clearance departure lounge to board a flight to Miami.
His lawyers wrote to the Assistant Director of Immigration requesting a copy of the Deportation Order, but received none.
And an injunction restraining Mr Rufa's deportation was granted minutes after his flight already departed from Grand Bahama International Airport (GBIA).
Later that year in 2015, attorney Fred Smith, QC, of Callenders and Co, brought judicial review proceedings on behalf of Mr Rufa against the minister of immigration, the director of immigration and the Office of the Attorney General, challenging the decision that he is an undesirable and a threat to the public good.
The following day, his attorneys received a letter from the Immigration Department advising the homeowner's resident cards (HORC) for both Mr Rufa and Ms Georgiou were considered, but not approved.
In December 2015, Mr Rufa was given seven days by the Department of Immigration to wrap up his affairs and leave the country, despite being granted a visa giving him permission to remain in the Bahamas for 150 days.
Mr Rufa successfully defended his case at the Supreme Court and the Court of Appeal, where appellate judges this year ruled his deportation was unlawful and had subjected him to a "Bahamian nightmare".
However, in an interview with The Tribune, he contends his detractors still achieved their goal.
"Once I got charged with working and then was kept off island," Mr Rufa said, "for a year period I couldn't function, the board couldn't function its duties. The board was in retreat, and we decided not to run again in 2017. We just weren't able to do the job so after a ten-year period - they got their way.
Mr Rufa continued: "Through all this, not once did the Immigration Department ever investigate the supposed complaints. Never did they come down and sit with us or ask for our side of the story. We asked what could we possibly be doing that involved the Department of Immigration but we were never made aware of the complaints.
"I've never talked to the minister or director or assistant director either in Freeport or Nassau. I was never questioned on anything, whatever was being said by those individuals they just took it as face value."
Mr Rufa said: "I would have thought that anyone who would have looked at the case, almost every judge from Magistrate to Supreme Court that heard any part of the case are like, what are they doing to this guy? It's like when the past administration decided to make the move it just went from that to worst to the point now where its absolutely devastating.
"The only reassuring aspect of it all," he said, "might be that when all this started, I was concerned about how independent is the court going to be from the government, that was my biggest fear.
"What's been reassuring is the courts are independent, if it wasn't for that I'd be in more trouble."
Ms Georgiou, 59, said she and her partner's retirement dreams have been shattered due to the unpredictable and vindictive nature of the Bahamas Immigration Department. She lamented Mr Rufa had gone from never having a single run in with police or a parking ticket in Canada, to being repeatedly arrested and criminally charged in The Bahamas.
Despite their legal victories, the pair still don't have their HORCs and have now taken legal action against the government for its "irrational refusal".
Their latest application for Home Owner's Resident Cards was refused because they did not submit a utility bill with their applications; however, the pair do not receive utility bills as they are in a condominium.
They argue there were "no grounds whatsoever" that would have allowed the Director of Immigration to "make the provision of a utility bill a prerequisite" to their HORC applications being considered and granted; and also claim there is no basis for the director to have refused to accept their applications as they both satisfy each and all of the four conditions in section 11 of the International Persons Landholding Act (IPLA).
"It truly is a beautiful country," Ms Georgiou said, "we love the Bahamas. We've been traveling to different islands in the Bahamas and the Caribbean since the 80s. In 2000, we decided this is where we want to spend the rest of our lives. When Bruno stepped in to help the property we invested in, we never thought.
"We brought down so many of our friends," Bruno, 66, added, "at least 40 or 50 families directly or indirectly. One of our friends brought us, and there are so many Canadians down there in Grand Bahama now through us.
Ms Georgiou said: "We have so many friends and family who ask why aren't you going to the Canadian government or the tourism board? We're not after the Bahamas government, we don't want to hurt the country. We don't understand why this one arm of the government is trying to ruin it."
As for the condominiums, Mr Rufa believes the community has withstood a massive blow with a drop in property value and an exodus of owners attempting to sell their units.
"It's brought Coral Beach down to its knees, then there is a fear factor if it happened to Bruno it could happen to anyone. They deported me a dozen times, thrown me in jail unlawfully.
"What I've been told through the grapevine is how many hundreds of people are challenged by Immigration by intimidation but they just leave, they don't go through the courts.
"I'm hearing I'm one of the first to challenge this. Most people are like, ok I'm getting the hell out of here, and you never hear of those people and it's a damn shame.
Ms Georgiou mused it would have been far easier to abandon the lives they'd build in Freeport, but it would not have been right.
Mr Rufa said: "It's also survival too, when I was charged with working that's a criminal charge and if I had been convicted, I'd have a criminal record. I wouldn't be able to travel anywhere. Every opportunity to harass me and some of the board members, they did it.
"And what price has anybody paid? Not a penny out of their pocket, it's the government pocket. They had nothing to lose, that's why I think they are so free with it, all with the harassment and the charging."