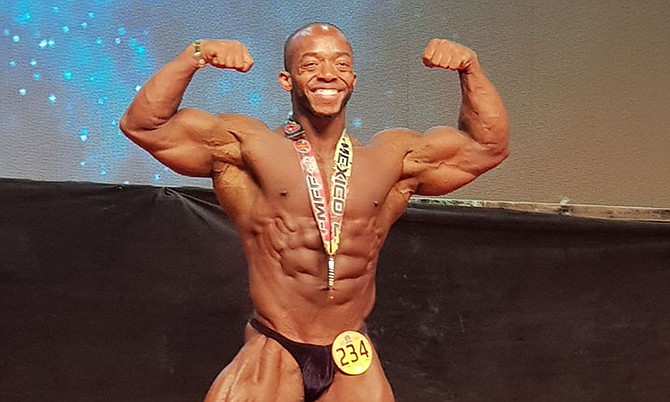 By BRENT STUBBS
Senior Sports Reporter
bstubbs@tribunemedia.net
Bodybuilder Paul 'Mighty Mouse' Wilson and physique competitors Wellington Wallace and Raynor Ferguson all secured gold medals to lead the Bahamas' 12-member team to an impressive showing at the 45th Central American and Caribbean (CAC) Bodybuilding and Fitness Championships that concluded in Mexico City on Sunday night.
Team Bahamas, managed by Leonardo 'Nardo' Dean and coached by Raymond Tucker, had a total of nine medals, including three gold from Wilson in the men's lightweight in bodybuilding and Wallace and Ferguson in the men's physique C and D Classes respectively. The team also clinched two silver and four bronze.
Not to be left out were Rashield Edgecombe with a silver in the men's muscular physique, James Bain got a silver in the junior men's physique and a bronze in the men's E class physique, Jeremy Misiewicz won a bronze in the men's junior physique, Lyndsay Curry won a bronze in the women's body fitness and Shakira Ferguson got a bronze in the women's bikini fitness C class.
Other members of the team were Tarran Knowles, fourth in the men's physique A class, Misiewicz, fourth in the men's bodybuilding E class, Gemo Smith, sixth in the men's physique C class and Tashara Seymour, fourth in the women's bikini D class. Alberto Armbrister also participated in the men's physique.
Bahamas Bodybuilding and Fitness Federation president Joel Stubbs said they only took the 12 athletes based on their performances at the recent BBF Nationals in May along with the previous CAC talent from the other countries. Despite their size, the former CAC heavyweight champion said Team Bahamas was simple awesome with another gutsy performance against 25 other participating countries.
"All of our athletes, with the exception of one, was a finalist," said Stubbs who attended the championships with vice president Kenny Green, head judge Charles Sealey, who also officiated in that capacity, along with Wellington 'Cat' Sears. "It was really, really beyond measure, an awesome performance. It was really great to see Team Bahamas performing out there this weekend in Mexico City."
Stubbs thanked all of the athletes for preparing to compete at their best and coaches Tucker and Dean for ensuring that the athletes were kept in good condition. He thanked all his executives and the judges, including Green, Sealey and Sears, along with Michael O'Brien. for providing photo coverage of the team in action.
Former federation president Danny Sumner, now the vice president of CACBBFF), was also in attendance in Mexico.
The federation is now gearing up for the second annual Faye Rolle Classic that will be held at a venue to be announced on Saturday, October 27.