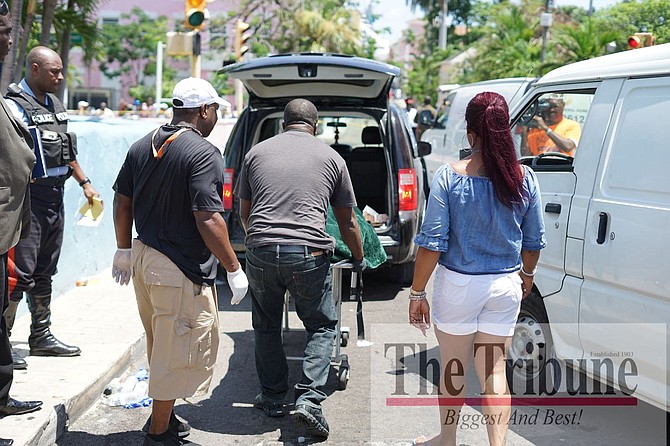 Monday's lead story on the Labour Day tragedy appears HERE
UPDATE: Prime Minister Dr Hubert Minnis has addressed the nation on Friday's Labour Day tragedy:
http://youtu.be/RU5kxO_tvrI
Saturday 9.50am UPDATE: In the hours following the Labour Day tragedy, Princess Margaret Hospital officials said all patients with minor injuries were discharged and sent home safely.
However two women, injured when a truck plowed through march participants, remained in hospital following surgeries.
Officials said they both were in stable condition.

A third woman is scheduled for surgery today.
This is the latest development since four women killed and numerous others were injured during the incident.
UPDATE: Police have identified today's victims as: Dianne Elizabeth Ferguson, 55; Kathleen Augusta Fernander, 51; Tabitha Charlene Haye, 41, and Tami Patrice Gibson, 48.
Words by RASHAD ROLLE and KHRISNA RUSSELL
Photos by TERREL W CAREY
THE Labour Day celebrations were plunged into tragedy when a truck mowed through a crowd of people Friday morning, killing four and injuring 24 in an unprecedented event for the Bahamas. 
All the dead were women, two of whom died on scene in the area of East Street and Shirley Street while the other two died in hospital. 
Of the injured, two have been admitted because of the seriousness of their injuries, according to Princess Margaret Hospital's (PMH) Medical Chief of Staff Dr Caroline Burnett-Garraway. 
And while diagnostic studies were slated to be performed on the others, Dr Burnette-Garraway said at a press conference that the remaining injured are "walking wounded" and are expected to be treated and discharged without serious complications. 
Families and friends of the injured huddled around PMH throughout the day, anxious for news about their loved ones. 
Assistant Commissioner of Police Kendal Strachan confirmed the tragedy struck when control was lost of a black Ford F150 vehicle.
"The driver of that vehicle was accompanied by three persons on the back and another individual inside the vehicle," he said. "It is understood that when he got out of it, it went forward colliding first with a child along the side of the street, then descending the hill, continuing north running into several persons who were participating in the Labour Day parade along the eastern side of East Street, coming to rest against a Nissan Micra and the building just at that intersection." 
Mr Strachan stressed that the incident is not terrorism related. 
He said the driver of the truck is assisting police with their investigation but he was careful not to confirm or deny reports about how the driver's actions prompted the series of events. 
He said: "We have experience and we manage from the police side of it any number of parades, floats, be it motorcades, bicycle events and otherwise. It is expected that the individual who is in charge of the vehicle stays in charge of that vehicle. A parade of that nature is normally stop and go at not more than five mph (for vehicles). Constantly on these parades you would find police officers asking persons who are on the vehicles to be properly seated within the vehicles. Yes there are large trucks on the parade where persons are standing but we don't want to see persons hanging off the side of the vehicle."
The incident sent shockwaves throughout the country but also showcased quick and effective work from health professionals who worked to prevent a rise in the death toll. 
PMH went into "mass casualty" mode, PMH Administrator Mary Walker said. Three people were treated at Doctor's Hospital. 
The parade was cancelled following the incident, though this news did not immediately reach all participants. For more than an hour after the tragedy, boisterous crowds were still gathered on Bay Street, preparing for a Junkanoo rushout. 
Not far from them, health officials scrambled to inform families and the public about what happened. 
"Today is an extremely sad day for the Commonwealth of the Bahamas," Health Minister Dr Duane Sands said at the press conference. "Having endured such a tragic incident, the one thing I can say is from the time of the incident doctors, nurses responded even in their grief to care for the victims. The EMS staff, nursing staff, physicians at PMH made their country proud today and they provided care with a level of professionalism." 
An emotional Labour Minister, Dion Foulkes, expressed "pain and condolences to the families" on behalf of Prime Minister Dr Hubert Minnis, who is in Eleuthera, and his government. 
"This is a difficult thing," Mr Foulkes said. He was participating in the parade near the British Colonial Hotel alongside labour leaders Obie Pindling and Bernard Evans when they learned what happened. "We cut off all the music along the parade and instructed them to play spiritual music which they did," he recalled. "We cancelled the rally at the Fish Fry at Arawak Cay. The nation is in mourning. We feel the pain of every Bahamian. This is a tragedy, to my knowledge something like this has never happened before." 
'I will never forget this Labour Day'
An eyewitness who didn't want to be named described the horror of the scene: "As I was standing on East and Shirley Streets I heard a DJ shout out 'look out!'
"As I looked up the hill I saw something as if it was out of a movie: people being hit in the air and run over then I heard the most sickening sound - a piercing scream followed by a loud pop that I later found out was someone's head being pinned.
"I saw a mother pick up her kids and throw them to safety before losing her own life.
The eyewitness continued: "I will never forget the screams and bodies lying in the street and the nurses, who were moments before dancing and enjoying themselves, flying into action.
"I saw the driver run away in disbelief only to return a short time later; the junkanooers who, while waiting to participate in their own portion of the parade, put aside group politics and lifted a truck off of two ladies.
"Seeing the face of the truck driver and knowing that some of him died too. I will never forget this Labour Day."