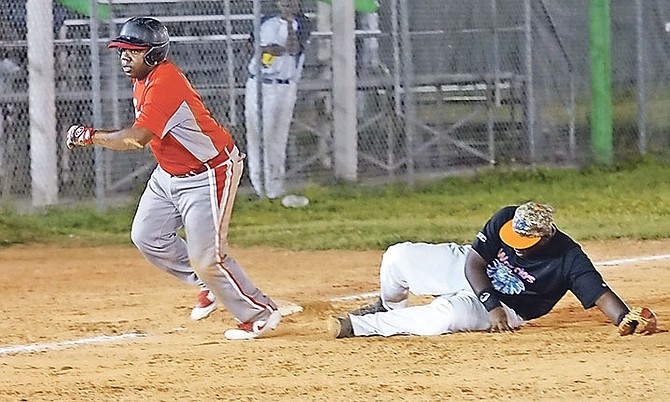 LAMAR Watkins scored the tying run and D'Juan Seymour got the winning run in the seventh inning as the Commando Security Truckers came from behind to nip the BTC Elite Warriors 12-11 as the New Providence Softball Association continued its regular season in the Banker's Field at the Baillou Hills Sporting Complex on Saturday night.
Watkins led off the inning with a double, moved to third on a wild pitch that got Seymour on base. After Philip Rolle singled to place the two runners in scoring position, Watkins and Seymour came home on an error that allowed Watson to reach safely at first. Watson was left stranded on second as Garfield Bethel struck out, but the damage had already been done.
The Truckers scored three runs in the second, third and sixth inning before they pulled it off in the seventh.
Seymour went 2-for-3 with three runs batted in (RBI) and scored as many times, while Watson was 3-for-4 with two RBI and two runs scored to pace the Truckers. Philip Rolle was 3-for-4 with a RBI and run scored. Miguel Hanna was 1-for-3 with two runs scored and Steven Russell was 1-for-4 with a run scored.
BTC led off with three runs in the first, two in the second, four in the fourth and two in the fifth. But when it counted the most, they got shut out in the sixth and seventh innings.
Sherman Ferguson just missed the cycle with a double, triple and home run in his 3-for-3 plate appearance, driving in three runs and scoring as many times. Jordan Gibson was 2-for-3 with a RBI and two runs scored and Navardo Gilbert was 2-for-4 with a run scored.
Alex Clarke got the win on the mound and Jeffery Woodside was tagged with the loss.
The NPSA returns to action with the following games this week:
TONIGHT
7pm - Johnson's Lady
Truckers vs Hennessy
Lady Panthers (L)
8:30pm - BTC Elite
Warriors vs
C&S Hitmen (M)
THURSDAY
7pm - Aliv Strykers
vs Sunshine Auto
Wildcats (L)
8:30pm - Chances Mighty
Mitts vs Commando
Security Truckers (M)
SATURDAY
7pm - BTC Lady
Warriors vs Johnson's
Lady Truckers (L)
8:30pm - BTC Elite
Warriors vs Commando
Security Truckers (M)