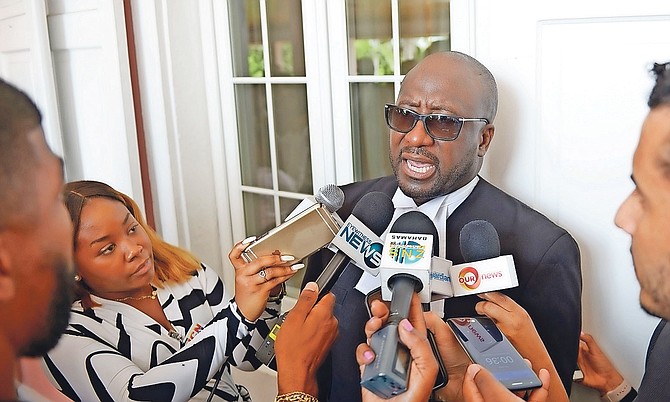 By RICARDO WELLS
Tribune Staff Reporter
rwells@tribunemedia.net
GARVIN Gaskin was officially sworn in yesterday as the country's first independent Director of Public Prosecutions, a move Prime Minister Dr Hubert Minnis said hopefully would end any "suggestion of political influence" from the executive branch of government on the prosecution of cases.
Speaking to reporters shortly after he accepted his instruments of appointment from Governor General Dame Marguerite Pindling, Mr Gaskin said his new office would be focused on integrity and be specifically committed to having an "unwavering and dedicated focus on justice."
"This service must be done with impartiality, transparency and critical objective approach with a lack of political fear or manipulation and a clear conscience," he said.
"Integrity will be the software of our transformation."
When asked by reporters what, if any, immediate changes would be made in the coming months, Mr Gaskin stressed that he and other officials were analysing all approaches "holistically".
Addressing the historic nature of his appointment and what it means for the future of public prosecutions in the country, he said: "To some extent I have been doing it."
He continued: "But now, once we are talking about the independence part of it, meaning the buck stops with you, then obviously it's about applying all of the knowledge that you have acquired over the years and, you know, all the issues that come with whether there are political influences, all of that; all of that will be put to bed… especially as a public servant, doing the will of the people and following the law."
Speaking specifically to the scope of transparency exhibited by the office in the past, Mr Gaskin said: "Well, historically you can never fully explain why you enter a nolle (stop prosecution order), for instance. There has been reason because you never wanted to set the precedence that every time you make a decision, you have to say, 'well this is why, this is why, this is why.'"
He added: "I do appreciate that there may be times when an explanation of sorts can be given, but, like I said, you have to essentially start at a foundational plank and that is, every decision you make to discontinue must be a principle one and not one influenced by Inappropriate or external forces of that nature.
"Like I said, to some extent we have been doing this and we have seen a lot of positives - increased convictions, tighter cases - and so I hope to take it to a next level."
Lastly, when asked about his involvement in major cases moving forward, Mr Gaskin said he would lend his services where needed, but insisted his major focus is the administrative responsibilities of public prosecutions.
"I will certainly be involved in cases. I think I'll have to pick my spots because a major part of what we are doing is administering at this level. And so, clearly when it is appropriate, I'll appear," he said. "As you know, I am always in court from time to time, but with this particular position it is imperative that the administrative side is focused on greatly. I will pick my spots appropriately."
Speaking at the event, Dr Minnis said the move marked an important advancement in good governance and democracy for The Bahamas.
A constitutional amendment bill passed in 2017 amended Article 78 of the Constitution to provide for the creation of the Office of the Director of Public Prosecutions.
By virtue of the creation of the Office of DPP, the law change conferred all powers relating to criminal prosecutions previously vested in the attorney general, who is a Cabinet minister.
Dr Minnis said the appointment further marked an important day in the creation of a more civil society, as it represents another fulfilment of a promise made to the Bahamian people by his administration during the last campaign.
Dr Minnis said: "The establishment of a constitutionally protected Office of an Independent Public Prosecutor is a praiseworthy achievement for Bahamian democracy, as it has the potential to mark a clear break with the past."
He added: "Historically, all too often, there have been instances where public criticism and even parliamentary dissension arose in consequence of what some might have viewed, as the commencement of certain prosecutions for offences, such as sedition, or criminal libel, in highly politically charged circumstances; or the discontinuance of prosecutions by way of nolle prosequis, issued by former attorneys general, in circumstances which were considered to be ethically or politically questionable."
Dr Minnis said he was hopeful the country could advance past the days where persons could "credibly" suggest a political influence over the commencement or conduct of public prosecutions.
"Hopefully, any suggestion of political influence, over prosecutions by the executive arm of government, will now be a thing of the past," he said. "Certainly, the Constitution of the Bahamas now requires that any policy directives given by the attorney general to the director of public prosecutions must be in writing and published in the gazette for all to see."
According to Dr Minnis, an appointment to post of independent Director of Public Prosecutions will stand for five years; with an option for reappointment to a second and final term.
The law establishing the new post came into effect on May 18.