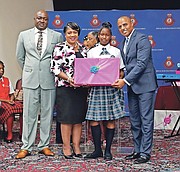 MINISTER of National Security Marvin Dames presented 49 laptops to outstanding primary school students at a ceremony at police headquarters yesterday.
Mr Dames told the students who were honoured yesterday to continue on the right path and make good choices in life.
"Choices are at the core of everything you do and will shape the very foundation of your lives," Mr Dames told the youth. "Every choice has a consequence, positive or negative. Your life will not just turn out to be perfect. You are required to make right choices today and every day. Your presence here today suggests that 49 of you have decided not to become educational truants.
"Your decisions will determine your destiny. Recipients, your time in school will benefit you for a lifetime. Make receiving a quality education, your choice. Take ownership of your education and do not blame anyone, for your lack of success. You are responsible for the education you receive; not your parents, your teachers, your peers. Your persistence in your educational pursuits has already yielded some success. Allow today's success to inspire you to attain even greater achievements."