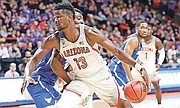 By RENALDO DORSETT
Tribune Sports Reporter
rdorsett@tribunemedia.net
Puma, one of the world's sporting apparel brands, has chosen Deandre Ayton to be one of the faces of its relaunch into basketball.
Ayton was one of two top-tier lottery prospects to sign with the company just days ahead of Thursday's NBA Draft at the Barclay's Center in Brooklyn, New York.
Puma also signed former Duke product Marvin Bagley III. The pair represent Puma's first basketball signees in 20 years when they signed Vince Carter in 1998.
In an interview with Bleacher Report Kicks, Ayton discussed his decision to sign with Puma.
"Puma was the best deal. To me, anybody can make your shoe. Anybody can make the best shoe for you and put the right fit in the shoe. We were dealing with Nike people, Under Armour and all the other shoe companies for a pretty long time. We ain't really got bad blood with any of them, but it's not bad to start something new. We just thought Puma was the right fit," he said, "My mom had a friend at Puma, but we didn't really know she was with Puma. But as I started to get more exposure to the world and basketball, she told us she was with Puma and knew people there. Just knowing all of these people personally, my mom felt comfortable. Another thing is that all these other brands got all these other superstars. It's good that I'm one of the few that's signed with Puma."
He also gave insight into his decision making, indicating that he wanted a brand where he would be able to make an indelible mark on a brand relatively new to the market.
"I don't want to be under nobody else. If I'm over here trying to bring on my shoe, and you've got somebody like LeBron [James] out here, you got the [Kevin Durants] out there, I'm not trying to be really competing with those guys like that. It's always good to start your own thing and try to be great in it. Nike is Nike. Adidas is Adidas. I've played in their circuits and stuff like that, but now it's a business. You don't want just product. You're not a kid anymore. You're really trying to get bank. That's about it," he said, "I want to try to be the rookie coming in with his first signature shoe as early as possible. That's one of the goals I'll try to set. That's about it. That's just about me making my first shoe. I'm trying to work hard and get my first signature shoe out there."
Ayton said he hoped representation of a global brand like Puma would be able to pay dividends for young Bahamian players.
"Coming from a different country, a lot of people know about Puma. Everybody knows about Nike, too, but Puma is known overseas. It's another huge step. It's not like it's foreign to the country I'm from. It's lit. It's nice to have a global brand everyone knows about," he said, "[Basketball camps] would be a huge step. That would be me giving back. I was the kid in basketball camps wanting to see the new gear that comes out or the gear that the camps give. I'm going to be giving them the best. I'm going to be giving them stuff I'm interested in and will be able to hear from the kids' perspectives about what they want."
Ayton and Bagley were previously connected at the high school level when they both committed to attended Hillcrest Hoops Academy in Phoenix, Arizona in 2015.
At the time, Ayton was the top-ranked player in the ESPN 60 for the class of 2017, and Bagley was the top-ranked player in the class of 2018. Pundits expected them to make Hillcrest Hoops a dominant powerhouse almost immediately.
The duo has reunited at the pro level with Puma securing two of the top power forwards in the current draft class.
"That's a problem. That's going to catch everybody's eyes. That's a huge step for Puma, too. To have the top two prospects in the NBA draft is amazing. Everyone is going to be like, What? Puma?" Ayton said, "It's great for Puma and for us as well, with more exposure and the world is talking about us. The only thing we've [got to] do is do what we [got to] do on the court. That's natural. We've been waiting for this for how long? I've been knowing Bagley for a pretty long time. I know what he can do, and he knows what I can do. We're both about to be doing our thing."
Following his pre-draft workout with the Phoenix Suns, Ayton was confident that he had shown the franchise enough to solidify his position as the top overall pick in the draft.
The Suns hosted Ayton's first media availability of the draft process following his workout earlier this month at the Al McCoy Media Center in Phoenix, Arizona.
The Suns hold the No.1 pick in the draft.
Ayton finished his school years at Hillcrest Prep in Phoenix and went on to attend the University of Arizona for a single season. The opportunity to begin his professional career in the state led many pundits to believe the Suns will take advantage and select him.
During his lone season at Arizona, he averaged 20.1 points and 11.6 rebounds per game while shooting 61.6 percent from the field, and was "Karl Malone Power Forward" of the year and Associated Press First Team All-American.
He was also the First Team All-American from the NABC, USBWA and Sporting News, Pac-12 Conference Player of the Year, Freshman of the Year and Most Outstanding Player of the conference tournament in the same season.