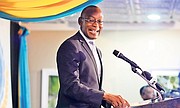 By Kathryn Campbell
AN "exciting" calendar of events has been prepared for this year's independence celebrations.
Mark Humes, chairman of the 45th Independence Secretariat, said the public could look forward to improvements from last year.
"Every event this year is going to be a highlight. We've worked hard to put together an exciting week of events and we want everyone to come out, celebrate with us and show their Bahamian pride," said Mr Humes at a secretariat meeting on Thursday at the Churchill Building.
A week of cultural and community events has been organised to commemorate the anniversary. The celebrations begin on Friday with the official launch of the Independence season by Prime Minister Dr Hubert Minnis in Rawson and Parliament Squares.
Festivities end on Independence Day, July 10, with a formal state reception at Government House.
Mr Humes declared: "We would like the public to begin to show their Bahamian pride. Hoist flags, place flags on their cars, drape their homes with flags and clean up their perspective areas. This is our time to celebrate."
Calendar of Events
Friday, June 29
Official launch: 6pm, Rawson and Parliament Squares
Prime Minister Dr Hubert Minnis to officially open the activities
Entertainment: The Royal Bahamas Defence Force Pop Band and Aquinas Acers Pop Band
Rush to Independence: 7.30pm
Junkanoo Rushout
Sunday, July 1
Beat Retreat: 5.30pm, Parliament and Rawson Squares
Live Performances by: The Royal Bahamas Police Force; The Royal Bahamas Defence Force; The Bahamas Correctional Services
Monday, July 2
Command performance: 7pm, Performing Arts Theatre at University of The Bahamas
Featuring: Audrey Dean Wright; The National Youth Choir; The National Children's Choir; The Bahamas National Youth Orchestra
The National Dance School; Audrey Dean Wright; The Bahamas National Symphony Orchestra
Thursday, July 5
Queen's New Year Honours
Friday, July 6
National pride and flagraising day, Parliament and Rawson Squares: 10am until 8pm
Flagraising ceremony by Governor General Dame Marguerite Pindling
Historic Walk Down Memory Lane
Entertainment by: The National Youth Orchestra; Finalists of the first National Recording Artists Search; Tropical Depression; Mount Moriah Transformers; Charlie the Yellow Man; Scorch Conch Band
Announcement of winners of National Recording Artists and Essay Competitions
Bahamian food and craft vendors display and sell their wares
Saturday, July 7
National health fun run and walk: 6am at Goodman's Bay 
Monday, July 9
45th Grand anniversary celebrations tattoo and fireworks display: 8pm, Clifford Park
Tuesday, July 10
The People's Love and Unity rush: 1am
Rush from: East Street to George Street
National heroes award: 11 am at Government House
State reception: 6pm at Government House