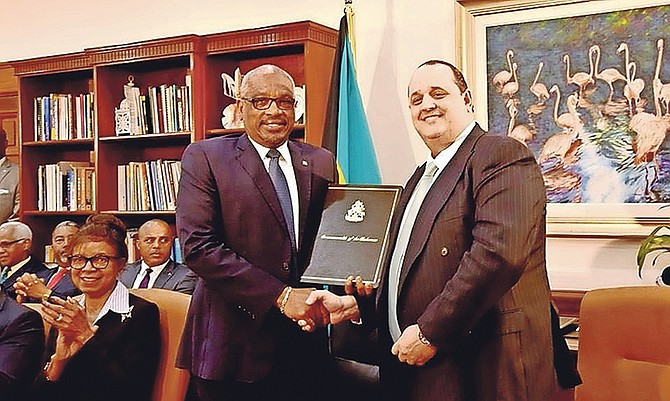 By Rashad Rolle
Tribune Staff Reporter
rrolle@tribunemedia.net
PROGRESSIVE Liberal Party Leader Philip "Brave" Davis said Prime Minister Dr Hubert Minnis is "reckless" for proceeding with the $5.5 billion Oban Energies project despite last week's revelations about its front man, adding this shows his "lack of good judgment".
As he gave a speech before eastern area PLP branch chairs on Tuesday, Mr Davis, pictured, also said he hopes the deal could still be salvaged.
Mr Davis' strongest remarks yet against the deal came as Dr Minnis is expected to table the heads of agreement for the project today.
Administration insiders say the agreement will allay concerns Bahamians may have about some associated with the project by showing who the real players are behind the deal.
Last week, it was revealed that Peter Krieger, the non-executive chairman of Oban Energies, has faced allegations of misappropriating investor funds and that he pleaded guilty to a first-degree felony of organised fraud in 2006.
Investigations by The Tribune also showed that other people identified as high-ranking executives of the company exaggerated their background and qualifications. The company's website was subsequently erased of references to them.
Mr Davis said: "While the Speaker was being tried in the high court of Parliament when we were putting our case against the Speaker who should have resigned and should still resign, the lost PM said in the House that he had a deal and he did all of that to distract the discussion, to take people's mind off what we were doing to the Speaker. He went on further to tell Grand Bahama, which is in dire need of some real investments, that he had a real deal, a $5 billion deal. Well, our deputy leader, Chester Cooper, our man of business, the first thing he said, he asked Dr Minnis, show us the money. We asked to see the details of the agreement.
"Against much caution and concern the government still went ahead to sign a heads of agreement with this Florida-based Oban Energies. But guess what, before the ink could dry, serious revelations presented in the press confirmed our suspicions. The country discovered that the non-executive chairman had pleaded guilty to organised fraud in 2006, according to information supplied by the US Securities and Exchange Commission (SEC). To make matters worse, the prime minister told the press that he knew of Oban's chairman's problems. What do they say about the birds?
"Imagine that. He knew and yet he went on to execute an agreement with that company. Hubert Minnis is a desperate man . . . the PM in his rush to get a deal also failed to honour his own commitment to table such agreements in Parliament. Last week they packed their bags up and ran out the House as usual after announcing that they would lay the same deal on the table. Why you think they ran as the pressure built? Bahamians were left in shock and even FNM supporters were dumbfounded as the revelations of this proposed deal came to light."
He said Dr Minnis does not have the skill of due diligence.
"His decision to proceed with Oban proves reckless and lacks the good judgment that should be exercised from his high office as prime minister. His failure to respond to questions from the press on this agreement prove what we knew more than nine months ago about this Minnis government, that they were ill-prepared to govern.
". . . And while we all are praying for Grand Bahama, which needs urgent critical attention, the perception that some jobs would come with Oban, we all know too well that such jobs would not be immediate. If something were to be salvaged and we hope to God that something may be salvaged from this deal, but in fact, after all the pressure and careful work by the media last week, Oban's website has vanished. That makes the proposal even more suspect. How could Prime Minister Minnis make an agreement with a company that has no real background in oil? How could the prime minister hitch the good name of the Bahamian people to a project which has no environmental impact assessment done? Where are our environmentalists, the activists who so care about our environment now?
"And while questionable deals are being signed with the full sight of the Cabinet without tabling the details in Parliament, the prime minister is going around the world and this really upsets me, further eroding the credibility of the Bahamas calling Bahamians corrupt," he said, referencing Dr Minnis' recent trip to Haiti for a CARICOM meeting.
"That's why others could talk about us bad and think they can get away with it."
"I want the PM to bring full disclosure and tell the Bahamian people who are the real players behind Oban Energies. Who are they, Mr Prime Minister? Could you, Mr Prime Minister, tell us if any of your Cabinet colleagues are hidden partners of that refinery project with Oban Energies?"