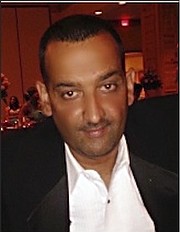 By INIGO 'NAUGHTY' ZENICAZELAYA
This week, our government debated two bills - the Financial Reporting Bill and Proceeds of Crime Bill - that, taken together, should go some distance to stamping out official corruption in the country. But without a Freedom of Information Act (FOIA), can they actually make a difference?
The Blind Spot
Over the years, sadly, Bahamians have become accustomed to "da way tings go"; when the Progressive Liberal Party (PLP) is in power, "PLP people straight", and when the Free National Movement (FNM) is in power, "FNM people straight".
Though this long "accepted" arrangement may have been beneficial to many fanatical followers of these parties (and other party followers before them), this practice has done a great disservice to this country.
What we get, inevitably, is an environment where - for five-year intervals - certain party ministers, officials, and supporters can do no wrong.
During the last administration, there were too many scandals and controversies to shake a stick at. Yet, as expected, the then-ruling PLP often rationalised and normalised bad behaviour (and bad judgment) by ministers that should have been dealt with swiftly.
Behaviour that cost taxpayers serious money.
Now we have a new government that, commendably, has actually put ink to paper in an effort to give Bahamians a way to punish politicians and public servants who unethically profit off the public purse.
Hopefully, if you come into parliament catching the bus and four years later you're "riding soft" in a Benz, these bills will give authorities a way to scrutinise your financials dealings - a way to clawback that car (and the mansion and the yacht) you suddenly acquired on your "meagre" MP's salary.
The biggest problem we still face as Bahamians, though, is that it's hard to clawback anything when you have no claws. And since every party before has demonstrated a blind spot for "their people", it's hard to see how effective the bills will be at dealing with "official corruption" without FOIA.
Most of the "scandals" I reference have been exposed as a result of "breaking news" stories in the press. Specifically, as a result of news items posted in the dailies since television news in this country seldom "breaks" news. (We're still at the sippy-cup stage with ZNS in this regard even though it's been around forever.)
So it falls to the Fourth Estate, as is their mandate, to give Bahamians factual information that otherwise would not see the light of day.
Think back on all the revelations surrounding, say, Nygard, BAMSI and Baha Mar. Also, remind yourself of all the shady deals (LOI anyone?) and certain government contracts that made your blood boil. Now ask yourself whether you would have likely learned of those controversies if you relied solely on government ministers and agencies to voluntarily "come clean".
I think it's fair to say, "probably not".
In the moment (or five-year long moments), every deal or misdeed done by ministers and their respective departments is "well done".
Alas, no fisherman ever calls his fish stink.
So it's up to us as Bahamians who want better for our country to point out the rotting carcasses. And for that we rely on a free press with lawful access to relevant information.
The world is now advancing so quickly that we can't afford to wait every five years to find out "who tief da money" or "who sign da contract" or "who get da kickback". And since even this new FNM administration seems to have developed a blind spot for the deals they "reel in" (see the tabled Oban heads of agreement, which I will dissect next week), we need a way to get more information in real time.
We need transparency in our government. We need FOIA.
Without it, the Financial Reporting Bill and Proceeds of Crime Bill may be destined to fate of all paper tigers - declawed, toothless and ineffective.
A Word for Sir Durward and Lady Miller -
In closing this week, I would like to extend my deepest condolences and sympathies to the Knowles and Miller families, respectively.
I was lucky enough to meet Sir Durward at an early age. He was very friendly with my late grand father KM Thompson.
It was always great to see the legendary Olympic medalist the "Sea Wolf" growing up, but it was equally enjoyable seeing him as an adult, and him remembering who "my people is" asking for my late mother Marlene before her passing, as well as my Aunt Kay whenever I saw him at the RECN weekly meetings.
I must admit my Auntie Kay was deeply saddened to hear of his passing. Despite feeling her pain, I did enjoy the historical trip down memory lane.
I also got a kick out of the fact, that he was a fan of this very column.
I have always been a fan of Sir Durwood and his many accomplishments and philanthropic work, which benefited Bahamians from all walks of life.
The legend of the great "Sea Wolf" will live on for generations in The Bahamas.
Sir Durwood no longer belongs to us, he belongs to the ages.
May he Rest In Peace.
I have this funny feeling Ronnie Butler was at the gate in heaven, guitar in hand, ready to welcome Sir Durwood to the best party ever, an invite the "Sea Wolf" earned and greatly deserved.
I would also be remiss if I didn't mention Lady Miller, the widow of Sir Albert Miller.
Sir Albert was another of my late Grand Father's good friends. He was "Uncle Albert" to me, so naturally Lady Miller was "Aunt Laurie". I have fond memories of visiting Freeport as a little boy, and lunch prepared by "Aunt Laurie" is one that will never fade a way. Oh that macaroni!
So, to the Miller family, please know how sorry I am for your loss, my sincerest condolences.
More like this story