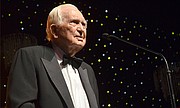 By BRENT STUBBS
Senior Sports Reporter
bstubbs@tribunemedia.net
SPORTING icon Sir Durward 'Sea Wolf' Knowles, in his obituary, as he was laid to rest following his funeral service at the Ebenezer Methodist Church, penned the following words: "I can honestly say, I have lived a full life and I left the world a better place than I found it."
Just about every song sung during the four and-a-half hour service depicted the centenarian life of Knowles as a legendary sailor who competed in eight Olympic Games, winning a gold with the late Cecil Cooke in 1968 in Toyko, Japan and bronze medal with the late Sloane Farrington in 1956 in Melbourne, Australia in the star class.
His contributions as philanthropist to so many individuals and organisations in the community was just as significant.
Tributes after tributes reflected on Knowles' exploits on the sea and one of his daughters, Charlotte, said it was good that the Bahamas Olympic Committee honoured her father by presenting them with the flag of the Games' rings that hung inside the church to match his sporting achievements.
"He probably would have asked, why did it take so long," for the BOC to make the gesture, she would ask the members that included immediate past president Wellington Miller, current president Rommel Knowles and some of his executives present in secretary general Derron Donaldson, assistant secretary Oria Wood and vice presidents Dorian Roach, Cora Hepburn and Robert Butler.
Knowles, who got involved in the BOC just after Sir Durward demitted office as a long time vice president under the presidency of the late Sir Arlington Butler, said the flag is normally flown at events and taken down and secured. But on behalf of the International Olympic Committee, the flag was presented to Sir Durward's widow - Lady Holly - as a gift of Olympians worldwide.
"If you were to walk in Sir Durward's trophy room, the only thing that is missing is the Olympic flag," president Knowles pointed out. "So it was quite an honour to present that to her along with a letter from the president of the International Olympic Committee, thanking the Knowles (family) for lending him to the Olympics through his successive appearances.
"It's a peculiar brand and we just don't leave it hanging around. But this is an auspicious occasion, which deserving Sir Durward family keeping the flag because we know that it is in good hands. So it's a momentous thing that we thought in death, we would present to his family."
In one of the tributes presented, Steven Kelly, a fellow crew member, reflected on Sir Durward's trip around the world, sailing in the Olympics and 23 World Championships where he won a title in 1947 and was in the top 10 in 11 others. But Kelly gave a personal experience over a 25-year period from 1970-1995, either competing against or crewing with Sir Durward in the Star Class. His first trip as a crew member of Sir Durward came in 1975 at the World Championships in Lake Michigan. It brought back some family history for Kelly, who was 20 at the time. He recalled how 25 years earlier, his father, crewed for Sir Durward at the same venue when he was 20 years as well.
After they took a 3 1/2 day journey from Miami to Chicago that should have lasted 24 hours, Kelly remembered how their motel room was robbed with Sir Durward and his close friend Bob Levin sleeping. Kelly said it was his fault as he was out on the town with some of the other sailors. Other than the loss of a few dollars, he said no harm was done to Sir Durward nor Levin.
Over the next ten years, Kelly said there were some memorable competitions between Sir Durward, himself and other sailors, culminating with an epic battle between the teacher and the student, as they sailed for the rights to represent the country at the 1984 Olympics.
"Monty Higgs and I were able to win that race and earn our place at the Olympic Games," Kelly said. "Monty had been Sir Durward's crew for most of the 70'2, crewing for him at the 1972 Olympic Games. It took every bit of knowledge and experience that we had gained from Sir Durward over our time sailing with him to accomplish that win.
"Sir Durward was gracious in defeat and helped us train for the event, the consummate teacher and mentor."
Although they sailed together quite a few times after the Olympics, Kelly said Knowles began to accept his limitations and he enjoyed the friendships that he had cultivated throughout his career in the Star Class.
"He was admired and respected by all of the competition, both young and old," Kelly said. "He was always sharing his knowledge and stories of his time in the class. I think this proved equally rewarding to him in the later years. He was made Honorary Commodore of the Star Class in 1999, a position he held until 2013, a fitting tribute to an icon of the class."
Kelly noted that Sir Durward was a classic competitor, who never gave you anything on the race course. He said you had to earn everything you got from the legend, who became a respected champion in the most competitive one design sailing class in the world.
"Sir Durward was passionate about everything he did, the ultimate teacher and mentor," Kelly summed up. "He crossed generations with his star crew. He taught us all how to love sailing and what it was like to compete at the highest levels the sport had to offer. We were fortunate to have enjoyed that time with him."
Sir Durward Knowles, as his latest book entitled: "Never give up" lived out that philosophy to the end when he passed away on February 24.
More like this story