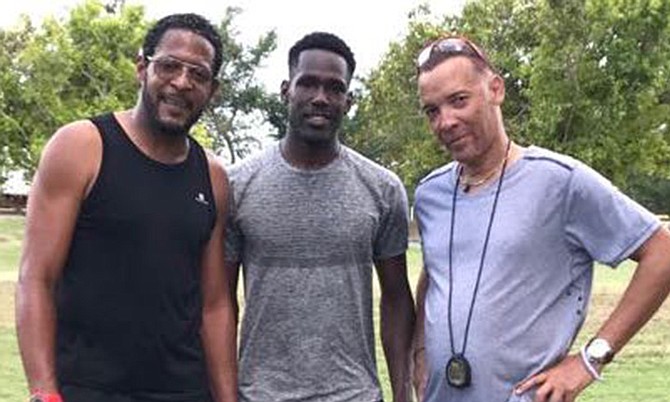 By BRENT STUBBS
Senior Sports Reporter
bstubbs@tribunemedia.net
After turning in what he called a "disappointing" performance at the IAAF World Indoor Championships in Birmingham, Great Britain, last week, Donald Thomas has his sights set on winning the gold at the Commonwealth Games in the Gold Coast, Australia, next month.
While he awaits the final selection of the team by the Bahamas Olympic Committee, Thomas said he's heading back to Havana, Cuba, where he will resume his training with world record holder Javier Sotomayor's former coach, Luis Pinilo, in preparation for the games, scheduled for April 4-15.
"If selected to the Commonwealth Games team whenever they select it, I expect nothing but the gold," Thomas told the Tribune on his return from Great Britain. "That chapter (Worlds) has already passed.
"I just have to work on one or two things in practice to ensure that my body is in position to pull it off. But I'm in great shape. I don't think I would be going to Commonwealth if I didn't think I can do it."
If selected, this would be Thomas' third appearance at the four-yearly games and after tasting the thrill of victory in 2010 in Delhi, India, he wants to redeem himself following a ninth place finish in Glasgow, Scotland, in 2014.
Thomas, whose last international success came at the Pan American Games in Guadalajara, Mexico in 2011, said he's hungry after he finished tied with two others for sixth place at the Worlds.
"I'm not thinking that far ahead, but I know what type of shape I'm in," said Thomas when asked what height he thinks it will take for him to excel on the podium. "I know I'm in shape and know with one or two corrections to my body position going over the bar, the sky is the limit. That's the kind of shape that I'm in."
The 2007 IAAF World Outdoor Championships and 2010 Central American and Caribbean Championships champion said he would like to go to the Commonwealth Games with fellow Bahamian Jamal Wilson because they both complement each other in competition.
Thomas, however, said he would like to have his coach present for the games because he can pinpoint some of the technical things he's doing wrong so that he can make the adjustment during the competition.
"But my preparation is going good. Anything shorter than gold would be a failure for me at the games," Thomas said. "I know all of the other competitors are training just as hard for the gold, but I believe in my ability and what I did at Worlds was not an indication of where I'm at and what I'm capable of doing. "I'm still upset about last week, but I want to put that behind me. I have a bigger picture to look forward to at the Commonwealth Games. I'm just waiting on them to announce the team, but I'm fit and ready to compete."
Thomas, 33, is a 6-foot, 3-inch former basketball player who has posted a personal best of 2.37m or 7-feet, 9 1/4-inches. He anticipates that it will probably take at least 2.30m (7-6 1/2) or better to get on the podium and at least 2.35m (7-8 1/2) for the gold.