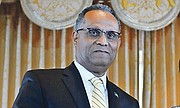 By DENISE MAYCOCK
Tribune Freeport Reporter
dmaycock@tribunemedia.net
DR Michael Darville, former Minister for Grand Bahama, is criticising the Minnis government for not tabling and making public a report on the safety assessment study undertaken in communities near the industrial park in Grand Bahama.
The study, conducted by the Antea Group of the Netherlands, was undertaken in February 2017 when the Christie government was still in office.
Dr Darville – who was minister of Grand Bahama at the time and had commissioned the study – said he had read the preliminary report that had been submitted to the Christie administration before leaving office.
He noted that the safety assessment was the second phase of studies done in the area, and was in keeping with recommendations outlined in a Pan American Health Organisation/World Health Organisation report of an environmental health risk assessment study of the area completed in December 2015.
"Prior to leaving office, I read a preliminary report and today government has not tabled the report from the Antea Group which speaks specifically about the safety mechanisms that are of concerns with the people of Pinder's Point and Lewis Yard," Dr Darville said during a recent interview.
"So here it is a year later, and I remember the criticisms we had, and the report has still not been tabled for public knowledge where the people of Pinder's Point, Lewis Yard, and Mack Town can review what are the safety factors that may be detrimental to their existence in close proximity to industrial plants," he said.
Last December, Minister of State for Grand Bahama Kwasi Thompson confirmed that the government was in receipt of a final report of a safety assessment from the Antea Group which was under review by the government.
He also noted that the government had allowed persons who had expressed concerns about the report to meet with the Antea Group to voice their issues before the submission of the final report.
The Grand Bahama Environmental Association (GBEA) does not accept the findings of the safety assessment report.
Of the 3,000 residents in the affected communities, a GBEA representative claims that the report does not adequately address the safety concerns of the area and recommends the relocation of only one percent of the people.
Mr Shuffel Hepburn, of GBEA, said that the study indicates that only six homes are in the dangerous buffer zone.
"There are less than 30 persons inclusive of adults and children who live in these homes presently. The study calls for only these homes to be relocated. This amount represents a mere one percent of the 3,026 persons now living in the industrial park," he said.
Mr Hepburn said that the government had relocated thousands of teachers and students from schools near the industrial plants.
The GBEA has been calling for the relocation of all persons in the surrounding communities near the industrial park.
More like this story