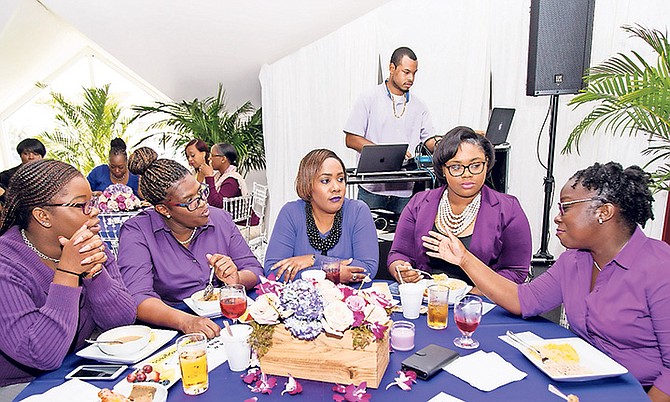 By JEFFARAH GIBSON
Tribune Features Writer
jgibson@tribunemedia.net
THE global celebrations for International Women's Day, which was recognised on March 8, may have ceased for the time being, however, the push for progress, which was this year's theme, has not.
And in order to see this year's theme realised, Bahamas First Holdings took a break from business for a couple hours last Thursday to recognise the women who make up a large percentage of the company's employees.
Hopes for a future female prime minister of the Bahamas and a need to not become complacent were some of the hot button topics discussed during a special power breakfast which featured a presentation by Sherrell Storr, of Magnetic Success Coaches.
"We are an organisation with women making up over 50 per cent of our leadership team and over 65 per cent of our entire workforce, and as such recognise the invaluable contributions they continue to make to our organisation and its success," said Leah Davis, group marketing and communications manager.
The event was the first of its kind and was well attended by women from across the Bahamas First Group, including NUA Insurance Agents & Brokers, Bahamas First General Insurance Company and First Response.
While Bahamian women have advanced further than women in some other countries, many in the corporate sphere continue to hit the glass ceiling.
However, Ms Davis said Bahamas First is one company that continues to demonstrate its commitment to equal opportunity for all.
"Women have equal representation at the management level within our organisation and we are consistently celebrating their achievements as well as working to create greater visibility for our women, in and outside the boardroom. We are committed to equal training and developmental opportunities for all employees to ensure that there is fairness in promotions and opportunities for advancement. We are committed to equal compensation for the same jobs regardless of gender across the group," she said.
The breakfast turned out be an aspiring event that encouraged women to push for progress even in the smallest ways. The morning's speaker also urged women live intentional and strategic.
Marcia Johnson, an employee at Bahamas First, said the breakfast was empowering.
"Sometimes we second guess ourselves and it was really good too have Sherrell come in and talk to us. It just felt good to be celebrated as women, especially in a business that is considered male-dominated," Marcia told Tribune Woman.
One of the progresses she hopes to see Bahamian women make is in government as policy makers and political leaders.
"I would really love to see women press forward in areas of government. One day we will hopefully see a female prime minister," she said.
Kyla Basden, one of the youngest employees at Bahamas First who considers herself a women's rights activist, said the power breakfast was a refreshing reminder that while women are excelling at all levels of society, there is still more work to be done.
"I hope we do not become complacent. We can't just sit back, relax and be comfortable with where we are. It starts with the small things…a joke about sexual harassment is not funny, a joke about domestic violence is not funny, and standing up for simple things like that and making people conscious that is just the beginning of progress. We can't progress if we leave people behind. March 8 is International Women's Day, but the work goes on and it can't be any progress if this is out of our heads after today," she said.