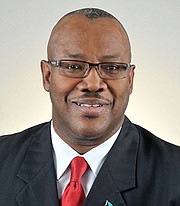 By KHRISNA RUSSELL
Deputy Chief Reporter 
krussell@tribunemedia.net
GOLDEN Isles MP Vaughn Miller said yesterday the Minnis administration is faced with an "angry" and impatient electorate who feel disconnected from the government.
Bahamians, he said, are not "feeling" those in power and do not understand the language the government is speaking.
Noting the Minnis administration's Speech from The Throne and its promise to ensure there are adequate provisions to protect homeowners facing hardship, the backbench MP said the Free National Movement was elected on this promise among others. He questioned how much longer were the people most affected expected to suffer.
The FNM MP also very briefly commented on the controversial Oban Energies issue, saying fossil fuels is a dying energy form.
"There is a mortgage crisis going on," Mr Miller said yesterday as he contributed to the mid-year budget debate. "You'd be surprised to know who cannot meet their mortgage demands. I've met many persons, Mr Speaker, who the banks have foreclosed on, but are allowing them to remain in the home.
"I met a family, the wife with a terminal illness and the husband unemployed. Their home is up for foreclosure. They are allowed to remain in the home. Every time a police car drives through the corner they are wondering if it's coming to supervise their eviction."
He continued: "Mr Speaker I remind you that we've made a commitment. The Speech from The Throne, I repeat it: 'my government will review legislation to ensure that adequate provisions exist for the protection of homeowners with respect to foreclosure, mortgage protection.'
"The pain, the anguish, the mental (and) emotional (stress). . . sometimes they cry and my brothers, I cry with them. What else can I do? Imagine working most of your adult life, acquired your dream home and now you are about to lose everything?
"Mr Speaker, we promised to bring them solutions and relief. They need it now. Too many people, hard-working Bahamians are losing their greatest lifetime investments. How much longer do we intend to watch them suffer and lose it all?
"I understand the challenges, but we are dealing with an angry and impatient electorate. There seems to be a disconnect and they are not feeling us. The language we are speaking they are not understanding. There is a disconnect.
"We are in the Easter season and as a pastor, as a church leader and going through personal conflicts we always talk about those on the way to Jerusalem who said 'hosanna, hosanna.' Three days later as they exit, they hear 'crucify him, crucify him.' We have had our hosanna and now are beginning to hear the cry of crucify. Why? Because there's an impatient, there's an unforgiving, there is an electorate who wants it now and that is the reality of the situation that we are facing."
Regarding the proposed Oban oil refinery and storage facility, he said: "I know of the talk of Oban and we can't get into it for obvious reasons, but Mr Speaker fossil fuel is a dying energy form. We have the ability (and) the capability. Under the last administration I heard a part of a presentation referring to a marvelous most wonderful form of technology available to us. We have an opportunity. We have been elected to lead this country in a different direction, a different path and to empower a generation of Bahamians."
Ahead of his 2017 general election loss, former Prime Minister Perry Christie said his administration's revamped mortgage relief programme had assisted 350 Bahamian homeowners since it was reintroduced.
At the time, he called it a "significant" turnaround from the failings of his government's first attempt at the initiative. Assisting struggling homeowners was one of the Christie administration's campaign promises ahead of the 2012 general election. It was implemented early in its term, but the programme under performed, leading Mr Christie to admit in 2013 that only four or five homeowners were expected to receive assistance.
The programme has been abandoned by the Minnis administration, who criticised it while in opposition.
Mr Miller also said despite the country's independence, its most precious natural resources remain in the hands of the elite while the disenfranchised and poor continue to be ignored.
"The disenfranchised, the poor, the rejected, the despised of the country most of whom made it possible for us to get here, they are the ones we forget and we only remember when it's time to go back to them to re-elect us to give us an opportunity to serve.
"Successive administrations have done it and now we have a wonderful opportunity to change the course of history," Mr Miller said.
More like this story