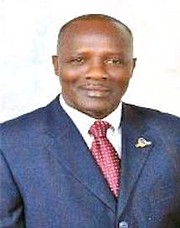 By RASHAD ROLLE
Tribune Staff Reporter
rrolle@tribunemedia.net
THREE executives of the Bahamas Public Services Union are seeking to have seven of their peers removed from office - including President Kimsley Ferguson - over allegations of misappropriating funds.
Supporters of the move say they will create a breakaway union if Mr Ferguson fails to call a special general meeting so a vote to remove them could be held, a threat former Bahamas Public Services Union (BPSU) president John Pinder said yesterday is an "extremely legitimate possibility".
The move to oust the president and the others, an unprecedented act if it succeeds, comes after Mr Ferguson and Secretary General Cindira Bain began receiving monthly emoluments last year of $6,683.32 and 5,403.32 respectively, allegedly without first obtaining board approval in an era when the union's financial position is dire.
Though their emoluments package is said to be identical to what their predecessors received, critics insist they did not follow due process to get it.
Assistant Secretary General Lelotha Coleby also said that after two months in office last year, Mr Ferguson received a Christmas bonus of $1,200 while Ms Bain received a bonus of $1,000. Meanwhile, the union is unable to give its membership of about 4,000 people small loans of up to $500.
The ten-member executive team ran united as the Worker's Team during last year's union election, vowing to operate the organisation with integrity as they campaigned against the legacy of long-time leader Mr Pinder, who did not run.
The fracture that has since emerged, however, pits trustees Terrance Dorsette, Theophilus Dean and Assistant Secretary General Ms Coleby against Mr Ferguson, Ms Bain, executive vice president O'Neil Thurston, vice president of the northern region Tasha Bullard-Hamilton, vice president Ernest Burrows, treasurer Philip Greenslade and trustee Peter Outten.
The rebellious executives did not always seek to have a declaration of no confidence in their colleagues, Mr Dorsette said Friday. Instead, he said they sought to adjust the emoluments package Mr Ferguson and Ms Bain receive.
A special general meeting was held at BPSU's Wulff Road headquarters on February 20th to address this through a majority decision of union members in attendance. Mr Dorsette said 300 or so members attended the meeting but the event abruptly ended before the issues were addressed.
On Friday, Mr Ferguson told reporters this was because some people became too disruptive.
"Because of their own disruptive behaviours they were unable to get their concerns addressed," he said in the boardroom of BPSU's headquarters.
"Questions were put on the floor by these particular individuals, then those who were accompanying them became very disruptive and were causing persons not to be able to respond to the questions asked."
Both sides suggest they had enough support in the room to force the outcome they wanted.
The executives, however, have since escalated the dispute, demanding a vote takes place in accordance with Article 24 of the union's constitution to discharge the other executives from office. That provision mandates that a special general meeting be called within 14 days after the general secretary receives an application signed by at least 30 members moving such a resolution.
Mr Ferguson, however, said the union will not be having another special general meeting because it would be too costly to do so. He said their concerns will be addressed at the annual general meeting in September.
"We have just hit the ground running," he said. "We are working and we are excited. The union is moving forward and making progress."
If no special general meeting is called, those who oppose the present leadership say they will start their own union.
Mr Pinder, though no longer affiliated with union leadership, said yesterday Mr Ferguson would be contravening the constitution if he blocks a special general meeting.
"They will have to take legal acton because he would be in violation of the union constitution," he said. "(His critics) could then refer the matter to the Department of Labour or go directly to the courts. He does not have the power to do that. The constitution does not limit the number of times members could call a special general meeting. If members have 12 issues in a year, then you have to hold a special meeting twelve times in a year." Before he became president, Mr Ferguson was executive vice president under Mr Pinder for a number of years.
Mr Pinder expressed alarm over allegations that two of the union's trustees have been denied access to financial records, access the Industrial Relations Act mandates that they have.
He said although he has been working in the background to discourage the formation of a breakaway union, the threat of departure is extremely legitimate.
"The Public Hospitals Authority (PHA) has two thirds of the membership of BPSU," he said. "BPSU would be in trouble if they breakaway and they must take the threat extremely seriously. PHA, the Bahamas Agricultural and Industrial Corporation (BAIC), the Bahamas Mortgage Corporation (BMC), the Airport Authority, and Bahamas Information Services (BIS) are all threatening to pull out. The president cannot afford that. They are in a real dilemma."
Because of the BPSU's financial problems, members are unable to obtain small loans.
"Persons would have been in the union for some 30 years and are now seeking assistance based on what is entitled to them but can't get it because the president and the secretary general want to maintain a hefty salary for themselves to enjoy," Mr Dorsette said.
Outside BPSU on Friday, several angry union members vented their frustration.
Brendanee Seymour, a worker at the Princess Margaret Hospital (PMH) who supported Mr Ferguson and the other executives during last year's election, said she pays too much money to be unable to secure small loans.
"I was in the union from 2005 and during the time I was in it I put in to get $500 but couldn't get it so I dropped out of the union," she said. "I rejoined after this team got back in but it's the same thing. Every time you call the president, you can't get him or Mr Thurston. You put in for $500, you can't get it because ain't no money in the treasury. But I paying $25 every month. I struggling hard for my $25. I have no more confidence in them. I finish and I done."
Deidre Johnson, who also works at PMH, said the union leaders "joined just for money".
"Why isn't a ceiling set for how much they could make?" she said. "If you are a union president, it should be your starting salary is maybe $4,000. You can't just go in the union and say you starting off with almost seven thousand with all kind of perks. I don't think that's fair."
During BPSU's annual general meeting last year, a decision was made to allow loans of no more than $500 to members in emergency cases only. Before then, some members – allegedly some former executives of the union included – were able to obtain tens of thousands in loans, executives said on Friday.
"When the union is in a position to give (emergency loans) we will do it," Mr Ferguson said. "We encourage our membership to become fiscally prudent with their finances. When a member could be accommodated, they will be."
On Friday, Mr Dorsette claimed the BPSU has lost its registration and bargaining power after failing to ensure annual audits have been conducted in accordance with section 31 of the Industrial Relations Act.
A loss of bargaining power has prevented the union from agitating for hazardous pay on behalf of workers who need it, particularly those at PMH, he claimed.
However, Robert Farquharson, Director of Labour and Registrar of Trade Unions, denied on Friday that the BPSU has been decertified.
"Trade unions are obligated to provide the registrar with certain audited statements," he said. "The BPSU is either compliant or in the process of being complaint. They have been in constant communication with the Department of Labour."
As for the internal strife within the union, Mr Farquharson said those will have to be resolved "through the union's internal mechanisms."
"We are prohibited from getting involved in internal matters," he said.