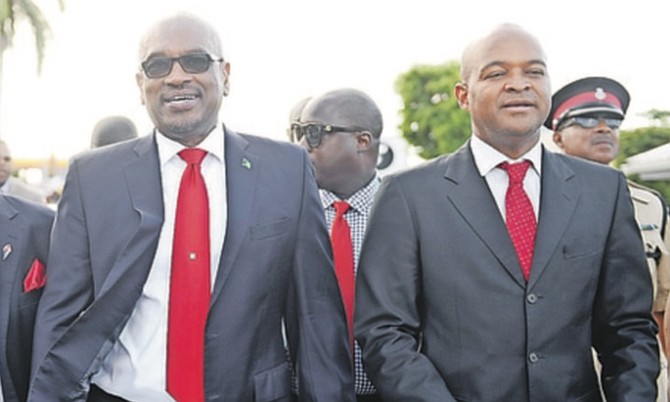 By RASHAD ROLLE
Tribune Staff Reporter
rrolle@tribunemedia.net
REECE Chipman, the Centerville MP fired as chairman of the Antiquities Monuments & Museum Corporation, said yesterday he is examining the country's defamation laws and is considering suing Prime Minister Dr Hubert Minnis for "insinuating" he had engaged in impropriety.
As the feud escalates, Mr Chipman said up to last night it remained unclear to him why he had been sacked.
He said Dr Minnis has not lived up to his expectations as prime minister, had now "crossed the line" and now he will become a more outspoken critic of the administration, especially in the House of Assembly.
Dr Minnis' comments and handling of the matter has hurt him personally, he said.
"You have to be hurt," he said. "I'm only human and I'm new to the business of politics."
Dr Minnis has not revealed to the public why he fired Mr Chipman.
He told reporters on Monday that Bahamians elected him "to do a job" and "if there is undoing" by people in either party, it will be dealt with.
"We said we would root out corruption and bring honesty and integrity into governance and that we will do," Dr Minnis said Monday when asked about Mr Chipman's firing.
He suggested future administrations will see all the details of why he fired Mr Chipman through government records. It is this suggestion that drew Mr Chipman's ire.
"The public should be outraged that a prime minister of a country does what he has done to someone," he said. "He crossed the line. The firing is fine but you don't go over the line and make such insinuations and assertions about somebody. There's nothing wrong with firing somebody; the person may not be what you wanted for some reason. My concern is when you do something like that you ought to realise that we are all Bahamians, we live in one country; you don't get in an interview the next day and say you have some things which the next party or whatever will see or will be on the record. This is our highest office in the country and we expect better."
Mr Chipman denied reports he and Dr Minnis engaged in a heated argument before his firing. "Neither of us is that kind of person, we are both mild-mannered people," he said. "We had an appropriate exchange; it was not harsh."
He said before his firing Dr Minnis never warned him about his performance or suggested he was displeased with him. On the other hand, he felt Permanent Secretary in the Office of the Prime Minister Jack Thompson and Director of AMMC Keith Tinker disliked his management of the institution.
He expressed doubt over claims that an unreleased auditor general's report into the AMMC prompted Dr Minnis' decision, saying he initiated that report, though he hasn't seen it.
"I don't see why that would have anything to do with the decision," he said. "Whatever it is and says should be made public so others behind us can learn what they shouldn't and should do."
Asked if he supports Dr Minnis as prime minister, he said: "I have to support him as prime minister in terms of the fact that he is holding the highest office. However, I have expressed and will continue to express that the expectations of that office have fallen short in my books."
Past parliamentarians who always towed the party line now confound him, he said, adding: "Sometimes there's so much credit I give to the MPs of the past who could go through that entire process for years without having an opinion other than what their peers had; you wonder if the House of Assembly is a democratic place. The period of time for me is up where I gave my administration an opportunity to lead and to direct. I thought when I made a decision in the House in support of the government that my Cabinet had gone through the details. I leaned on the fact that they were qualified individuals able to make decisions, able to analyse and come up with a decision I can support. Based on this I'm not sure that is the case; I won't be silent anymore."
However, he expects to remain an FNM supporter. "I think the party philosophy of Sir Cecil, a leader among equals, is one I live by. For me to even consider not being an FNM MP would be something that is a challenge."
Mr Chipman said he has not "yet" hired a lawyer, but is examining defamation laws with the help of his family. Among the cases he is reviewing is one in which an Australian prime minister was sued for implying a former minister engaged in improper conduct.
He expects to reach a conclusion about whether to take legal action this week.
"You can't just go out there talking about people like that," he said. "I have three children."