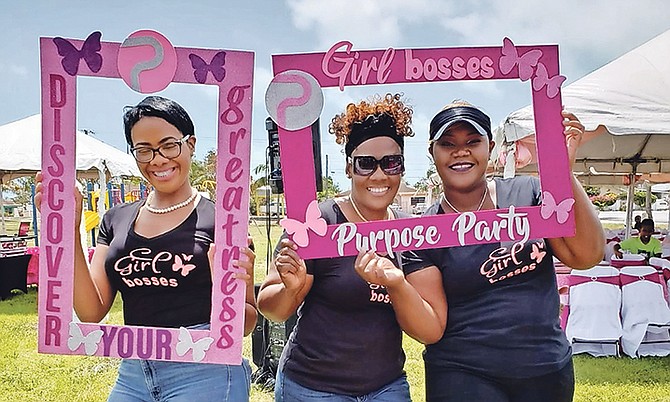 By ALESHA CADET
Tribune Features Reporter
acadet@tribunemedia.net
To help the often abused, broken and lost girls in Bahamian communities, and even just those struggling to find their self-worth, the Purpose Made Me Do It organisation each year hosts a special party to uplift young women.
This year's Girl Bosses Party, held on April 15 at Pinewood Park, embraced the theme "Discovering Your Greatness".
Katherine Coakley, host, founder and speaker of the organisation, said it has always been her passion to motivate young girls and women in her community. She said despite the challenges involved in introducing new ventures locally, including not receiving support for her vision, she kept the faith and soldiered on.
Now an annual event, the Girl Bosses Party, welcomes young girls ages nine to 15, free of charge, to enjoy a fun day of activities. The 2018 party included a performance by a group from the Raising the Standard Dance Clinic; customised body and bath products made organically by Trinix Touch; an affirmation session by life coach Nicolette Campbell of Studio Ohana, and more.
Katherine raved about the event's speakers - Antonia Lightbourne, CEO of eNue Global and the founder of Purpose Awareness Month, and Raquel Pinder of the organisation Beauty Beyond Feelings. She described both ladies as powerful speakers who made a great impact on her team, as well as the girls in attendance.
"Ms Lightbourne spoke passionately about the discovery and gift of purpose. She also shared her hardships as a young girl and young leader. She drove the message home with an encouraging word to the girls about their greatness and reminded them that their greatness begins and ends with Yahweh," said Katherine.
"Ms Pinder spoke authentically about her story of triumph over tragedy, and moving from victim to victor that inspires women all over the nation to truly embrace all that they are. She encouraged the girls to love themselves and be proud of who they are despite what they don't have. Her honesty and personality left the girls feeling confident, joyful and hopeful about their futures. The remainder of the day included some networking and affirmation because we wanted the girls to meet other girls and teach them how to celebrate them."
Katherine said all speakers believe that the cultivation of identity, purpose, wholeness and aspirations should begin early if they intend to help girls navigate through each stage of life. Moreover, as the eldest of five siblings, Katherine said she has always led young girls and even women in her own personal life.
"This initiative, the Girl Bosses Party, was birthed from my own story of being deficient in the areas of identity, self-worth, confidence and purpose because of circumstances I faced as a young girl in the Bahamas. Having went through all that I did, I knew how challenging it was growing up and it enabled me to see my own brokenness in the lives of girls that surrounded me. This insight always led me to counselling and helping orphans and victims of all forms. There are so many girls being abused, neglected or stifled because of circumstances they are facing and we wanted to do something about it as daughters of the King and fellow girl bosses," said Katherine.
She said the turnout for this year's celebration was "amazing".
"We prepared for 120 girls and we had close to it. It was so good to see how many girls came and how engaged they were. We are really happy that Sadie Curtis Primary, Cleveland Eneas and Stephen Dillet supported us by hand-picking girls to represent their schools and participate in the overall event. We are also grateful that we got to serve them and we salute all the parents that signed their daughters up and had the opportunity to stay and watch. It is our hope that next year we are fortunate to have more registrants as we continue to grow as an organisation," she said.
Highlights of the day included an activity segment where several girls spoke about their dreams and aspirations and others participated in a dance battle for prizes. Tasty treats and food were sponsored by Jimmy's Takeaway, ice cream cakes by Dairy Queen, flavoured cupcakes by Sheka's Sweet Treats, and lemonade flavours such as soursop, raspberry, and blueberry sponsored by the Tirsty Lemonade Stand.
For Katherine, it was fulfilling to watch all the hard work and planning take form. Simply seeing her team members, Daniah, Bionca, Anayah, Keisha, Abeni, Andra, Darea, Krystina, Yvette, and Chryshawnda, add their individual touches to the day made her feel thankful.
"Seeing the faces of the girls as they got registered and seated while gazing at the decorations all done for them was so special to me. I am still in awe of all that took place and how impactful it was in so many unique ways. The overall day gave me hope as the visionary, watching everyone operate and the girls learn. I am excited about it and I can't wait to release what's next," she said.
For more information on becoming an official sponsor or volunteer, e-mail purposemademedoit@gmail.com or check out the website www.purposemademedoit.org.