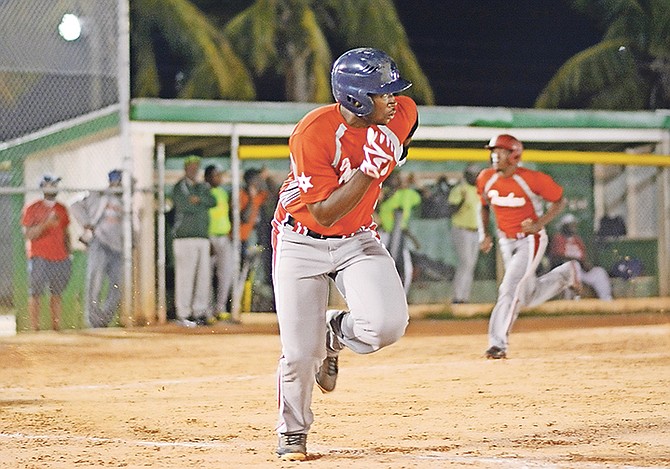 By BRENT STUBBS
Senior Sports Reporter
bstubbs@tribunemedia.net
The Commando Security Truckers, adding a few more younger players to their line-up, wasted little time in their New Providence Softball Association men's divisional season opener, stopping the Chances Mighty Mitts in a 13-0 shutout. The win came after the youthful Platinum Lady Sharks devoured the BTC Lady Warriors 12-5.
Tuesday night turned out to be the first night of action for the new-look NPSA, now headed by Desiree Coakley. Their 2018 season was scheduled to open on Saturday night, but it was called off after the Banker's Field in the Baillou Hills Sporting Complex had taken on too much water from the rain.
In last night's featured men's game, the Truckers chased starter Akeem Newton off the mound as they batted around the clock, producing nine runs with just one out in the top of the first inning. Victor Grant came in but he gave up two more runs before they finally got out in the inning.
Grant would cool down the Truckers' bats over the next two innings before they added two more in the fourth to head towards an abbreviated victory via the mercy rule.
Deon White also made sure that the shutout was intact as he struck out the final two batters in the bottom of the fourth as the Mighty Mitts made one last attempt to score with two runners on base. White ended up with a one-hitter, courtesy of catcher Michael Butler in the fourth, while he finished with six strikeouts.
Orlando White, who handled the management duties for Commando Security, said it's just a taste of what's to come from the Truckers as they get set to roll along this season.
"We looked good. We looked better than last year," White said. "We have a lot more younger fellows on the team this year and they are a lot more hungry and determined, so expect for us to put up a good fight. We are in it to win it."
If there was any concern right now, even as the season just got started, White said it's their pitching. But he commended White for taking control of the game and coming out with the win in his return to the league after missing a couple seasons.
White got all the help he needed offensively as his battery mate, catcher Garfield Bethel, led the way with a 1-for-3 outing at the plate with three runs batted in and two scored. Left fielder Angelo Watson was 2-for-3 with two runs, right fielder Winston Seymour was 1-for-2 with two RBI and a run scored, second baseman Stephen Russell was 2-for-2 with a RBI and run scored and pinch hitter Anton Hanna was 1-for-1 with two RBI.
Lady Sharks 12,
Lady Warriors 5
In another abbreviated game in the ladies' opener, centre fielder Donneshia Woodside went 2-for-5 with a RBI and two runs scored to pace Platinum. First sacker Sari Albury helped out by going 1-for-3 with two RBI and a run scored, shortstop Annishika Lotmore was 1-for-3 with a RBI and run scored, catcher Brianna Carey was 1-for-1 with a RBI and run scored and left fielder Ramona Hanna was 1-for-2 with a RBI and run scored.
Taylor Cartwright gave up four hits and struck out 10 for the win for the Lady Sharks, who scored three runs in the first, five in the third and four in the fifth.
In a losing effort for the Lady Warriors, who scored three in the third and two more in the fifth, centre fielder Lathona Brown went 2-for-3 with three RBI and a run scored and Melinda Bastian was 1-for-3 with two runs scored.Bastian was also tagged with the loss on the mound after she gave up seven hits with five strikeouts.
Thursday
6:45pm - Strikers vs Hennessey
Panthers (L)
8:15 pm Commando Security
Truckers vs BTC Warriors (M)
Note: Saturday's double header has been called off due to Carnival. The league will resume play next week Tuesday.