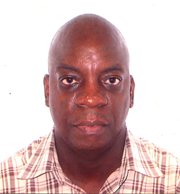 By BRENT STUBBS
Senior Sports Reporter
bstubbs@tribunemedia.net
SHERMAN 'The Tank' Williams is now feeling what other promoters have experienced in the past in trying to stage professional boxing matches here in the Bahamas.
Williams, turning to the promotional side of the sport as he continues his campaign as a heavyweight contender, will be fighting as a pro for the first time at home in Grand Bahama on Saturday, May 26.
He is headlining a card, featuring three heavyweight bouts and three debuts of Bahamians on the undercard, at the Social Affair and Convention Center in Freeport.
As an independent venture, Williams said now he's faced with a huge expense added to his small budget in taking at least 10 officials to Grand Bahama in addition to financing all of the boxers on the card.
For years, promoters have been saddled with exorbitant expenses that before they can look at making a profit, they find themselves facing a deficit and are not able to sustain the programme.
No problem why promoters like Michelle Minus, Terry Demeritte and even Tommy Stubbs of Buttons Formal Wear have not been consistent in promoting as much shows as they would like to.
Williams, who would have worked with some international promoters in the past to bring shows to New Providence, is following in the footsteps of boxers Meacher 'Pain' Major and Renaldo 'the Terminator' Minus, who have also ventured into promoting shows.
But with the price of putting on the shows so costly, neither of them have been able to do it on a consistent basis.
Obviously there is a need for more pro fights to be staged in the island nation. Michelle Minus said she declined to pursue the presidency of the Bahamas Amateur Boxing Association because she still wants to promote pro boxing.
She indicated that she's working on launching a come-back show sometime this year. She is adamant that she can pull off another successful show as it's badly needed here.
I commend 46-year-old Williams for taking on this task. He no doubt will have his hands full, not just in the ring competing in the main event against Epifanio Mendoza, a 42-year-old Colombian, but pulling off the show dubbed "Backyard Rumble."
The success of any pro card depends on the support the promoter gets from corporate sponsors in the country and so Williams said he's relying on Grand Bahamians to rally behind him in ensuring that this comes off.
No doubt if this one is successful, he will be able to continue pushing the sport forward and providing the opportunity for some of the young aspiring pros like Rashield Williams, Tyrone Oliver and Deangelo Swaby to fulfil their dreams.
Pro boxing needs an infusion and Grand Bahama is an ideal location to provide that opportunity. Williams could certainly provide the shot in the arm for the sport.
Let's hope that he doesn't fall short of his financial obligations and the show is a successful one.
Condolences to
Newbold family
The New Providence Volleyball Association family is mourning the loss of one of its male players Marco Newbold, 39, who died at the Princess Margaret Hospital on Sunday.
The banker by profession played for a number of teams in the NPVA, including the Intruders, BTVI and Synergy, coached by Peter Ferguson. Newbold also played with the Macedonia Warriors in the Baptist Sports Council. I wish to take this opportunity to extend condolences to his mother Amanda Newbold and his siblings on behalf of both the NPVA and the BSC as well as The Tribune Sports Department. Newbold was a quiet storm who allowed his performance on the court to speak for him. He was a talented player who had an impact on all of the teams he performed on.
May his soul rest in peace.