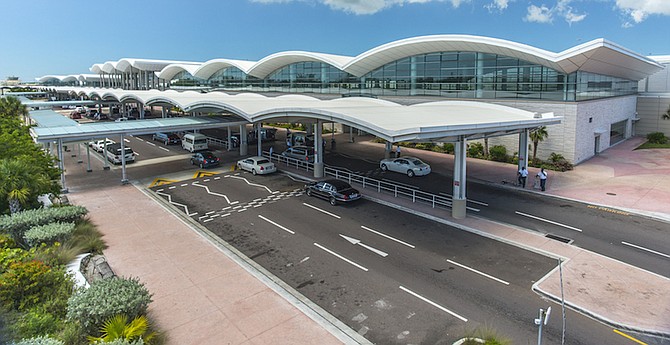 By NEIL HARTNELL
Tribune Business Editor
nhartnell@tribunemedia.net
Nassau's airport operator says its latest $14.153m net loss, and $56.5m total deficit, is "not a significant concern" as it continues to meet all payments on its $500m-plus debt.
The Nassau Airport Development Company (NAD), in e-mailed replies to Tribune Business questions, said the latest "red ink" resulted largely from a "one-time, retroactive change" in accounting policies and pointed instead to the $2m-plus increase in its operating revenue.
The Lynden Pindling International Airport (LPIA) operator added that its performance for the year to end-June 2017 was "in line with budget projections", as its net comprehensive loss decreased year-over-year by 14.2 per cent or $2.35m - from $16.489m to $14.153m.
Despite the persistent net losses, NAD told this newspaper that they were no cause for alarm, with the airport operator even going "above and beyond" the requirements of its debt repayment schedule to return money to lenders when it can.
"This should not be a significant concern," NAD said of its loss and balance sheet "negative net equity". "Our net loss in fiscal year 2017 is as a result of a one-time, retroactive change in accounting policies related to our capital assets. This resulted in increased expenses for amortisation and depreciation.
"As in prior years, NAD continues to meet its financial obligations and recognise positive operating income or earnings before interest, taxes, depreciation and amortisation (EBITDA)."
NAD's amortisation and depreciation costs remained relatively "flat" with 2016 comparisons, standing at a total $19.675m and $4.892m, respectively.
The amortisation of operational, and leasehold and financing, assets is an accounting treatment that involves allocating their costs over a period of time. Similarly, depreciation is the reduction in the value of an asset over time, which is usually caused by "wear and tear"- in this case, LPIA's terminal buildings, runways and other physical infrastructure.
Without these $24m "accounting treatment" costs, NAD would likely have enjoyed an eight-figure profit for 2017, as total operating income grew by 4.2 per cent year-over-year to $53.063m.
This gave it ample headroom to pay $42.305m in interest on its long-term debt, which was taken on to finance the $409.5m redevelopment of LPIA into a world-class airport consistent with the standards and image of this nation's tourism product.
Successive NAD management teams have argued that "cash flow", and the airport's ability to meet debt repayments from its own resources, are the key performance indicators by which it should be judged - especially in its initial years when the size of the outstanding principal debt results in higher interest payments to lenders.
The company's ability to increase aeronautical and other fees, should this become necessary to meet its debt repayments, provides a further bulwark against problems in this area.
NAD has also received a recent major boost from Fitch upgrading its credit rating back to 'investment grade' status, the airport operator telling Tribune Business the move was "very important to our debt servicing costs".
It added that both interest costs, and amortisation and depreciation charges, were expected to decrease as time progressed and debt principal was repaid, propelling LPIA to profitability.
Tribune Business sources have suggested NAD may be in the initial stages of exploring a potential refinancing of some existing debt tranches, in a bid to reduce debt servicing costs to more favourable levels through lower interest rates. Nothing has been decided, though, and the airport operator made no mention of this in its replies to this newspaper's questions.
"NAD has consistently met all its debt covenants, and has even gone above and beyond the requirements of its debt repayment schedule," its recently-released 2017 annual report said.
When asked what this meant, the airport operator replied: "When possible during the fiscal period we applied extra principal payments towards our debt, and we met all required debt obligations as per our agreements."
LPIA's financial performance has already received a major boost from Baha Mar's phased opening over the past year, and the full effects will be felt from May 26-27 when the Rosewood property opens to coincide with the US Memorial Day holiday.
The net 2,100 increase to New Providence's room inventory should push LPIA's passenger annual traffic north of the 3.3 million mark, where is has been stuck since 2015, thereby increasing revenue for the airport, its retail/restaurant concessions and the Government's tax take.
For 2017, NAD's revenues increased by 1.4 per cent or just over $1 million to $77.027 million, with a similar drop in operating expenses helping to produce the 4.2 per cent increase in operating income. The airport's total debt stood at $519.2 million at end-June 2017, while it facilitated 78,512 aircraft movements by 23 airline to 57 destinations over the prior 12 month period.
Looking ahead, NAD's 2017 financial statements refer to the "present value" of the estimated $32 million that will be required to resurface LPIA's runways in 2023.
The airport operator is required to present an "annual estimate" of the expenditure that will be required to meet this, and it told Tribune Business: "A significant amount of preliminary work, studies and planning is being undertaken, and will have to be undertaken, in this regard. It is difficult to provide details at this time."
In the short-term, NAD said it is planning to upgrade LPIA's retail and restaurant offering over the next 12 months, and is also focused on designing and installing a new oversized baggage handling system that will start operating during its 2019 financial year.
"Preliminary work has begun on the design of a new oversized baggage handling system," the company's annual report said. "Set for completion in fiscal year 2019, the project will reduce our direct labour costs and provide passengers with a smoother baggage handling experience."
Expanding on this to Tribune Business, NAD said: "The oversized baggage system is a capital expenditure that will improve service to stakeholders at LPIA.
"We anticipate some savings related to overtime currently needed to ensure we meet the level of service required by our partners during peak periods. The initiative is currently moving at the projected pace."
Eyeing LPIA's future expansion, NAD has been moving existing services and utilities from LPIA's old 'Terminal 1' building to its new assets. "
Terminal 1 refers to the old airport building east of the redeveloped terminals. The migration of services in that building is complete and the terminal is not in use. No date is set for the terminal to be demolished.
"This is the first step in decommissioning the terminal, which will ultimately be demolished," NAD's annual report said. "Once complete in 2018, the project will include the transfer of IT, electrical, fibre, telephone and cable infrastructure."
NAD subsequently told Tribune Business that the transfer is now complete, although no date has yet been set for the old building's demolition.