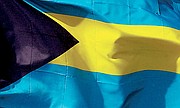 By FARRAH JOHNSON
IN preparation for the nation's upcoming 45th independence anniversary, Mark Humes, MP for Fort Charlotte and chairman of the Independence Anniversary Planning Committee, yesterday launched a national independence essay competition and recording artist search.
Mr Humes revealed the country will commemorate the anniversary under the theme: "Celebrate Bahamas, we've come this far by faith."
"As we all know our independence celebrations occupies a special place of prominence on the national calendar of events, and is celebrated across the islands of the Bahamas, as well as in countries, nation states, and in areas (and) places around the globe where Bahamian embassies are located," he said.
Mr Humes, along with a team of programme planners, event organisers and policy advisors, announced a variety of events planned to make this year's celebrations, "exciting and highly successful."
The chairman revealed the million dollar independence celebration will "kick-off" with a national essay competition facilitated by the Ministry of Education, in partnership with the National Independence Secretariat.
Vanria Jack, senior education officer at the Ministry of Education, said students should reflect on major developments in the country post-independence, focusing on this year's theme.
Encouraging as many students as possible to take advantage of the opportunity, she said the essay competition will be open to primary, junior, and senior high students, in both government and independent schools.
Ms Jack explained that primary school students are expected to write between 250-300 words, while junior high students are expected to write between 400-450 words. She said senior high students can also submit essays between 600-800 words.
Completed essays should be typed, saved using the PDF format, and emailed to nationalevents@bahamas.gov.bs. The deadline for submission is Thursday, May 31, at 5 pm, and the winners will be announced on Friday, July 6, during the National Flag Day celebrations scheduled for Rawson Square.
Details concerning this competition and the entry forms will be available on the Ministry of Education's website: www.ministryofeducationbahamas.com.
Rowena Poitier-Sutherland, director of culture at the Ministry of Youth, Sports & Culture, also announced the first National Recording Artists Search.
"The National Recording Artists Search is really the brain child of our chairman, who's very passionate about seeing the youth in our nation develop in their artistry. So we're very pleased to support an initiative such as this," she said.
Ms Poitier-Sutherland explained that the competition is for Bahamian citizens between the ages of 14-30; however, she said professional recording artists, or those "locked into any agreements," are ineligible to participate.
Ms Poitier-Sutherland also said the selection process will be done in phases, and that application forms are available at the Ministry of Youth, Sports & Culture, and on celebrateyouthbahamas.org. She explained that applications must be submitted on or before May 28, and said they can be sent to nationalevents@bahamas.gov.bs, or back to the ministry.
There will be a live audition held at the Ministry of Youth, Sports & Culture on June 2 from 11am to 3pm. Here, she said, the judges' choices will be announced and the persons selected will get the opportunity to advance to the final category.
"On June 15, the semi-finalists will be announced publicly, following that there will be a performance opportunity for the semi-finalists on July 6 at National Pride Day, at a ceremony to be held at Rawson Square at 10am. There, there will be a people's choice winner amongst the semi-finalists and the people's choice winner and the judges' choice will vie for the grand prize."
Ms Poitier-Sutherland also said the main performance will be held on July 9 at Clifford Park between the judges' choice and the people's choice, and a winner will be announced.
Other activities planned for the celebration include the national command performance, a beat retreat, a National Pride Day, a fun run walk, an independence parade and tattoo presentation, and the People's Love and Unity Junkanoo Rush-Out.
Mr Humes is optimistic about the upcoming events, and is confident that he and his team will make this year's celebration the best one yet.
"As you can see we have a tremendous amount of exciting events for the Bahamian public this independence season, and we have a tremendous team to help execute and carry out these functions," he said.