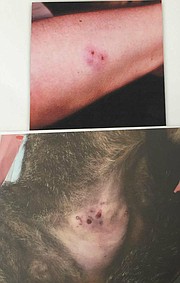 By RICARDO WELLS
Tribune Staff Reporter
rwells@tribunemedia.net
A DEAD cat with bite marks near its abdomen has raised suspicions that a non-indigenous, poisonous snake could be lurking in north-west New Providence.
An irate resident of the Grove West community, who asked for her identity to be concealed, said the discovery of her slain cat yesterday led them to the "shocking discovery" that no emergency medical facility in The Bahamas has snake anti-venom in stock.
The resident said shortly after they found their cat and discovered it had been bitten, they immediately phoned emergency services to report the incident, fearing the wound was inflicted by a snake that, if left alone, could injure or kill other animals or nearby residents.
"Emergency services, once they heard my concerns, told me to call animal services. I did and got no answer," she said. "After a while, I called 911 again, and they transferred me to emergency medical service who said they didn't have the means to address my matter."
The resident said it was at this point they were told the medical facilities in the Bahamas doesn't stock anti-venom due to the lack of need for it.
"They told me straight up, snakes here aren't poisonous and as such, there is no need for anti-venom.
"I couldn't believe it. In my mind I was saying, ok, even though we don't have a history of poisonous snakes, you can't say for sure whether any were smuggled in or accidentally brought in, in the thousands of shipping containers that come into the country," the resident added.
"I was looking at my cat. I could see the bite mark," they said. "That bite mark was real. It looked like a big snake and it looked unlike anything I've seen before. That's why I pushed this matter. What if that was a person or, at that, a child that stumbled across that snake and got bitten.
"Would the police say call animal control? Would they say call the Humane Society? What the heck, we've had serious reports of strange snakes before in the Bahamas. It isn't out of the realm of possibilities. Hell, look it up.
"You can't say call animal control or call the Humane Society, those are people who would literally be putting their lives on the line because we don't have any anti-venom? Tell me how will we treat them?"
The resident added: "As a country, there is no conversation about pre-checks for containers coming here. We don't hear anything about companies and people importing trees and soil. What's coming in with that?
"I wouldn't expect anyone to put their lives on the line to look in a trailer or anything, that's dangerous. Added to that, now you're saying if you do, and you get bite, we can't treat you here. We're going to have to airlift you to the US.
"What if that person's visa isn't valid or they don't have the money to pay for an air ambulance. That's not a two-hour process and I am sure that every minute is critical when you get bitten by a poisonous snake."
Bahamas Humane Society Shelter Manager Percy Grant, who was contacted Sunday by the same resident, said he was still working to determine the source of the bite.
He told The Tribune his initial analysis of the wound left him with questions that needed to be answered.
"I spoke with that person. What I saw, it didn't look like a centipede bite," he said. "I've seen this before, while we don't have any poisonous snakes in the Bahamas, a large centipede can kill a small animal."
Back in 2012, two men in Williams Town, Grand Bahama stoned what they believed to be a cobra.
In that incident, the two men said the snake stood up in a striking position with its hood expanded, and lunged at them.
The men said after killing the animal, they took its remains to a local pest control worker to be analysed.
The Department of Agriculture made an effort to recover the remains of the snake for further testing, but were unsuccessful.
Subsequent to this, there have been several reports of various, non-indigenous snake sightings.
Snakes native to the Bahamas are not harmful, but when confused, are often unnecessarily killed.
The phenomenon has led to several campaigns by snake enthusiast and national environmental groups to protect snakes, absent of any laws.
Bahamas National Trust launched a campaign against snake killings in 2016.