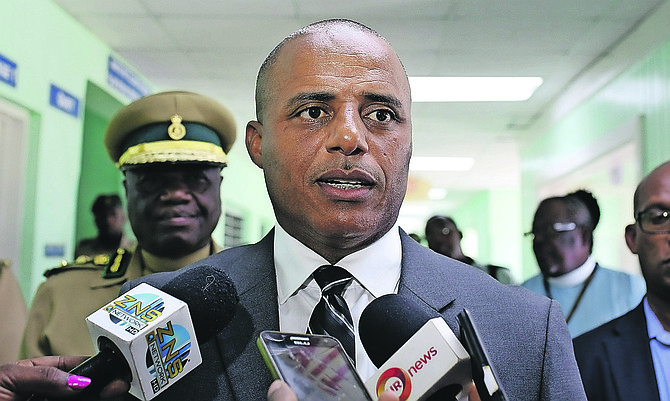 By KHRISNA RUSSELL
Deputy Chief Reporter
 krussell@tribunemedia.net
NATIONAL Security Minister Marvin Dames yesterday downplayed the occurrence of police-involved shootings as the number of incidents for the year has sparked growing concern from many in the community.
Days after 20-year-old Deangelo Evans, was purportedly shot 18 times by police - marking the eighth police-involved shooting this year - Mr Dames dismissed calls for an investigation and report into the incident.
He said "like it or not" nothing will be done outside of the norm regarding Sunday's Sandy Lane shooting. Fatal police shootings are sent to the coroner for investigation in what is in most instances a protracted procedure.
Mr Dames advised media outside Cabinet the police plan to fully implement the use of body cams within the next fiscal year.
On Monday Centreville MP Reece Chipman called for the creation of a statutory framework to investigate and examine police shootings.
The MP insisted the rise in police-involved shooting deaths across the country mandated the establishment of a state-run organisation focused on evaluating the circumstances of serious crimes involving police.
For the year there have been eight police-involved shootings compared with 11 incidents for the whole of 2017.
"We do currently have a process, procedure in place and we intend to adhere to that procedure. I mean we can't go outside of that to look at this matter. So I mean it's as simple as that," Mr Dames said in direct response to Mr Chipman's remarks.
He added: "What we are faced with in this country is the fact that a vast majority of the crimes that occur on the streets of New Providence involve persons brandishing firearms. Well over 80 percent of the armed robberies and homicides are arms related.
"I am not speaking to the incident that would have occurred a few days ago. That is currently under investigation.
"The officer or officers involved in that will have their day of accounting and if they did something outside of their scope of responsibility then they will have to account before the Coroner's Court on that particular matter, right. If they acted in good faith, right, in the execution of their duty, then they will be vindicated."
"This happens all over the world. This is nothing new," Mr Dames continued.
"We are in a gun culture. Are there things that we need to do better? Absolutely.
"There are absolutely things that we need to do to improve. No one likes the fact when someone loses their lives. No matter who it is. A life is a precious gift and we have to always be cognisant of that and so every time an officer pulls a trigger he or she has to account for their actions and there will be no cover-ups, but we have to allow the process to run its course."
"Is there room for improvement, absolutely? You always have to look at these incidents and see how can we improve. How can we get better? That's what we've been doing since we came into power. That's why we introduced the manpower audit. That's why we are introducing new training tools for police officers, defence force officers, prison officers, customs and immigration officers and so we are restructuring these agencies as we move on. It's only been a year."
Asked if Mr Chipman's comments were misplaced, the minister said: "If you are looking for me to go on the attack with the MP that's not what I am going to do.
"What I am saying, however, is that we currently have a process in place whether we like it or not, that's what it is today. Whether we need to make improvements and I would say that yeah, you always have to look at where you're at and see what do you need to do to improve because at the end of the day what we want is transparency.
"We don't want to see police officers taking laws into their own hands, we never want to see that and wherever that happens there are consequences.
"We don't want to take officers and crucify them before there is an opportunity for the law to run its course and we have to be cognisant of that as well."
In the wake of Sunday's incident that sparked tensions between some Centerville residents and police, Press Secretary Anthony Newbold said Prime Minister Dr Hubert Minnis is "generally happy" with the performance of the Royal Bahamas Police Force (RBPF).
However, Mr Newbold added Dr Minnis "probably did" talk to the family of the deceased after Sunday's killing.
"Again that's Masons Addition, that's Saxon's Way and the prime minister is a Saxon so that's probably where all of that stems from, not that he wouldn't have reached out anyway," he said.
Mr Newbold was asked for Dr Minnis' general reaction to the uptick in police-involved killings in the last year. 
He said: "The Prime Minister has said and this has not changed, he's happy with the way the police force has performed. Are they perfect, no they're not, and none of us wish we have to report or hear about another shooting by anyone. But, as a general statement he's been happy with the way the police force has performed but we all wish that whatever we do, we can arrest this situation of crime and situations that caused what happened between the police officer and that young man to stop."