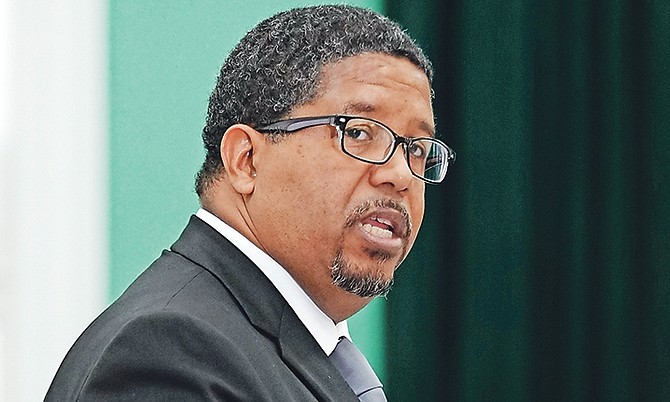 By RASHAD ROLLE
Tribune Staff Reporter
rrolle@tribunemedia.net
DEPUTY Prime Minister and Minister of Finance Peter Turnquest defended the government's Value Added Tax (VAT) hike plan during a press conference on Thursday.
He spoke as Bahamians continued to rage about the unexpected move, with 2,000 people signing an online petition opposing the hike and some organisations planning to mark their anger during Friday's Labour Day marches.
"We did not settle on that (12 percent) rate arbitrarily," Mr Turnquest stressed.
"We fought about this. We ran models, looking at what would happen if we took the rate to nine percent or ten percent and ultimately we decided on the 12 percent rate because it gave us the best opportunity to get through this period of consolidation as quickly as possible and begin to reduce the pain on the Bahamian people."
Mr Turnquest has said the VAT hike is needed to pay off arrears as part of the government's three year fiscal consolidation plan.
The Free National Movement (FNM) previously opposed VAT in part because it is a regressive tax. In a recent report, the Central Bank of the Bahamas said 50 percent of Bahamians cannot "make ends meet." Asked why the government will increase the VAT rate rather than find progressive solutions to impact poor people less, Mr Turnquest said: "We recognise the additional four and half percent of VAT will represent a significant cost to the average Bahamian family, in particular those who are most vulnerable . . . so we've put in place measures directly aimed at that group of people who will be most affected by this increase. In addition to that, we have also increased the social services by almost $4m to try and pick up some the slack for people who may find themselves still in a difficult and vulnerable position. The reality is we all live in one Bahamas and we all have a responsibility to ensure the Bahamas is able to move forward in a sustained way and a responsible way."
Financial Secretary Marlon Johnson added that implementing new taxes "takes time," noting the government has asked Deloitte & Touche to analyse alternative tax options.
Amid cries about the rising cost of living, Mr Turnquest suggested no increase in the minimum wage is in the cards.
"I've heard the cries for minimum wage myself," he said. "When you increase the minimum wage there is a cost to that. A lot of people believe that when they get an increase in minimum wage that they've actually got an effective increase but the truth of the matter is when you increase the minimum wage in one sector the businesses are going to compensate for that which means they are going to increase the cost of the services they deliver. While I understand that it is difficult to live on a minimum wage we have to consider holistically what it means when we say that we want to increase wages because the one thing we don't want to do is to cause businesses to increase their costs thereby increasing the cost of living for everybody."
Former FNM Chairman Darron Cash said yesterday the Minnis administration's credibility has taken a blow with its VAT hike announcement. The FNM made a big show of its opposition to VAT when the Christie administration –– then making similar claims about the need to reduce the country's deficit –– pushed for the tax.
Mr Turnquest was asked about statements he made in November 2013 about VAT. He said at the time: "We don't want to be like Barbados, we don't want to be like Grenada, we don't want to be like Haiti, we don't want to be like any of those countries. They are crying about VAT. We are a prosperous nation, we have a lot to protect so let's be careful, we do not have to follow the crowd; everyone is jumping off the cliff, that does not mean we have to jump off the cliff too, we can chart our own territory."
Asked how Bahamians can now trust his government, he said the country is in a "totally different position" now than it was when he made those statements.
"Back in 2012 we were coming out of a recession and there were real opportunities for us to have growth," he said. "The government of the day had the opportunity then to roll back some of the cost that had been accumulating to cushion the ramp up in expenditures that was done to offset the effects of that recession. Instead, they held on to those increases and increased them even further. The payroll went up $266 million just in that period. In this period, we are in a relatively modest growth period and so we are taking the opportunity to try to bring our payroll down, we are starting to shrink the cost of government but at the same time we have an immediacy with respect to the arrears that we have and the size of the government today and so we have to take corrective measures."
Although growth projections have improved recently, Bahamas Chamber of Commerce and Employers Federation (BCCEF) representatives now warn the VAT hike could have a recessionary impact. The private sector was blindsided by the VAT hike, they said. Mr Turnquest is expected to discuss the matter with them in a meeting Thursday evening.
"We have had conversations with the Bahamas Institute of Chartered Accountants (BICA) president, we've had conversations with the Chamber of Commerce, informal conversations about what our thinking was, I don't remember if we told them what the rate was but it isn't as though we are not including our partners, we understand how important it is for them as primary stakeholders in this to be brought alone," he said.
Mr Johnson hinted that some tax relief is expected in the next few years as the government covers its arrears with revenue raised from the VAT hike. "As the payments on arrears come down the government will start to make the corresponding cut down in customs and excise taxes in order to give back to the Bahamian people," he said, saying duty reductions in the 2019-2020 budget could be worth as much as $100 million. The government has long been expected to reduce duties to fulfill requirements for accession to the World Trade Organisation (WTO).