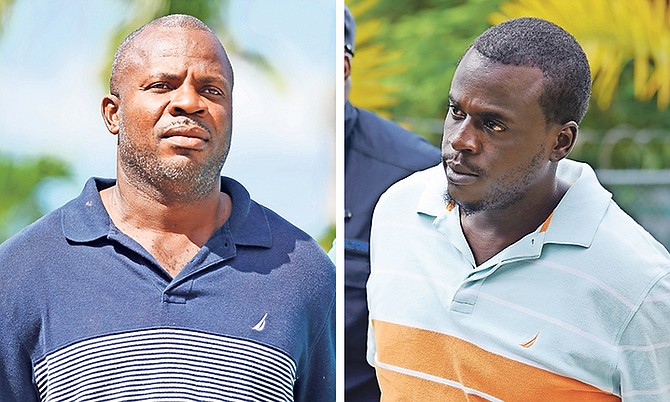 By NICO SCAVELLA
Tribune Staff Reporter
nscavella@tribunemedia.net
4C's Adventures owner Clayton Smith and one of his tour boat captains, Roderick Watson, were granted bail by a Supreme Court judge before their trial in which they are accused of negligently causing the death of an American woman and injuring nine other people  when the boat they were chartering burst into flames earlier this year.
Attorney Nicholas Mitchell confirmed to The Tribune that Justice Renae McKay granted both Exuma natives $10,000 bail each with two sureties yesterday afternoon concerning the deadly explosion in waters off Barratarre, Exuma on June 30.
Smith, 45, must report to the George Town, Exuma police station every Wednesday before 6pm, while Watson, 36, must report to the Carmichael police station in New Providence every Wednesday by 6pm. The pair's voluntary bills of indictment (VBIs), the bundles of documents that outlines the Crown's cases against them, will be served on them both on December 12.
Yesterday's bail hearing came a day after both men were formally charged before Acting Deputy Chief Magistrate Subusola Swain on one count each of manslaughter by negligence and nine other counts of causing negligent harm concerning the deadly explosion.
It is alleged the pair's negligence caused the death of Tennessee native Maleka Johnson, and also negligently caused harm to her husband of 15 years, Tiran Jackson, who had to have one of his legs amputated.
Similarly, the pair were accused of negligently causing harm to 22-year-old Vermont-native Stephanie Schaffer, who had to have both of her legs amputated after the incident. Smith and Watson are further alleged to have caused negligent harm to Stephanie Schaffer's sister Brooke Schaffer, her mother Stacey Bender, and Paul Bender, her mother's husband.
Smith and Watson are also alleged to have negligently caused harm to John Inman, Sheila Jones, Haiden Jones, and Kyle Ackerman.
According to initial reports, shortly after 9am, a 40-foot chartered tour boat was travelling in waters just off Barraterre, Exuma, with 10 tourists and two Bahamians on board, when an engine exploded, causing the boat to catch fire.
The 10 people on board the vessel were consequently injured and taken to the mini-hospital in George Town. One of those injured, Mrs Jackson, died of her injuries, while several others were airlifted for further medical treatment.
Neither man was required to enter a plea to the charges.