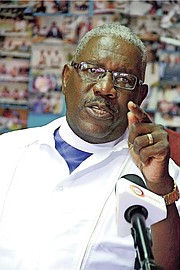 By AVA TURNQUEST
Tribune Chief Reporter
aturnquest@tribunemedia.net
BISHOP Simeon Hall called for the government to be more open with CLICO (Bahamas) policyholders after more than 100 people turned up to a town hall meeting hosted by his church.
Bishop Hall, a former annuity holder, maintained his position that the government holds a special obligation to the insolvent insurer's clients due to regulatory negligence.
He said chief among concerns raised at the forum on Tuesday night was the lack of communication and access to information from both CLICO and the government.
"Part of the deal," he said, "as I understand it, is that some other insurance company is acquiring CLICO and will cause persons who have health insurance and the like can be covered.
"But if they (medical policyholders) lose their insurance at 70 years old, who will insure you? That's the dilemma some people find themselves in."
Bishop Hall said: "I'm hoping some amicable conclusion could be made for these people. The government is trying to look at this and get involved in it, but the government must also be responsible for this in some way, in how this thing went wrong.
"I understand there are now measures to avoid this type of debacle but it should have never happened, and scores of persons are left waylaid by rugged capitalism, disadvantaged by rugged capitalism."
Back in 2016, former Prime Minister Perry Christie announced that the insolvent insurer's executive flexible premium annuity (EFPA) holders, and surrendered pension policies, would receive a cash payment capped at $10,000.
Anything owed above this sum was to be paid off via the issuance to former clients of seven-year promissory notes (government bonds), which will provide them with quarterly insurance payments at the prime rate (4.75 per cent). It was also indicated that surrendered insurance policies, death benefits, medical claims and staff pensions would ultimately be paid in full.
Deputy Prime Minister Peter Turnquest confirmed last week the government will make another $10m payout to CLICO (Bahamas) clients before year-end. It will be the fourth payout since 2016.
Bishop Hall had previously expressed hope the year-end payout would also include some 700 former medical insurance policyholders, whose coverage was cancelled by the liquidator due to the financial drain imposed on the company's remaining assets, and others who had let their coverage lapse.
However, sources told Tribune Business that they will not be included.
"People are in a quagmire," Bishop Hall said yesterday, "trying to finance this and the only positive note is we have on reliable sources that some monies will be paid out end of November, early December.
"I'm very grateful that the Minnis government continues what Prime Minister Perry Christie initiated. Sometimes when government comes, new government's change things but they continued it and people were very happy and hopeful something would be manifested by the end of the year."