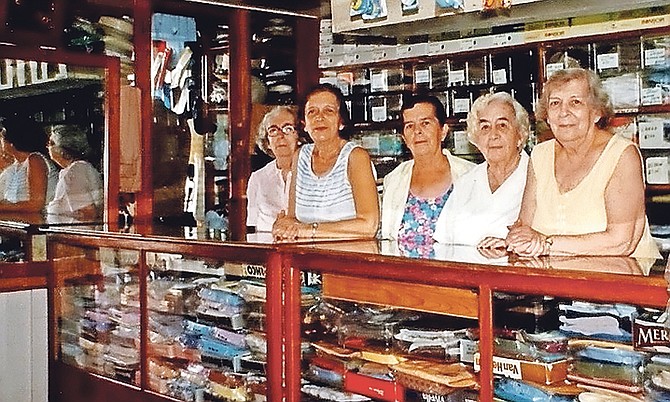 Freda Baker, co-owner with her sisters of A Baker and Sons, one of Nassau's oldest businesses died on October 31. She was 94.
Ms Baker was one of 14 children of her parents, Anthony Saadi Baker and Cawcob Bonagieb Baker. Except for a brief time she spent attending the Fisher School for Women in Boston in the 1940s and two years out of the last five she spent in Philadelphia for health reasons, Ms Baker lived her entire life in The Bahamas.
She was extremely proud to be a Bahamian and knew many elected officials on a first name basis along with many straw vendors, taxi drivers and horse and buggy owners.
She told everyone she met in the United States they should come visit The Bahamas because he or she would enjoy the beaches, the ocean, the fishing and the people.
Ms Baker attended Queen's College in Nassau. After graduating from the Fisher School, she worked for her brother, the Honorable Useph Baker, as a legal secretary until his death in 1967. From that time, until just a few years ago when she was in her late 80s, she worked in A Baker and Sons.
Ms Baker was a consummate salesperson. She could often tell her customers' shirt sizes just by looking at them. A customer coming in for a shirt, often left with a shirt, a tie and belt, with a handkerchief that no gentlemen should be without, thrown in for free.
Ms Baker was a beloved aunt to numerous nieces and nephews throughout the US and The Bahamas. But she was also an "Aunt" to many Bahamians who would come to visit her in the store to discuss their accomplishments in school and college. She was as warm and encouraging to her young friends as she was to her own family.
In her later years, Ms Baker often required the assistance of nurses and aides. In public, she always introduced them as her friends.
Ms Baker is survived by her sisters Mary and Virginia, and her sister-in-law Juanita Baker and by nieces and nephews in the Bahamas, Pennsylvania, Minnesota and Florida.
A Mass of Christian Burial will be held on tomorrow at Sacred Heart Church on Shirley Street in Nassau at 11.30am.