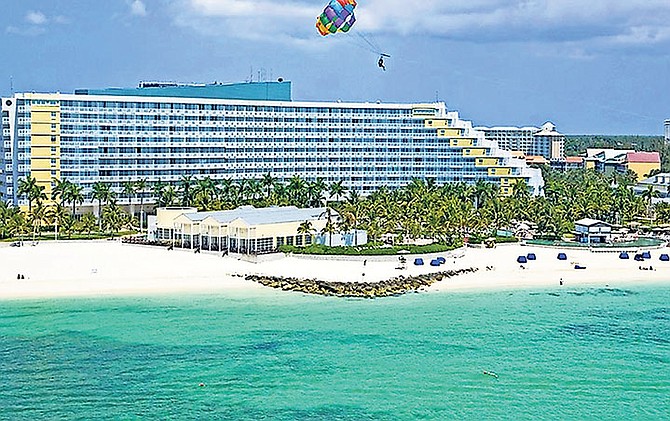 By NEIL HARTNELL
Tribune Business Editor
nhartnell@tribunemedia.net
The Grand Lucayan's chairman was yesterday locked in meetings over the "extravagant" voluntary separation payments demanded by the two unions representing the resort's staff.
Michael Scott told Tribune Business he was negotiating with representatives for both the Bahamas Hotel Managerial Association (BHMA) and Commonwealth Union of Hotel Services and Allied Workers (CUHSAW) over staff compensation claims that he described as "high".
He declined to be drawn further, but his remarks indicate there is a major gap between the Grand Lucayan's government-appointed board and the two unions over the total value of the pay-off due to the estimated 200 workers who want to leave.
"We've received offers from them, and we're in negotiations," Mr Scott told this newspaper of the unions' submissions. "Their offers are extravagant, high, and we're in negotiations."
He confirmed that he was due to meet Obie Ferguson, the Trades Union Congress (TUC) president who is representing the BHMA, late yesterday in a bid to narrow the gap between the two sides. Pleasant Bridgewater, the attorney and former PLP MP, is acting for the CUHSAW union, whose members are the Grand Lucayan's line staff.
The payouts for Grand Lucayan staff who wish to leave were due to begin in late October/early November, but the ongoing negotiations over the two sides' differences mean this timeline has likely been pushed back.
Mr Scott, who heads Lucayan Renewal Holdings, the Government-owned special purpose vehicle (SPV) created to hold the resort, told Tribune Business in late October that it would likely cost the Government between $2m-$3m to finance the voluntary departures of the 150 workers who were then seeking to leave the resort.
That number is thought to have increased to around 200 since, but Mr Scott put both unions on notice then that "misconceived claims" will not be entertained given that "public money" - meaning the Public Treasury and Bahamian taxpayers - will finance the payouts.
Should all the voluntary departure requests be approved, the Grand Lucayan's workforce could be slashed from its current 450 staff to between 200-250, representing a near-50 percent reduction. This will better align labour costs with the demands of the 196-room Lighthouse Pointe property - the only one of the three Grand Lucayan hotels that is currently open.
Minimising voluntary payout costs will help limit the Bahamian public's continued financial exposure to the Grand Lucayan, with Mr Scott yesterday also dismissing suggestions that the Board was proposing a renovations package worth between $10-$12m.
Revealing that any short-term upgrades will cost "much less" than the figures provided to Tribune Business, Mr Scott said such improvements would be focused on "income-producing areas" such as the golf course and convention centre as the Board prioritised the search for a buyer.
A well-placed source, speaking to this newspaper on condition of anonymity, had previously suggested that the Lucayan Renewal Holdings Board was exploring several renovation options that it planned to present to the Government. One involved "cosmetic", minimal cost changes, and the other a slightly more comprehensive package.
"The Board has put together a budget which includes some fix-ups for all three properties," the source said. "They're hoping to get that done because the place has a run down look.
"It's going to be a bit of money. There's two sides to it; one is cosmetic and one is to do a bigger job. They've given them [the Government] both numbers. It depends how they feel. It's maybe a number around $10-$12m. We'll see."
Mr Scott, though, said no renovation budget had been finalised. He emphasised that he was especially keen to avoid any unnecessary spending of taxpayer funds as any renovation investment would likely be lost, and not recovered, should the Government's objective of a quick sale be realised.
"It's going to be considerably less than $10-$12m; it's going to be less than that," he told Tribune Business. "We don't want to spend money that no investor is going to reimburse us for.
"We're not doing any substantial repairs; it doesn't make sense. Why would I go and spend $10m on a hotel that an investor buys, comes and knocks it down, and I don't get my $10m back."
The Grand Lucayan chairman said any government-financed upgrades will focus on Lighthouse Point "and the income generating part of it. "What we want to do is make sure we remediate and ameliorate those parts of the resort that are revenue producing; producing an income," Mr Scott said.
"It is any repairs that are necessary to enable those parts of the resort that are now producing money, like the golf course - we're getting money from that to fund it - or the convention centre.
"If we can do some cosmetic repairs to the area around it, and do it cost effectively, we're going to do that. The extent and value of that effort is still under consideration. It has to be cost effective."
Rather than the Government carrying out essential upgrades, Mr Scott said "the first line of attack" remains achieving a quick sale of the Grand Lucayan with the capital, vision and hospitality expertise to transform the resort and nearby attractions into a true destination product.
"At the end of the day, we're not going to drop a large sum in there," he reiterated. "We're not going to drop money no investor is going to reimburse us for. They'll have their own refurbishment, renovation and remediation plan."
The staff voluntary separation costs, and essential short-term upgrades, represent further liabilities for a Government desperate to minimise the costs of purchasing Freeport's last 'mega resort' property - an acquisition it felt it had no choice but to make.
Besides the $65m purchase price, the Government also committed to a $2m subsidy to cover Hutchison Whampoa's operating losses between August 1 and September 11, and waived the payment of $3.25m in Stamp Duty on the conveyancing by the Hong Kong conglomerate. The latter, as seller, also walked away with $80-$85m in Hurricane Matthew insurance proceeds, rather than put them into repairs.
K P Turnquest, deputy prime minister, previously said the Government's full Grand Lucayan financing costs could run as high as $124m - a sum still below the total subsidies demanded by Wynn Group and Sunwing, the last two private buyers to look at the property.