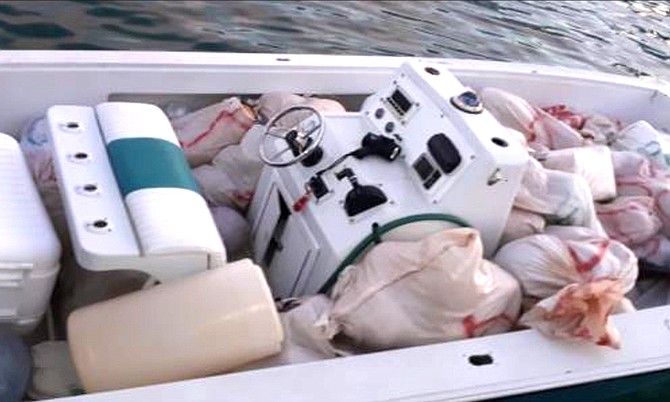 NEARLY $2m worth of suspected marijuana was seized and two men were arrested in separate drug hauls by police.
Police said shortly after 11pm on Monday, Drug Enforcement Unit officers, assisted by Royal Bahamas Police Force Marine Support officers and US Drug Enforcement Administration agents, intercepted a 21-foot vessel a quarter mile south of New Providence.
Those on board the boat ran the vessel onto a sand bank, swam to land and escaped, police said. However officers searched the boat and found 60 bags of suspected marijuana. The drugs weighed 1,841 pounds and have an estimated street value of $1,841,000.
However, police were able to arrest two men during a separate drug bust around 1am Tuesday. DEU, Marine Support officers and DEA agents intercepted a 15-foot grey and black skiff with two men on board in waters south of New Providence. After they saw police, the men threw two crocus bags into the water. Police recovered them and found suspected marijuana inside. Police said the drugs weighed 90 pounds with a street value of $90,000.
The men are expected to face charges in court later this week.