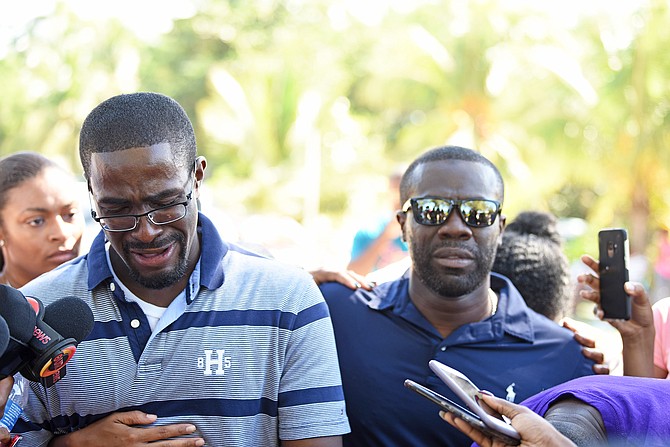 By Morgan Adderley
Tribune Staff Reporter
madderley@tribunemedia.net
RELATIVES of Byron Ferguson, the pilot of the small plane that crashed in waters off Nirvana Beach on Thursday night, are frustrated and dissatisfied with the way officials have conducted search and rescue efforts for the beloved father, husband, son, and brother.
As officials continued their search, dozens of Mr Ferguson's loved ones gathered on Nirvana Beach yesterday morning as his brothers and wife held a press conference to painfully recount all the ways in which they think the systems in place failed Mr Ferguson and his family.
According to his family, these failures included poor communication from officials, no divers being dispatched the first night, and the fact that Mr Ferguson was unable to land on three Family Island airport runways due to a lack of lighting. His family said the seasoned pilot experienced difficulties with the plane's door during flight and contacted Air Traffic Control. Some time later, he experienced engine problems before landing in the sea.
"(I am) just really speaking for the family, expressing our extreme frustration and our dissatisfaction with the search and rescue attempt for my brother," Dr Ashton Ferguson, Mr Ferguson's younger brother, told reporters yesterday.
"The sequence of events as we understand them, as they unfolded, as they happened, we know there was room for intervention and rescue, or a greater attempt at rescue that wasn't satisfactorily done."
The family met with RBDF Commodore Tellis Bethel yesterday morning and was told the search perimeter had been expanded from the initial boundary.
Dr Ferguson said according to his brother's flight plan, Mr Ferguson left the West Palm Beach airport in Florida at approximately 7.26pm on Thursday. Contradicting previous police reports, the family said that Mr Ferguson was the sole occupant of the plane although two people were originally supposed to be on board.

"The information that we obtained, my brother, he encountered difficulties about 40 miles off of the coast with his door," Dr Ferguson said. "He radioed as such to the Air Traffic Control. I think about 15 miles, again, he contacted again with engine problems.
"He was an experienced pilot, he flew internationally," Dr Ferguson added. "He had clarity of mind and what he was doing."
Dr Ferguson said his brother texted a friend who was supposed to pick him up from the airport. He asked the friend, a fellow pilot, to track the flight.
"We understand that the last contact the Air Traffic Control had with him was two miles out, when they lost him," he said. "We have information that when my brother landed the plane in the water, the plane was…for the most part intact. The tail of the plane was still visible. "Someone…responded, tried to actually collect a rope to put around it or something, but the plane sunk very quickly. I understand this was in…less than 50 feet of water."
Dr Ferguson criticised the fact that no command station was formed to collect tips or eyewitness accounts.
He also said no divers were on the initial RBDF vessel that responded to the incident. While he could not confirm whether any divers were on the five additional boats that responded, he claimed that "ultimately no one went into the water that night (Thursday)."
"The search was called off I think before even midnight. Questions I have about (this) is: who has that authority to call off a search and what is the criteria that they use?" Dr Ferguson asked through tears.
Mr Ferguson's younger brother Anvon also decried the lack of divers in the first response, and the fact that the plane had submerged by morning.
"That's just incompetence to me," Anvon Ferguson said. "I don't know anywhere else in the world where something like that would happen. That's just insane that this day, 2018 in the Bahamas, a plane crash, you have no divers available until the morning, at light? You have a clear indication of where the plane is."
RBDF Airwing commanding officer, Commander Shone Pinder explained to Our News on Friday that divers were not initially sent out due to the lack of lighting.

"Bear in mind it was late into the evening, it was very dark out here last night," Commander Pinder said on Friday. "Little to no lighting, a lot of things going on, a lot of moving parts, a lot of coordination attempting to be made. But our units got here within 10-15 minutes of the call."
Both brothers said when divers came to the location the next morning, officials were unable to locate the plane. They questioned why the aircraft was not marked or tracked in some way, and expressed concerns that the current could have carried it into the deep water of the Tongue of the Ocean.
Furthering the systematic failures that contributed to their brother's accident, eldest brother Bjorn Ferguson, an attorney, also highlighted the fact that despite his flight's difficulties, Mr Ferguson had no choice but to try to make it to Nassau's airport, as he could not land at Family Island airports.
"On a national level, Byron passed three airports," Bjorn Ferguson said. "Three. Three airports. Three airports he had to pass when he first encountered this emergency. And he could not take the plane down because no lights on the friggen runway (sic).
"He had to pass three runways: Chub Cay, Great Harbour Cay, and San Andros, to make it here on one engine, trying to get this plane here on one engine to LPIA. It is retarded. Retarded. And if you're going to give the excuse of '(oh) we don't light it up because of drug planes,' that is retarded."
The family said Mr Ferguson is a graduate of the Florida Air Academy who has been flying since he was 14 years old. He obtained his pilot's licence in 1999 and is currently working out of North Africa for a South-African headquartered company.