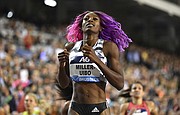 By BRENT STUBBS
Senior Sports Reporter
bstubbs@tribunemedia.net
ALREADY named the North American and Central American and Caribbean (NACAC) Female Athlete of the Year, Shaunae Miller-Uibo said it would be a "feather in her cap" if she is selected as the International Amateur Athletic Federation's Female Athlete of the Year.
The IAAF is expected to narrow down a list of 10 athletes to the final five when the voting process closes today.
The IAAF Council and the IAAF Family cast their votes by email, while fans voted online via the IAAF's social media platforms. The IAAF Council's vote will count for 50 per cent of the result, while the IAAF Family's votes and the public votes will each count for 25 per cent of the final result.
The Male and Female World Athletes of the Year will be announced live on stage at the IAAF Athletics Awards 2018 in Monaco on Tuesday, December 4.
"It was a real feeling, to be able to win such an award," said Miller-Uibo of being the recipient of the NACAC award for women on November 6, alongside Jamaican discus thrower Fedrick Dacres. "It was a great achievement for myself as I look towards next year and see how things because overall, it's been a great season and I'm glad I'm getting some recognition for it." Miller-Uibo, 24, tasted nothing but success in 2018, winning all of her competitions across a range of events. The Bahamian sprinter raced just three times at her specialist distance, the 400m, and produced a world-leading national record of 48.97 to win at the IAAF Diamond League meeting in Monaco.
The 200m was her main focus of the year, however, and after winning the Commonwealth title in April, she was victorious in Shanghai, Kingston, Rabat and Birmingham before winning the IAAF Diamond League Final in Brussels and the IAAF Continental Cup Ostrava 2018.
As one of the top female performers this year, Miller-Uibo said she's just keeping her fingers crossed that she will be one of the five finalists when the voting closes today.
"It will be exciting to see how it turns out," said Miller-Uibo during a break from her second Bay Street Mile held on Saturday. "It would be a great feeling, but I'm going up against some amazing athletes. So however it turns out, I'm still going to be happy with the nomination."
But some of the people in her corner are pulling for her to win it all.
As a training partner, Great Britain's quarter-miler Matthew Hudson-Smith said he was surprised at her performance this year. "You can see her put in the work and how hard she does it," he stated. "So it's not a surprise that she's on top . I've seen her work out and so I expect everything that I'm seeing now and what is to come from her in the future."
And Natoya Gould, a 800m specialist from Jamaica, said she's hoping that Miller-Uibo can pull it off.
"I'm rooting for her because she's very talented and she deserves it," Gould said. "I've known her since we were juniors and I've seen that she can do very well and she has continued that trend as a senior, so I'm really proud of her. Being undefeated this year, a lot of people can't do that, so I'm really rooting for her to win it."
After winning the Commonwealth 200m title in April, she won three races at her specialist distance of 400m - including a world-leading national record of 48.97 in Monaco - and then turned her focus back to the shorter sprint.
She won at the IAAF Diamond League final in Brussels and at the IAAF Continental Cup Ostrava 2018, capping a superb year which started back in February by equalling the world indoor best for 300m.
"It was a really great season. I just give God all the thanks and praise for it," she stated. "We worked really hard this year and I'm going to work a lot harder for next season. But everything came into place and I just wanted to have a lot of fun this year. I managed to stay undefeated and break the 400m national record, which was a great accomplishment for myself. I just want to keep the ball rolling and see what happens for next season."
Part of the plan is to try and duplicate the perfect season next year, but Miller-Uibo admits that it's not going to be as easy as this year. "I know a lot of people are going to be gunning for me next year so we're going to be ready for it," she said. "We're going to be in a lot more hard work and see where it goes. But I'm always looking forward to some great competition from all of the competitors."
While 2018 was called a "fun year," 2019 is expected to be all business.
"Next year is back to business. This was an off year, but these three years ahead are going to be busy with Worlds (2018), Olympics (2020) and Worlds (2021) again," she pointed out. "There's no stopping, but we're going to be taking it seriously because we want these next three years to be as successful as we can. Next year's World Championships, we're hoping for the best."
That means Miller-Uibo intends to put her best foot forward and only compete in one event, although that has not been decided by her management team and coaching staff.
"I won't be trying the double," said Miller-Uibo, who many feel could become the first female to win the 200/400 combo in the same Worlds. "The schedule won't allow it."
The IAAF recently released the schedule for the World Championships in Doha, Qatar from September 27 to October 6. With the introduction of the Mixed Gender 4 x 400m relay, two men and two women will get to represent their country in the heats on September 28 with the final on September 29.
The heats for the 4 x 400m is still set for October 5 with the final on the final day of competition on October 6.
In between, the women's 200m heats, semi-finals and final will be contested on September 30 and October 1 and 2 respectively. The women's 400m heats is also on September 30 with the semi-finals on October 1 and the final on October 3.
"That's the tough part about the schedule," Miller-Uibo pointed out. "They have the mixed 4x4 relay at the start of the meet and so that's going to be tough on the runners. So we will have to look at it and see which event is best for us to contest at the championships."
With her training expected to start today, Miller-Uibo said her main goal this year is stay consistent with her times, having cracked the 48-second barrier in the 400. There are no plans to run any indoor meet next year, so Miller-Uibo said she intends to be fit and ready for whatever event that is decided for her to compete in.