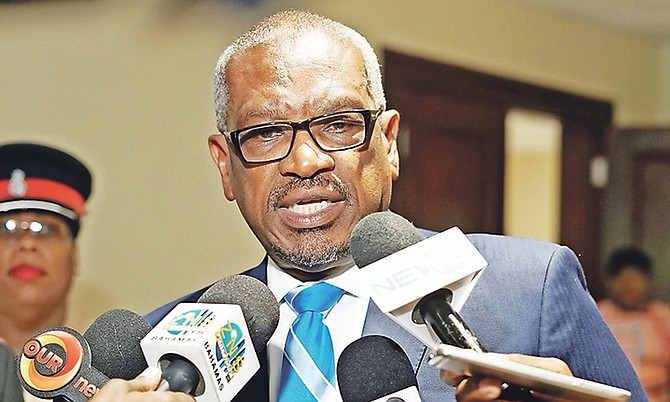 By KHRISNA RUSSELL
Deputy Chief Reporter
krussell@tribunemedia.net
PRIME Minister Dr Hubert Minnis conceded yesterday that only a small group of Bahamians benefit from economic growth in the country, but assured citizens the government is addressing blockages that stifle job creation and perpetuate poverty.
For some, the economic growth has done nothing to ease the burden of living on consumers, Dr Minnis said, many telling him survival remains difficult.
Dr Minnis was speaking during the opening of Bahamas Institute of Chartered Accountants Week at Baha Mar's Convention Centre.
Following his presentation, the prime minister refused to answer questions from The Tribune and other media regarding the country's position on a two-year Federal Bureau of Investigation probe that uncovered alleged work permit bribery in the Bahamas as part of a larger US visa fraud scheme.
Reporters were told moments before by a handler that the prime minister would not take questions.
When reporters did ask questions, the handler, a police aid who was positioned to Dr Minnis' left, swatted the microphones of two reporters, saying: "Don't put the mic in my face."
To this Dr Minnis said: "Y'all relax, y'all relax."
During his earlier presentation, Dr Minnis said the economy was turning the corner, but the improvement was not being felt in the pocket of the common man. He said it was important there was no return to the years of wasteful reckless spending.
"As we meet this year I am pleased that public finances are being restored and that the annual deficit has been reduced by half even as we are making significant social investments in education, entrepreneurship programmes, combatting crime and other initiatives to involve the lives and prospects of our people," Dr Minnis said during the event.
"My government recently launched the small business development centre in partnership with the University of the Bahamas and the Bahamas Chamber of Commerce.
"Our guiding principle is that sustainable economic growth should be driven by Bahamian investment and creativity in tandem with strategic foreign direct investment.
"We have to continue to address the blockages that prevent Bahamian ownership, that stifle job creation and that perpetuate poverty.
"I have just recently visited Spanish Wells and Eleuthera and I had to remind them that in 2013 our economy grew by a negative 0.6 percent, in 2014 it grew by a negative 1.2 percent, in 2015 it grew by a negative 3.1 percent, in 2016 it grew by 0.6 percent, in 2017 it grew by 1.4 percent and is projected by the IMF to grow in 2018 2.1 percent.
"I say this because I reminded them that we are now turning the corner but we still have a long way to go," Dr Minnis said.
"And regardless too if our economy grows 2.5, 3.5 or five percent the most important factor moving forward is a small grouping cannot continuously feel the benefit while the majority of us at the bottom still do not feel it. Growth means nothing to the individual if he does not see it in his pocket. That is the first question I am asked as I continually visit most of my friends.
"They tell me that the economy is growing but it is still difficult to pay my light bill and other expenses. It is not affecting me. That, the government must change. Monies must reach the lower level," Dr Minnis said.