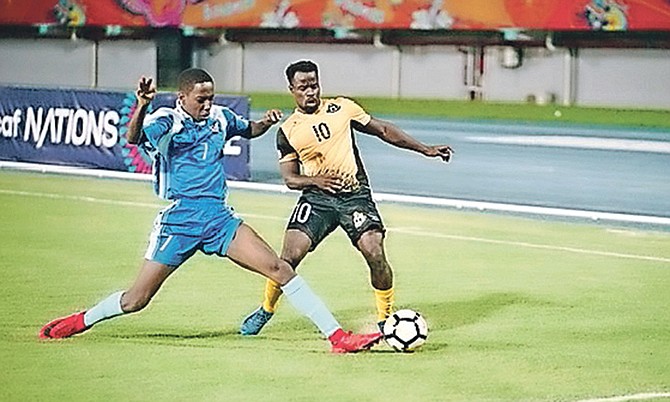 By BRENT STUBBS
Senior Sports Reporter
bstubbs@tribunemedia.net
Nesly Jean came in as a substitute in the second half and he immediately scored the equaliser, but it wasn't enough as the Bahamas men's national soccer team had to settle for a 1-1 tie against Anguilla in their CONCACAF Nations League match.
The defensive battle between two winless teams at the Thomas A Robinson National Stadium last night saw both teams break their scoring drought, but none could seal the win even after they had an extra two minutes at the end of the 45-minute first half and four minutes added at the end of regulation at the 90th minute.
After getting whitewashed by Belize 4-0 on the road September 7 and 6-0 at home against Antigua and Barbuda on October 12, Bahamas head coach Dion Godet said the performance leaves a bitter-sweet taste in his mouth. "First and foremost, I would really like to thank the fans that came out and to thank our competitors and visitors from Anguilla for playing what was a very exciting football match," Godet said. "This is a hard pill to swallow. I think we put forth enough effort to pick up three points, but football demands that you produce and we didn't close the door.
"We went out and put forth a much better effort than our two previous opportunities, but tonight we didn't close the door and I'm a big miffed, but I do want to thank those who put the effort forth tonight. We're building and I guess we will take the next step from him."
The Bahamas will play its final game in this round on March 26 in Dominica, which will determine whether or not the country will remain in this zone, or move up the ladder. Whatever happens, Godet said he may not be around as the head coach.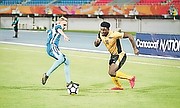 "I'm going to get with the technical team and the hierarchy of the BFA. I think I've done what I could do, but maybe they need to get someone in and see where it goes," he stated. "We need to go to the next stage and I'm sure I'm the one. This is tough if you are a competitor. It's not a matter of quitting, but recognizing we need to get someone perhaps even better than me. We put together a good game plan, but one point, no not satisfied. I'm willing to say it starts with the top. That's me. I guess we need to get a better head coach in here."
The Bahamas attacked the ball and controlled the goal at the post for most of the match, but they couldn't get on any to drop in, thanks to the tough defensive effort of Anguilla, who managed to find a man right in the nick of time to help out their goalie from giving up a goal.
Jean, a replacement in the first 10 minutes of the second quarter, powered in a goal up the middle through Anguilla's defense in the 62 minute, just after Lesly St Fleur had an attempt deflected. Jean said it wasn't so much about scoring, but rather trying to help the young Bahamian team win.
"As one of the other fellows on the team, I'm just here to help out the younger fellows," said the 30-something year-old Jean. "It's very important for me scoring the goal, but it is more important for me to go out there and do what I can to help the team. I's more about the team."
The team definitely needed the boost as they celebrated as if they had won the game. But St Fleur said they should have had a couple more. In fact, he was disappointed that he failed to cash in on the numerous attempts he had.
"It was a fairly good game, but we made some mistakes and we had chances to put it away and we didn't," he reflected. "I had like five chances and I didn't. It cost us. At least we are happy that we got one on the board. We should have had more. We had our chances to put them away. It would have been our game. We just have to keep our head up."
Team manager Larry Minns call it a work in process.
"It's a young team. It's still a work in process," said Minns of the team that was slightly different from the previous two with a few more collegiate players coming home to compete. "They worked pretty hard on the field.All we can do is keep on trying. With a gutsy performance like this, we can only get better."
It was the same for Anguilla, who saw Glenville Rogers score the first goal of the game in the 30th minute in the first half.
"I feel the guys worked hard," said Nigel Connor, head coach for Anguilla. "I felt the guys worked hard. We had two tough matches in the first two rounds and we've been getting it together. We've been getting better as we went along. Obviously fitness was an issue. I believe we started the first half when we were fresh. We did what we needed to do."
Like the Bahamas, Anguilla also finally scored a goal after they were shutout 5-0 by French Guiana on September 7 and 5-0 to Canada on October 16.
The Bahamas sits on top of Anguilla in 27th and 28th respectively on the 34-team standings.