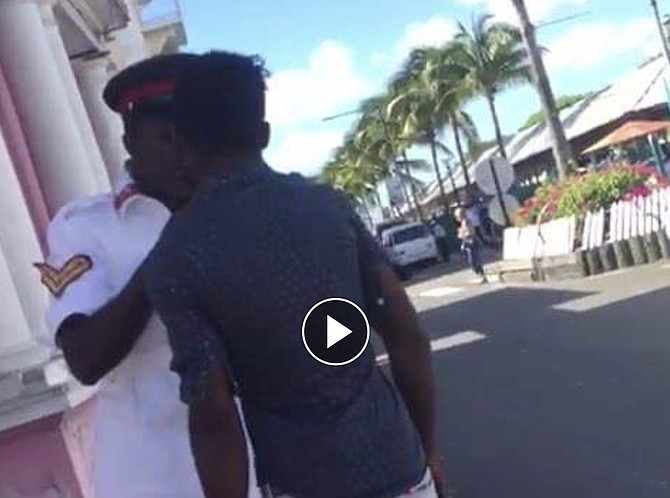 By RICARDO WELLS
Tribune Staff Reporter
rwells@tribunemedia.net
POLICE are investigating the circumstances behind a video of an officer slapping a man, believed to be a tourist, who was accused of loitering in the downtown area.
The incident marks the latest in a string of viral videos that claim to show police officers abusing their authority as law enforcement officers.
Investigations were reportedly launched into more than three recordings this year, but there have been no updates given in any of the cases.
In the latest film a near minute-long clip was posted to social media over the weekend in which an unidentified police corporal, badge number 2791, could be seen scolding a man for loitering in an area in which the officer claimed he had no right to be in.
During the early portions of the clip the officer is seen reviewing what appears to be an identification document, later identified as the man's passport, all the while repeatedly telling him, he had no right to loiter.
After his review of the document, the police corporal is heard telling the man to leave the area.
The officer hands the document back to the man and in the process of the transfer, is seemingly angered by the man's reaction and immediately slaps him in his head.
Just before the clip ends, the two are seen standing face to face, with the officer pointing at the man in an aggressive manner. The police corporal can be heard saying: "Don't play with me; look here bey, don't play with me….. do not play with me….. I do not play….. go that way please."
The man, shocked by what had just occurred, turns to the camera and asks: "You see that, right?"
In response to questions and concerns raised by members of the media over the weekend, Assistant Commissioner of Police Stephen Dean said the video had been brought to the attention of the senior command of the force and that an investigation had been launched.
The video has since been shared dozens of times on Facebook and via WhatsApp.
Addressing the video on Facebook, attorney Christina Galanos said the recording explains why scores of Bahamian young men view police with disdain.
She wrote: "And then we wonder why some of our young men rejoice whenever a police officer is killed. Many of them have deep emotional and physical scars inflicted at the hands of the police. If an officer can be bold enough to unjustifiably slap a man in public while being recorded, just imagine the terror he would have inflicted on that young man in private."
Ms Galanos continued: "Police officers do not have the authority to slap persons for being rude. If a person's conduct rises to a certain level, police officers can make a judgment call to arrest him/her for disorderly conduct, using obscene language, resisting arrest and/or assault of a police officer."
In a statement yesterday, Rights Bahamas Education Committee Chairman Darwin Thompson said the video illustrated several flaws that exist in the Bahamian society, namely the public's lack of trust in governmental systems and processes.
Mr Thompson said the assault also raises concerns for the country's tourism product, insisting that the ease in which the officer carries out his assault of the suspected tourist, in full view of bystanders, shows a lack of control and respect for the country's foremost industry.
He said: "When an officer can be so comfortable as to physically assault an alleged tourist in a nation that relies heavily on tourism to employ thousands of its citizens, we can clearly see that something is very wrong."
"... This practice is considered a norm among citizens all throughout our country. We should ask ourselves why. Why is it a socially accepted norm to be assaulted by those tasked with protecting our civil rights?"
"Are our officers being trained to instil fear via methods of social intimidation? In the year two thousand eighteen why are we sitting idly by when matters of this nature are so commonly accepted?"
Earlier this year, in response to several similar incidents, National Security Minister Marvin Dames has said the government will form a committee to review complaints against officers "to ensure that there is balance in investigations by police"; however, it's not clear when the committee will be established or whether it will feature public reporting mechanisms.
Mr Dames also said an inspectorate will be introduced for oversight compliance for all law enforcement agencies amid concerns about corruption.
That followed a poll commissioned by Transparency International last year which suggested Bahamians are more concerned and familiar with police corruption than corruption from any other institution.