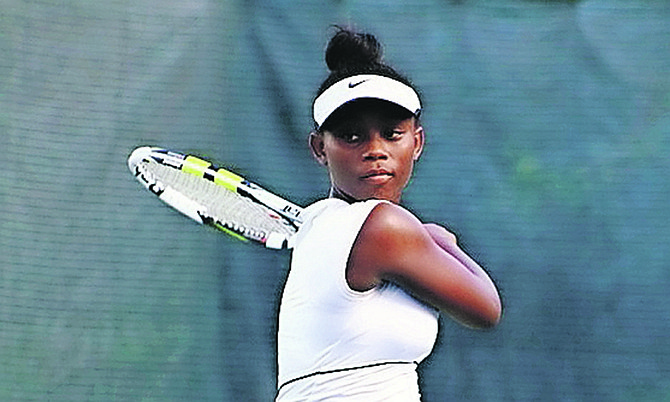 By BRENT STUBBS
Senior Sports Reporter
bstubbs@tribunemedia.net
Birthday girl Sydney Clarke didn't play as well as she anticipated, but it was good enough for the Bahamian top ranked junior female player to win her first round match of the Bahamas Lawn Tennis Association's International Tennis Federation's 2018 Goombay Splash Bowl.
Clarke, who turned 17 on Sunday, pulled off a 6-0, 6-2 decision over American Maya Rukosuev yesterday as the tournament got underway at the National Tennis Centre.
It was the opposite for Donte Armbrister, the top Bahamian male player, who got eliminated 7-6 (3), 6-2 by American John Ziolo.
However, Clarke said she's hoping that her performance over the much taller Rukosuev is the start of great things to come this week.
"The match was good, but I felt my opponent played very well in the second set," said Clarke, who had to shake off the jet lag after returning home from Antigua and Barbuda on her birthday for an ITF Junior Tournament held this last week where she emerged as a finalist in both the singles and doubles events. Ranked as the top seed for the first time in the tournament, Clarke showed why as she easily took the first set. But after going up 3-0 in the second, she lost her composure a bit and had to dig down deep to eventually prevail after watching Rukosuev rally to break and hold serve for a 3-2 deficit.
"I had to step up my game a lot because I was very passive at times," Clarke said. "She started playing even more aggressive and I had to take it up a notch. Since I won the first set, I got kind of soft and got too relaxed and wasn't focused as much."
A quarterfinalist last year in her best showing in the tournament, Clarke said she would enjoy her birthday even more if she could celebrate as the champion at the end of the week.
Armbrister lost tough match
After going to the tie breaker in the first set, Armbrister fell behind 2-0 before tournament referee Mickey Williams made the decision to switch the match from court one to centre court because of the dim lighting. During the cross over, Armbrister also got some medical attention on his back. That opened the door for Ziolo as he applied the pressure on 16-year-old Armbrister and pulled away from a 2-2 tie to secure the match. "I think I played decent, but my opponent played good from start to finish," Armbrister pointed out. "He was solid. I was just trying to get my rhythm after being off for about a week with an injury. I was just trying to do my best. I am disappointed I didn't win. My opponent just played better than me."
A number of other Bahamians were in action on day one.
• Jacobi Bain def. American Rohan Gold
Unseeded Bain managed to gain his composure after winning the first set 6-4 and breezed through the second with a 6-0 decision to advance to the second round.
"The match was okay. I played okay in the first set and I started to play better in the second set as I moved more into the ball," Bain said. "I started playing much better in the second set."
Bain, 15, took an early 3-0 lead in the first set. "I started putting more balls on the court," Bain said. "I started to play pretty good. I expect to play my best tennis and see how well I do. There are a lot of tough guys here, so the competition is going to be good."
• Elana Mackey lost to American Ashley Velma
The No.6 seed Velma took the match 6-1, 6-2.
Mackey said "it was a tough first round match. I felt I could have kept more balls in play, but I made too many unforced errors, it cost me the whole match," Mackey said.
Mackey, 16, held serve in the first game of the first set, but she watched as Velma took control and won the next six games. In the second, Velma took a 4-0 lead before Mackey held and broke for a 4-2 deficit.
"She executed and played her game plan better than I did," Mackey said. "I played more aggressive in the second set, but I am very disappointed that I didn't win. I trained very hard for this tournament and I expected to at least get through to the semi-final."
Mackey said she just needs to be more confident and consistent in her shot selection and her footwork.
Another Bahamian who emerged successful was Abigail Simms with a 6-7 (8), 6-3, 6-4 decision over American Peyton Lynn Anderson.
• In other matches played featuring Bahamians, American Derek Raskopf won 6-0, 6-1 over Anthony Burrows; American Ella Brissett blanked Jasmaine Sarah Thompson 6-0, 6-0; Grand Bahamian Prejae Major lost 6-0, 6-0 to American Leyden Games; American Baylen Brown def. Gabrielle Simms 7-6 (5), 6-3; American Raunak Sood def. Kofi Bowe 6-3, 6-0; American Ava Sadaoui won 6-3, 6-2 over Kirza Johnson and American Madison Smith won 6-2, 6-0 over Sydni Kerr.
Results of other matches are as follows: Boys' No.4 seed Bruno Kuzuhara of the USA won 6-12, 6-0 over William Kesterson of New Zealand; No. 8 seed Riley Odell of the USA won 6-2, 6-2 over Zidan Dottan from Barbados; American Mihir Amte def. Om Dhadwal of Great Britain 6-1, 6-0 and New Zealand's Emma Kesterson won 6-1, 6-0 over American Laurel Coleman.
The tournament continues 9am today with both singles and doubles being played.