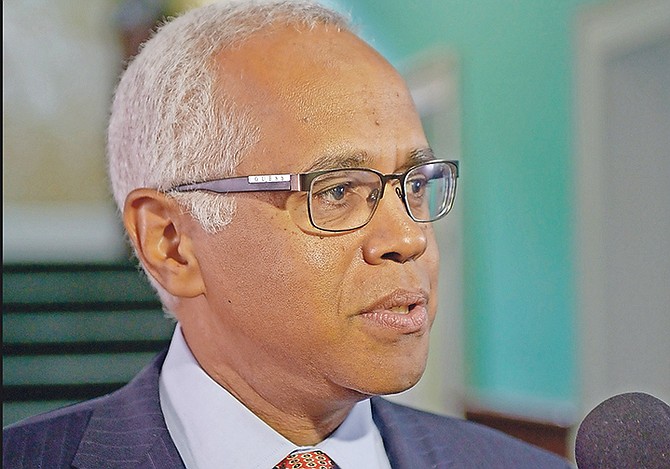 By NEIL HARTNELL
Tribune Business Editor
and NATARIO McKENZIE
Tribune Business Reporter
The Minister of Tourism yesterday "implored" the hotel union not to undermine anticipated "double digit growth" for the key Thanksgiving and Christmas seasons with industrial action.
Dionisio D'Aguilar told Tribune Business that he was "deeply concerned" about the Bahamas Hotel, Catering and Allied Workers Union's (BHCAWU) move to place its 5,000 members on "work to rule" at many of New Providence's major resort properties.
Urging union leaders to "remain level headed", the minister said The Bahamas "doesn't need to jeopardise a very good thing right now" with the country's largest industry set for "a very healthy Christmas" based on forward booking and air arrivals (stopover visitor) data.
He called on hotel workers not to "impair" the quality of visitor experiences by delivering "sub-standard service" through a "work-to-rule" or any form of industrial unrest, hinting that doing so would effectively undermine their own best interests.
With this week's Thanksgiving holiday marking the start of the hotel/tourism industry's key winter season, Mr D'Aguilar suggested that it represented an end to reduced work weeks for many in the sector and a chance to earn increased income from tips/gratuities.
He suggested that the hotel union was seeking to "leverage" the winter season's start to obtain a favourable resolution to its dispute with Atlantis's new "12-point" disciplinary system and shift system for housekeeping staff.
New Providence resorts yesterday said they had experienced no negative impacts from the threatened "work to rule" yet, and would take all "necessary precautions" to minimise disruption to guests.
And Dion Foulkes, minister of labour, echoing Mr D'Aguilar's concerns about the threat to the economy's "number one bread earner", expressed hope that the Atlantis situation will be resolved when the union and management meet at the Department of Labour on Monday.
He suggested that the bigger issue beyond this dispute was the continued absence of an industrial agreement between the union and leading Nassau resorts, with the last such deal having expired in 2013.
"I am deeply concerned that there is a disagreement between the workers and the management in the hotel industry," Mr D'Aguilar told Tribune Business. "We have a very robust Thanksgiving about to get underway, and based on information from NAD (the airport operator) and forward bookings we're looking at a very healthy Christmas.
"We don't need to jeopardise a very good thing right now by delivering sub-standard service, which is presumably what a 'work to rule' will result in. I'm advised that negotiations continue, that they're continuing to talk, and I'm hoping these talks and discussions, with a level of co-operation between each other, will ensure this doesn't in any way impair the quality of service delivered to the numerous foreign visitors about to come here."
A "work to rule" means hotel union members will stick rigidly to their job descriptions and "not go beyond the call of duty", so if their employer is short-staffed because of absences due to sickness and holidays they will simply go home and refuse to work any extra hours.
This extends beyond Atlantis, the resort with which the union has the dispute, to other properties that are members of the Bahamas Hotel and Restaurant Employers Association (BHREA), the industry's bargaining group. These resorts include the Four Seasons Ocean Club; the British Colonial Hilton; Melia Nassau Beach; and Lyford Cay Club, although Baha Mar's three new properties will not be impacted because they are non-unionised.
Darrin Woods, the BHCAWU president, told Tribune Business on Tuesday that the union had done everything it could to avoid any potential labour disruption, but could "stand by" no longer given the potential impact on its members.
Arguing that negotiations had proven fruitless, despite the union engaging in talks since late September, Mr Woods said it had decided to take a stand due to concerns that other hotel properties are likely to follow Atlantis' lead.
Robert Sands, Baha Mar's senior vice-president of government and external affairs, told Tribune Business that the timing of the union's move was "not the best", although the mega resort operator had not seen any negative effects at its Melia property.
"We would certainly be concerned if there were issues," he told Tribune Business. "At the moment we have no indication anything will be happening. We are waiting for more formalisation or information to be received on this matter.
"The union has made its position clear that if they do some industrial action it will impact the Melia, and we will be guided accordingly and take the necessary precautions to ensure guests are not disrupted by any such eventuality taking place.
"Everybody has been put on alert. The action has been geared towards a particular property [Atlantis], although the union made it clear they may include all member properties of the BHREA. That's not determined, and we have to wait and see how this progresses."
Mr D'Aguilar, meanwhile, suggested that the "work to rule's" timing was designed to exert maximum pressure over Atlantis, other hotels and the Government given the potential disruption that may be caused to the thousands of tourists expected to visit New Providence this winter season.
"Obviously the union has decided now is the time for them to leverage their concerns because the number of tourists in the country is going to be at its peak," he told Tribune Business, "and the demand for labour at its most significant, but I implore them to remain level-headed and talk to management.
"Co-operate, because certainly during this busy holiday season we don't want to in any way impair the quality of service our visitors experience when they come here. They're certainly not a part of this dispute. I just want everybody to work things out so we can have a busy and lucrative Thanksgiving and Christmas."
International arrivals to The Bahamas increased by 10.2 percent year-over-year for the eight months to end-August 2018, and Mr D'Aguilar yesterday said his ministry was "expecting the increase to continue" through year-end.
Stopover arrival growth, representing high-margin land-based visitors that on average typically spend $1,500 per head, are expected to increase by either "low double digits or high single digits" percentages for the remainder of the year.
Pointing to this week's 'Battle 4 Atlantis' college basketball tournament, which attracts both fans and significant publicity from the TV/media coverage, Mr D'Aguilar said: "We're still enjoying robust growth. Certainly, the hotels are doing quite well.
"All this is going to convert into lots of economic activity. There's probably been a number of persons in the hospitality business working reduced days. Now is an opportunity to get up to a full amount of days and make gratuities and other additional income. We don't want to impair that right now."
Mr Foulkes reiterated that the Government is very concerned over "any threat" of industrial action in the hotel industry, but expressed confidence that Atlantis and the hotel union will resolve their issues.
Speaking ahead of a Cabinet meeting, Mr Foulkes said: "I think it was about two weeks ago a trade dispute was filed. The director of labour [John Pinder] and Althea Albury, our senior director of labour, were dealing with it personally.
"A meeting is scheduled for next week Monday. We hope to have both sides there; the senior management at Atlantis and the leadership of the hotel union. We hope to have the matters resolved. The general issue is the new contract. We need to have a new contract for the hotel union and the Bahamas Hotel and Restaurant Employers Association.
"That is the overriding issue," Mr Foulkes continued, "but, specific to this dispute, is a new system Atlantis wants to introduce with respect to their departments. I do not want to go into the details of it but we are speaking to the managers of Atlantis and the hotel union to see if we could get it resolved. Tourism is our number one bread earner and, as a government, we want to do everything to ensure stability in the hotel industry, but both sides must be respectful at all times and we are in dialogue with both sides."
Mr Foulkes described the tourism/resort industry as "the lifeline of our economy. Atlantis has a lot of big events coming up. The president of the union, I have spoken to him, and we have also spoken to the persons at Atlantis. I am confident we will get the matter resolved. It is just how we get it resolved."
Ed Fields, Atlantis's spokesperson, told Tribune Business: "We will address any concerns with the Department of Labour as required by longstanding protocols"